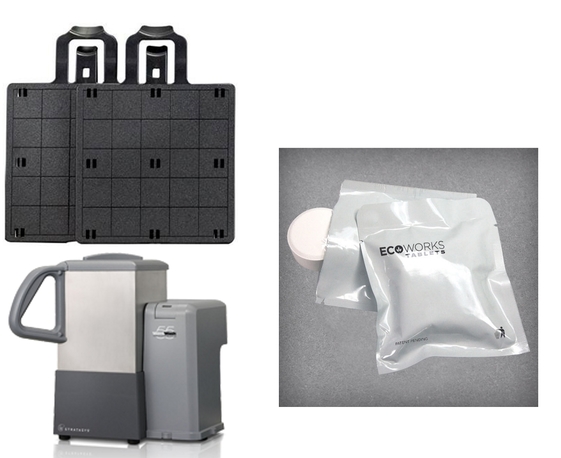 Make sure that the printer itself is on and has finished calibrating. If this is accomplished then the printer will indicate that it is idle.
Check if the levels of the support material and model material are sufficient for your print.
Place a black printer platform into the printing bay (make sure it snaps into place by pushing the clips on the underside of the platform into the holes on the metal bay)
Load the .stl file of the part you would like to print on to the print wizard software.
IMPORTANT: MAKE SURE YOU SPECIFY WHAT SCALE YOU WISH TO PRINT THE PART TO
Once the file has been loaded, orient it to your choosing
Click print and the status profile of the mojo printer will be loaded.
Click the "parts selected" drop down menu, and choose the part you want to print and simply hit "print.
Once the part has been printed, there will be white support material on it, this is to be dissolved using the Wavewash 55
B) Operation of the Wavewash55
First fill the reservoir with enough water (up to the gray line on the interior)
To create the dissolving solution, add an "Ecoworks tablet" to the water and run the Wavewash for a couple minutes until the tablet has completely dissolved.
The solution created from 1 tablet is sufficient for dissolving 40 cubic inches of support material.
Once the solution has been created, place your part in the reservoir, switch on the machine and just wait for the support material to dissolve. This may take a couple hours.