My Philadelphia Story
---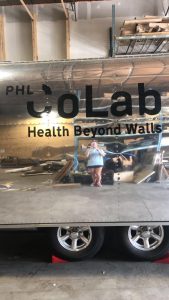 During the summer of 2019, I was part of a health design team tasked with bringing health into the Kensington neighborhood. As a Jefferson University affiliation, we partnered with non-profits tackling challenges like lack of healthcare access and food deserts. This project was an example of a new methodology, focused on uniting academia and community residents in order to gain a greater understanding of boundaries to health and how to proactively counteract them. Health design, a methodology that prioritizes "out of the box thinking," centers the experiences of community residents in order to create solutions that most benefit their unique situation. The video above describes the day in which the lab brought the CoLab PHL airstream trailer to H street. Its purpose was to function as a conversation facilitator between the community and the pediatric PCP, Esperanza Health Center, that was under construction down the street.
The need for these types of conversations and the need for health to exist beyond the hospital walls quickly taught me where health is and is not. To me, a white, 20-year-old, privileged female student, Kensington did not appear to "have health." Problems such as the opioid epidemic, virtually no access to healthcare, and food deserts were extremely visible through the needles that littered the ground, the lack of grocery stores, and no hospitals. The geographic area was largely barren.
That summer, I witnessed firsthand that health is not something that can be "handed off" to a community but is a practice that needs to be intentionally cultivated. In order to accomplish this, aspects of both place and health need to be considered. "Place," in this context, refers not only to an area's geographic location, but also to the historical events, structures, and relationships that shaped its existence along with the individuals who reside there. Many Philadelphia and Riverwards residents, regardless of whether they have a drug abuse disorder, face specific challenges like access to healthy foods and healthcare. However, from the outside looking in, an observer or policymaker could, and frequently do, make assumptions about people's needs based on their environment and perceived actions. I feel that policies and initiatives often aim to solve community-wide problems but never get to the problem's source. They are superficial band-aids that ignore the source of the wound. In that sense, it's implausible that one could meet Philadelphia residents' needs without the thorough understanding of their actual, not assumed, needs.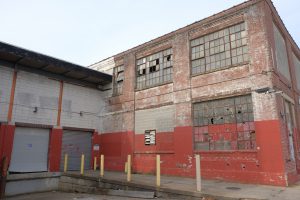 This website discusses the context of health issues such as the opioid epidemic through an anthropological approach. With the methodology of field research and ethnography, anthropology provides value in understanding and uncovering what those community-specific needs are by "being in the field" and experiencing firsthand the perspective of their interlocutors. The discipline has taught me, and this project reinforces, that health is both an experience and a socially constructed process; it cannot simply be manipulated via or viewed as hard science. Arthur Kleinman (1988) addresses these topics and much more in his text The Illness Narratives; he reinforces the roles that external processes and individual narratives/experiences have in constructing health. 
As this ethnographic website's cover video demonstrated, there is more to ethnography than written text. This thesis features ethnographic data visualization, coupled with more traditional ethnographic methods, as a powerful force which can be used to reveal systemic issues when cross-referenced, compared, and layered with Philadelphia resident narratives. It is imperative to acknowledge all of the factors that contribute to health (namely, data's role!) to gain a more contextualized understanding of the health and personhood dynamics that I observed and other dynamics that exist in Philadelphia neighborhoods. One factor that influences health which has not been emphasized enough, and is often rendered invisible through systematic processes and relationships of "erasure", is structural violence (Farmer 2004).  As I will describe later in this website, structural violence is an endless web of violent relationships. In order to understand the vast, complicated nature of this web, it is imperative that we as viewers and guests in the Philadelphia community know where we are in this "bigger picture" of relationships; the video above represents my understanding of this. 
---
This website presents the narratives of resident activists in Philadelphia layered with ethnographic data visualization; doing so directly confronts many of the "mainstream" narratives told about the Philadelphia neighborhoods. Its purpose, and novel contribution, is to show absence.
Yes, I am well aware that "visualizing absence" is a paradox.
This thesis takes a novel approach to highlight the structures and forms of inequality found in Philadelphia. Rather than repetitively point out the presence of actors or policy, I rather look for the metaphorical and physical gaps. I feel that looking for the holes in our knowledge about the conditions of health in Philadelphia, through both stories and data, reveals a much richer narrative about these neighborhoods that are disproportionately labeled for their violence and drug presence. The search for absence calls into question whether health in our society is something that is physically present or a direct reflection of social structures and values. 
The search for absence, logically, also raises the question of why these structures/relationships/narratives are absent in the first place. I found that some structures, such as real estate market values, are physically absent because society perceives and assigns neighborhoods such as Kensington with "lower value." On the other hand, relationships are absent because they are, by nature, invisible. It is utterly important to bring a visual component to relationships such as neoliberalism in healthcare to expose how they violently affect residents' lives. In exploring the many manifestations of "absence" and its effects on health, I found through my interlocutors' narratives that individuals in Philadelphia are pushing back against both society's notion of health, which happens to counteract the absence that plagues their communities. They are doing this by implement change and finding solutions that benefit their specific geographic location rather than adhering to "society's standards" of health. In a way, residents are stepping up to assume the space of metaphorical absence by re-defining health in Philadelphia.
---
Please click here to navigate to the Contents page. Alternatively, use the righthand menu to start exploring the website.
---
Any reactions, questions, concerns? Drop me a note below in the comments section; let's have a conversation about it.