By Iris Samuels
On a mid-March Friday evening, United Airlines Flight 57 was stocked with college students heading to their spring breaks in the City of Light. In the first few minutes, the head of the cabin crew announced that the flight would have ten "international" flight attendants. "We have one French-speaking flight attendant," he added. "For your convenience."
Only one? Granted, the United flight passengers heading to Paris were mostly American, but the French are known to be intensely proud of their language. Many of them refuse to speak in English, despite it being a mandatory subject in French schools. The disappearance of French from the in-flight experience is a precursor for what tourists can expect in Paris itself – a blurring of the fierce French pride that once characterized the city.
On rue des Martyrs, French pride is of the essence. While Americans have grown accustomed to massive supermarkets that sell everything from avocados to underwear, this street still maintains traditional small shops. Parisians buy their cheeses, breads and vegetables separately, taking pride in getting the best products from vendors they often know by name.
However, the French way is giving way to an increasingly global market. On one Saturday morning, a rue des Martyrs greengrocer was intensely proud of his produce, but admitted that the best tomatoes come from Sicily. The salespeople at the fromageries and boulangeries insisted that their stock was the best, but offered traditionally Italian, not French, products as proof. Japanese and Chinese fusion restaurants abound, marrying French cuisine with foreign influences.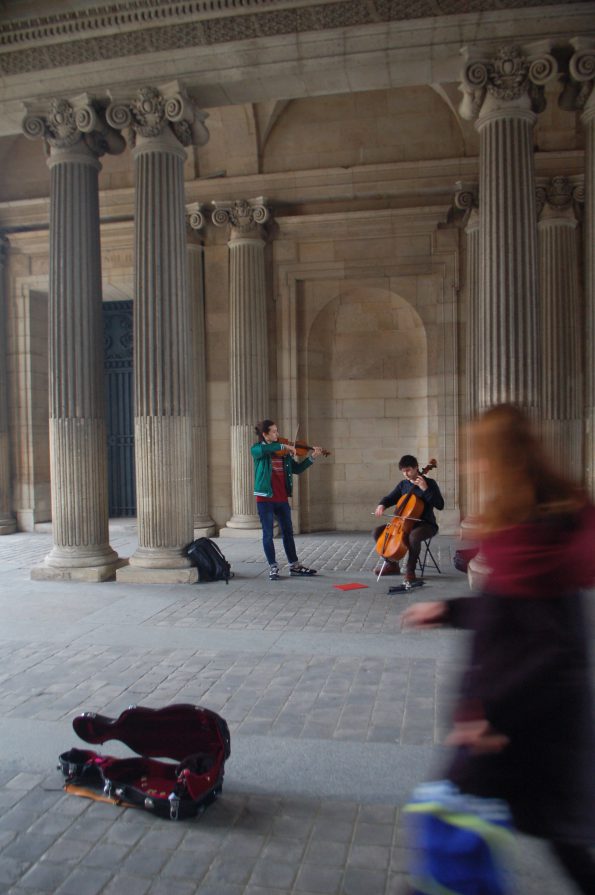 In an archway leading from the Cour Carrée to the Cour Napoléon at the Musée du Louvre, a violinist and cellist played for passersby. According to Brice Le Clair, the Paris Conservatoire trained violinist, loyalty to France is no longer a top priority. He would far rather play for an orchestra in another European country, where the taxes are lower. He bought his violin from a maker in Cuneo, Italy, instead of in the Paris ateliers just a few blocks away, because prices were cheaper and quality was higher.
Parisians are still hesitant about speaking any language other than their native tongue, but being French no longer means turning your nose up at anything foreign.
When an American expat walked into Première Pression, a shop on rue des Martyrs selling olive oil from Province, he noticed a group of American college students congregating for an explanation on the shop from its owner. "Oh!" he exclaimed, "Refugees from Trumpistan!"
Paris, like many cities across the world, seems to be contending with the global tension between nationalism and globalism. On this cloudy day in the City of Light, globalism won the battle.