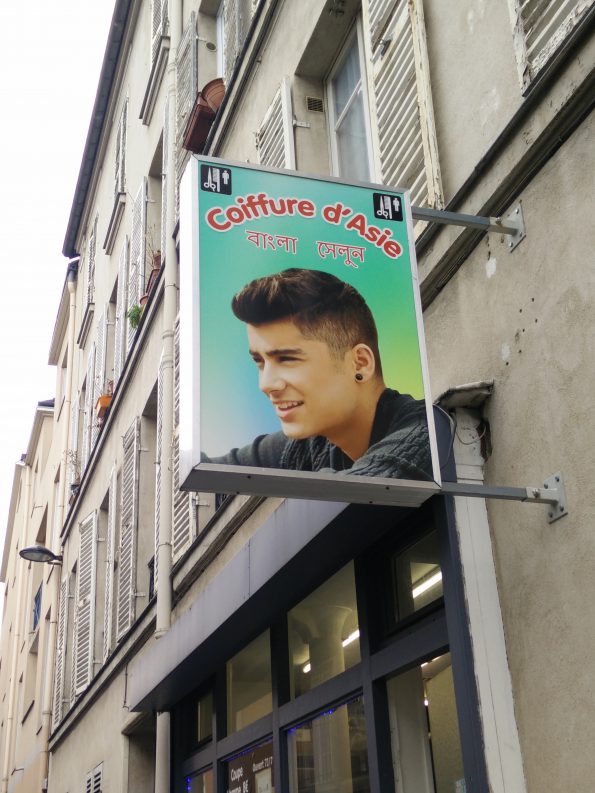 A sign depicting a Bengali barber shop in the suburb of Seine-Saint-Denis
Photo by Anhar Karim
"The camera. Make sure you keep it close," said the police officer in French. He then stomped away with his partners, all thickly-clad in body armor and holding machine guns. There stood Paris' mighty warriors, bravely marching through what everyone else knew to be a high danger zone.
In the suburbs of Seine-Saint-Denis, a bustling outdoor market and indoor food store breaths with hundreds of people as its oxygen. And if you follow the crowds through the market, you'll quickly discover why so many make their daily pilgrimages here. In the corner, an Arab woman covered in hijab grabs onto the hand of a small boy as she pushes through the walkways. At the other end a black man peers into the glass for a look at the sauerkraut, perhaps imagining tonight's dinner. And then, a white Frenchman, the kind one would find in the background of a film set in Paris, passes through to get to the Caribbean food shop. Here is a place where passersby collect ingredients for their next meal and spend the hours before it comes time to prepare it. Here is a place as familiar as home.
But it is also one of the most feared areas in Paris.
This place, infamously referred to as "the 93," is not only home to a crime rate nearly double the national average, but also to a very low rate of successful criminal investigations. And so, while you move past the bearded man telling you to stop by his high-end baby fashion store and after you stop to take a look at the neckwear sold by the man claiming he imported everything from India, you cannot help but notice the four armor-clad police officers marching through the streets with jaded, blank faces. They creep through as foreigners in their country, unable to realize the joviality of the space around them. They are a reminder of the danger of this place, and looking upon them can make any visitor momentarily forget the otherwise joyous atmosphere.
This area is, objectively, a very dangerous one. However, a concentration of a few bad people need not discount the culture of everyone around them. Upon a normal visit on any afternoon, this market greets you with smiles, discounts, and bags full of fresh food. It is a little square of happiness locked away deep inside Paris. But the police force chooses not to see any of this. Instead, upon seeing a young tourist pointing her camera at the wonder of colors and cultures around her, one officer comes over and makes it clear that she should guard her camera from the thieves that surround her.
And just like that, this whole amazing world is reduced to a visitor clutching the camera in her pocket.