by Marissa Rosenberg-Carlson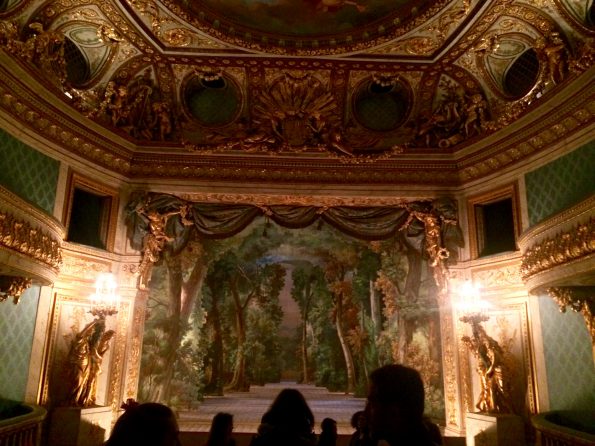 The Palace of Versailles is all about drama. It staged the grandeur of an absolute monarchy after Louis XIV made Versailles his chateau in 1682. It staged the tragedy of that same monarchy when French Revolutionary forces drove the royal family out of the chateau in 1789. For the hundred years in between, members of the royal family performed very public lives. "It was a nightmare to live at Versailles," according to Bertrand Rondot, head curator of the Museum of the Château de Versailles. The world was always watching the drama.
But at the Petit Trianon, royal drama played out in private. The Petit Trianon lies just behind the main Château de Versailles. Originally built for the mistresses of Louis XV, it became Marie Antoinette's private quarters when Louis XVI succeeded the throne in 1774. The Petit Trianon's true center of drama was the Queen's theatre.
Commissioned by Marie Antoinette in 1780, the theatre provided space for the Queen to indulge her passion for amateur opera. She designed this space just as she wished. "The Queen wanted things done quickly," according to Rondot. Her craftsmen fashioned all the auditorium's decorations from papier maché – "even the torches," according to Rondot. The result is a space that is at once dazzling and delicate. Pastel blue walls temper gold statues. Marie Antoinette's royal monogram curls into the vaulted ceiling. The forest set onstage creates an illusion of depth, inviting the audience's gaze into its most intimate back corners. It's easy to fall asleep on the auditorium's dusty-blue velvet seats.
In her theatre, Marie Antoinette took private risks that were publicly prohibited. She commissioned contemporary works such as Barber of Seville, which premiered in here theatre in 1781. "The queen could be politically adventurous here, away from censorship in Paris. She could insert herself into contemporary life and culture," said Rondot. The Queen even liked to switch up social roles in performance. She often played a servant, while a working-class artist played her.
Unlike in the main chateau, at the Petit Trianon the royal family didn't have to answer to rumors about their private life. "No one had access," said Rondot. During the French Revolution, a rumor spread that the one of the Queen's opera sets was covered in diamonds. When revolutionary fighters came to seize it, they were humiliated to find that the "diamonds" were actually bits of broken glass.
The Petit Trianon is the only eighteenth-century theatre in France that remains intact and fully-functioning. But it no longer stages performances, and is closed to the public. Visitors may only see the auditorium through a glass door. Two hundred years later, the Queen's theatre remains one of the château's most luxurious secrets.