---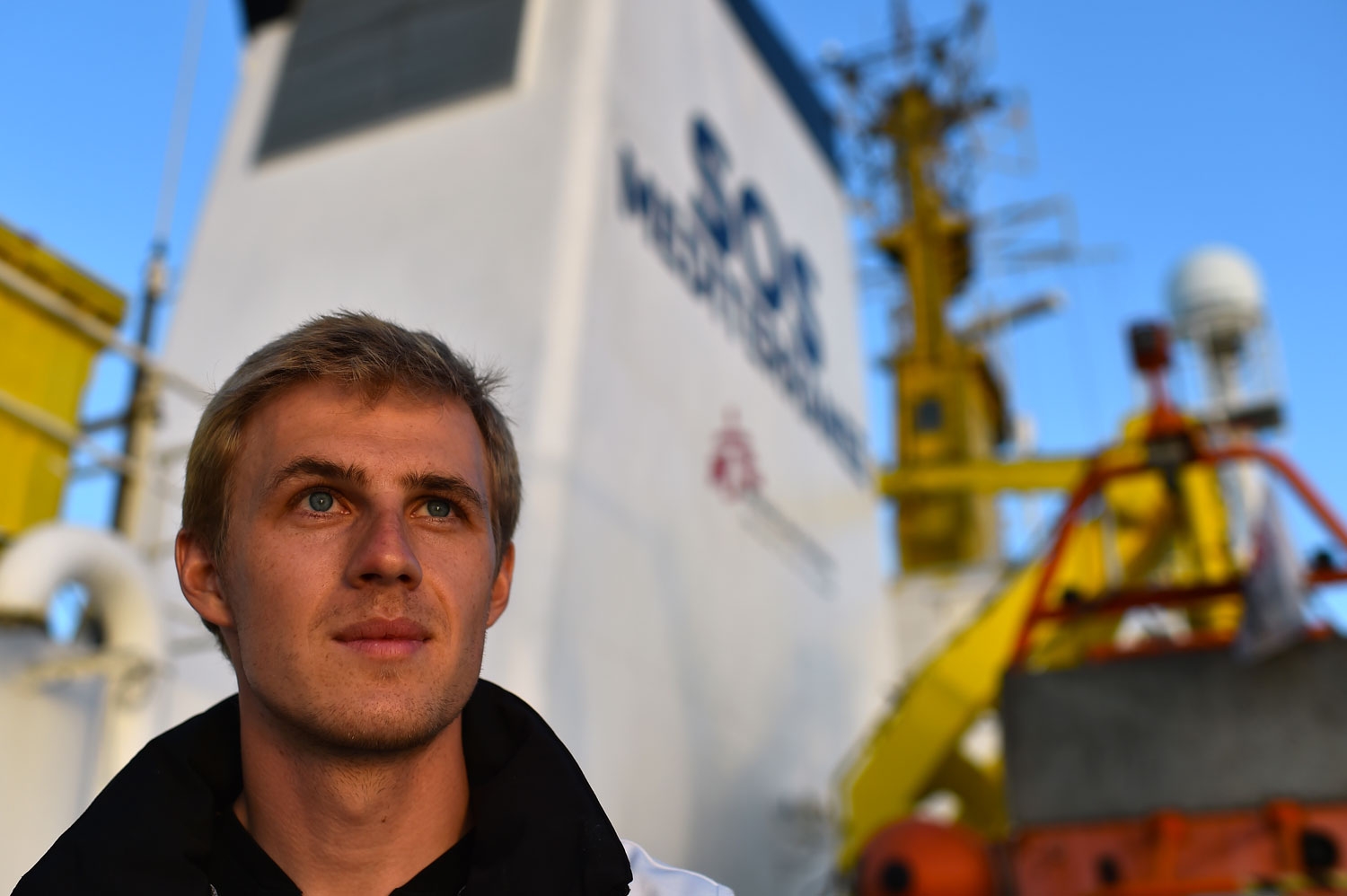 Antoine Laurent, one of the SOS Mediterranee rescuers. Photo courtesy of AFP / Gabriel Bouys.
PARIS, FRANCE – When Antoine Laurent was learning to sail on the beaches of Brittany, he never imagined he would use those skills to save thousands of drowning immigrants from the banks of Libya. But all that and more is in 25-year-old Laurent's job description at SOS Mediterranee, a nonprofit organization dedicated to saving the lives of fleeing migrants in the ongoing European Refugee Crisis.
Laurent grew up in the coastal French region of Brittany with a love of the sea in his blood. Influenced by his father's job as a skipper, Laurent began sailing at the age of five. But that's no surprise for a Brittany native. "It's quite common for people from Brittany to stay connected to the sea," he says.  As Laurent sharpened his sailing skills, he never forgot the sea. For him, the sea was a source of escape and contemplation. "It's a nice place to think, step back."
At the age of 17, Laurent decided to make the sea a part of his lifelong career. He began his studies at Le Havre to become a merchant marine officer. When he was 18, he interned at a shipyard for 3 weeks in China. But it was there that he saw the darker "backside of the industry." Greed, corruption, and danger surrounded the beautiful waters. The sea didn't change, but his perception of society did.
Laurent quickly realized that there were significant problems in the world, but not enough capable people seeking to fix them. He began to yearn for a way to use his knowledge and talents for good – but the right time and opportunity hadn't arrived yet.
After four years of university, Laurent took a job at Louis Dreyfus Arnateur, where he charted oil fields before the drills would break ground. By 21, Laurent was successfully climbing the corporate ladder. He was the engine officer, running a ship with 300,000 euros on the line every day.
But his family knew his heart and urged him to quit. Laurent recalls, "I was always saying, I will when I'm ready and when I find what I want to do."
One day, he found it.
Enter SOS Mediterranee. Laurent discovered the organization after it issued a press release about its mission to offer maritime rescue to tens of thousands of immigrants fleeing their home countries during the Refugee Crisis. With his leadership and sailing experience, Laurent knew this was it. He had finally come face-to-face with his destiny.
Laurent couldn't shake the feeling: "History will remember the tragedy, the indifference of the masses, but also the hand that reached out. I don't want to be on the wrong side of history when I have to explain to my children in thirty years."
He quit his job at the end of March 2016 – and on the 28th of April he became the newest member of the SOS Mediterranee. "[My family was] waiting for it for a long time."
Now, his day-to-day operations range from checking equipment and planning the ship crew to helping the communications team and recruiting new partners.
Laurent believes that everyone can make an impact through their unique abilities. He says, "People say…what I do is a bit spectacular…but I'm just [doing] something someone also has to do." A slight tint of pink rushes across his cheeks. He admits, "I don't really like the reaction of people; most the people they'll say…oh you're a hero, you're really brave, you save people, that's nice."
Laurent's mission is to shape the future for generations to come. "We are helping people reach Europe…they are going to be Europeans." As for future plans, he's hoping to be unemployed as soon as possible. "My first hope is that this will end as soon as possible."
Despite his love for the sea, SOS Mediterranee needs him in Paris, where he is currently stationed. But his passion for helping others doesn't stop him from missing the sea.
What's next? He gives an adventurous smile. "We'll see."