Group: Brayan Mata '22, Maddie Winter '22
Community Partner: Mercer County Park Commission
Our group conducted an extended literature review, exploring current research on: (I) how to sustainably build urban "natural spaces;" (II) the impacts of "natural spaces" on community engagement and other health measures; and (III) the ways to increase access to "natural spaces" within marginalized communities. We hope to assist Mercer County Parks in identifying factors in the disparity of park use for urban communities of color, building new community-oriented programs, and creatively addressing accessibility issues.
Project Summary: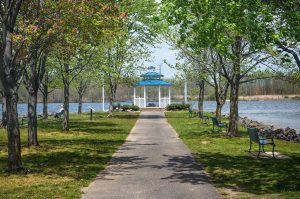 While defining "natural spaces" may be subjective, the role that they serve for communities remains pretty consistent. The tendency of people to mention "nature" and "peace and quiet" as desirable attributes suggests that urban parks and forests are seen as opportunities to temporarily withdraw from built-up urban environments and enjoy contact with more natural surroundings. Focusing on what is considered a "natural space" points to strong associations to vegetation, which must be relatively close to residents of urban areas in order for them to enjoy and take a break from their metropolitan lifestyles.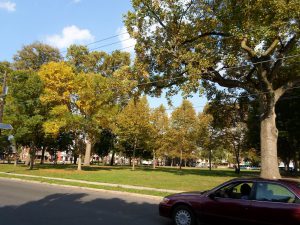 Surveying residents about how frequently they visit the parks, what they enjoy about them, what they dislike, barriers to access, as well as ideas for improvement could be beneficial, as it can direct engagement initiatives to specifically address Trentonian's needs. Some physical features that may attract individuals to the parks (and thus encourage repeated visits) include a variety of inclusive seating options (benches, picnic tables, etc.) that allow for different sized groups to convene, amenities such as water fountains and ample restrooms, and low-cost venues to purchase food. Additionally, expansions of environmental programming may be particularly effective at deepening visitors' attachment to natural spaces and appreciation for the benefits of the environment.
Visual Map (click here or on the image to expand):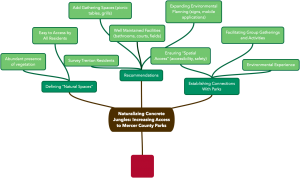 Literature Review and Recommendations for Community Partner:
Naturalizing Concrete Jungles
Our Critical Thoughts on Naturalizing Concrete Jungles: Increasing Access to Community Parks: Critical Reflections