Images are not innocent. They do things in the world. After the Medical Anthropology course went online, we immediately focused on the politics of representation in times of crisis.
In conversation with Princeton University Art Museum curators, the class explored how images of plagues throughout history became part and parcel of larger political projects and vectors of collective moral instruction.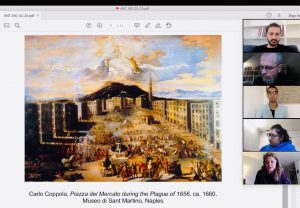 Through a process of framing and excluding, representations create a body politic and sediment moral values.
We learned to critically interpret the emergent representations of the COVID-19 pandemic, as they are mobilized by governments, media, medics, and the general public.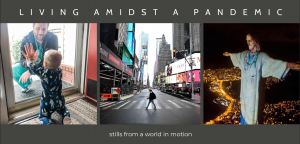 While engaging Gordon Parks' pioneering work, we also pondered about what else, besides commodifying suffering, photography can do. From Parks and a subsequent generation of African American photographers, such as LaToya Ruby Frazier, we learned that not representing is also a failure and students took up the challenge of experimenting with new, collaborative and multimodal ways of representation.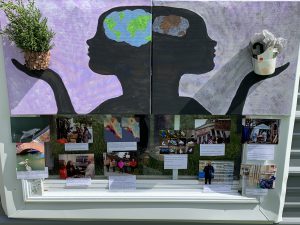 COVID-19 Creative Works is a product of our collective critical thinking and of artistic experiments.
Drawing on emergent anthropological literature on the pandemic, media analysis, and personal reflections, students created visual and audio projects, reflecting on the multifaceted medical, social, and political-economic impacts of COVID-19. Various projects incorporate key medical anthropology concepts, such as structural violence, pathologies of power, racialization, body techniques, human plasticity, experimentality, and technologies of caregiving.
URBAN VULNERABILITY DURING THE COVID-19 PANDEMIC
Group: Hilcia Acevedo '23 & Nannette Beckley '23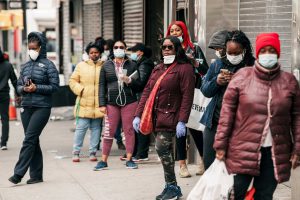 This website is centered around examining the health experiences of the most vulnerable populations in large urban areas during the new Coronavirus pandemic. The specific groups that we address are racial and ethnic minorities, the elderly, low-income households, and "essential workers." We hope that this website serves as an educational and insightful tool for truly understanding those who while often forgotten are the most heavily impacted by COVID-19.
Group: Rowan Pierson '22 & Katya Vera '20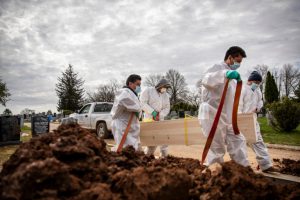 Inspired by Jorge Furtado's film Island of Flowers and by Ruth Benedict's concept of human plasticity, our short film explores how words, meanings, and associations change during pandemic's "new normal." In this way, we ruminate on the viral economics and politics of public health of our plagued world. As we grapple with these altered semantics, the necessity for social change during and after this pandemic becomes ever clearer.
Group: Maryam Kamel '23 & Dolly Lampson-Stixrud '22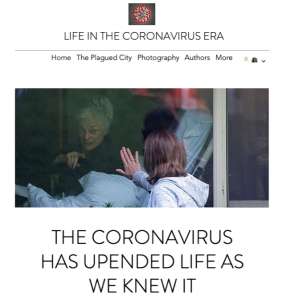 The new coronavirus pandemic has touched the lives of people across the globe. Through our curated photographic archive (in which images we produced commingle with media representations), we highlighted some of the ways in which COVID-19 has impacted our hometowns, Princeton, and the world. The photographs that we took or assembled appear on a website in the form of a blog.
THE COVID-19 CRISIS THROUGH PHOTOGRAPHY
Group: Wells Carson '22 & Julia Simkus '22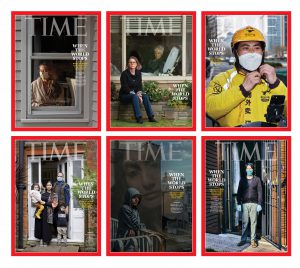 Our commented gallery offers a historical-critical visual perspective on the COVID-19 pandemic. Tinkering with photographs, we demonstrate the dramatic repercussions of the current situation, from the disproportionate impact of the pandemic on low-income and black communities, to uncanny parallels with earlier epidemics.
LIVING AMIDST A PANDEMIC: STILLS FROM A WORLD IN MOTION
Group: Joice Kim '21 & Matthew Lee '22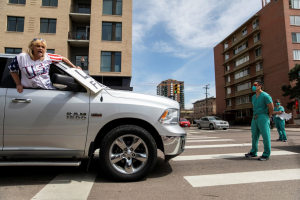 In these challenging times, we can see how health does not only affect individual bodies; but it has social, political, and economic implications as well. Although COVID-19 has forced us to change the way we interact and perceive the world around us, it has also allowed us to explore these underlying forces in a new light.
Group: Rose Nguyen '23 & Kaitlyn Williams '22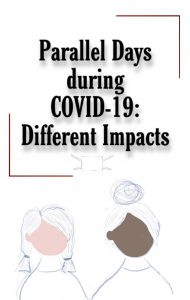 We created a comic book about two children who, despite being best friends, have contrasting experiences of COVID-19. In this short illustrative book, we are interested in pushing the audience to visualize the inequalities in daily life that are exacerbated by COVID-19 and its impacts on low-income communities of color. In addition, we want to emphasize our social responsibilities towards each other in keeping one another safe. Social distancing isn't meant to take away privileges, but rather to protect the most vulnerable in our society.
Group: Anmoldeep Singh '22  & Elton Tran '22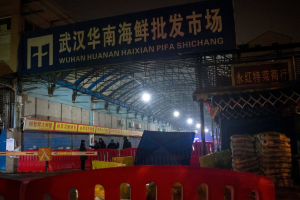 Our project is a visual timeline of key moments illustrating the emergence and progression of the COVID-19 pandemic. We start with the suspected origin of the virus at the Huanan Seafood Market and end in the uncertain present. In our timeline, we also illustrate a divergence of attitudes and reactions to the spread of the virus.
THE EXPERIENCE OF PRIVILEGED AND DISADVANTAGED U.S. POPULATIONS DURING COVID-19
Group: Khandaker Momataz '22 & Arianne Smith '22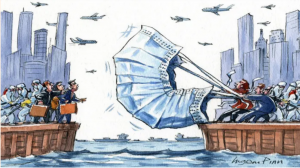 Drawing from a set of journalistic cartoons, graffiti, photographs, and artwork, this project contrasts the experiences of disadvantaged and privileged U.S. populations during COVID-19. Through an analysis of these representations we explore the dilemma of prioritizing economy vs. public health.
ILLUMINATING PANDEMIC: WHAT COVID-19 HAS REVEALED ABOUT SOCIETY
Group: Aidan Conner '23 & Quincy Monday '22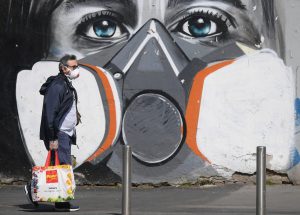 This podcast discusses technologies of caregiving, medical ethics, and pathologies of power during the pandemic. We interviewed Sally Brooks Conner, a physician, to get insights into emergent practices of healthcare. We also delve into the impact that COVID-19 has on populations of lower socio-economic status.
FOUR GOVERNMENTS, ONE PANDEMİC
Group: Cathy Teng '22 & Breyonnah Wade '22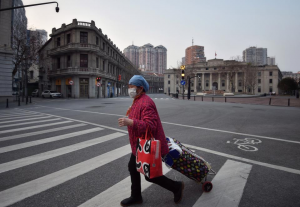 This project is a comparative analysis of the political / governmental actions of four different countries (China, USA, South Korea, and Italy) in response to COVID-19. Our paper problematizes the crucial question: how culture, expertise and authority affect varying responses to a global health crisis?
CALIFORNIA'S VARIED SOCIAL RESPONSES TO THE PANDEMIC
Group: Alix Barry '22 & Annika Maxson '22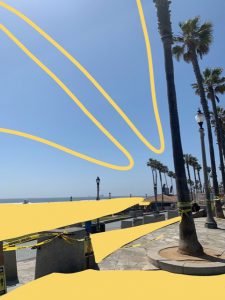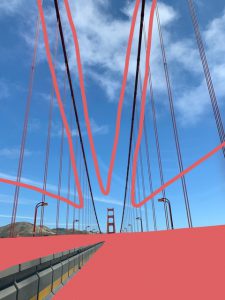 In reaction to the pandemic turmoil occurring across the globe, California is quickly adjusting to a new way of living. By focusing on how plagued cities in the state have dealt with the COVID-19 and its accompanying social transformations, our project explores how communities in California variedly distribute responsibility across the social body and how citizens react to the interventions dictated by their political leaders.
A LOOK INTO THE CHAOS: COVID-19 PANDEMIC
Group:  Elizabeth Boeckman '23 & Addison Smith '23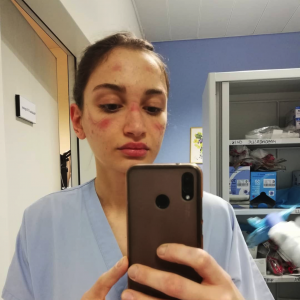 The coronavirus pandemic has affected lives across the globe in ways that we could not have imagined a few months ago. By using personal accounts from all different backgrounds and ages, this project highlights how structural violence is embodied in people's lives. We hope to provide readers with a perspective of life beyond one's own quarantine bubble.
STRUCTURAL VIOLENCE AND CHANGES IN CAREGIVING DURING THE COVID-19 PANDEMIC
Group: Jayme Leschly '23 & Jacob Stoebner '22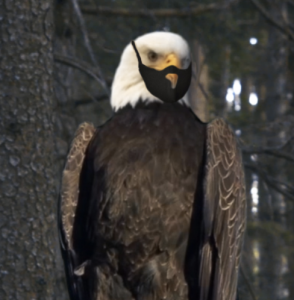 COVID-19 has brought to light the structural violence that disproportinately affect certain demographics and the limits of public health responses. This visual gallery has been designed to display these two topics in a gripping fashion, also highlighting emergent practices of caregiving.
REDEFINING CAREGIVING IN THE ERA OF COVID-19
Nathalie Jimenez '20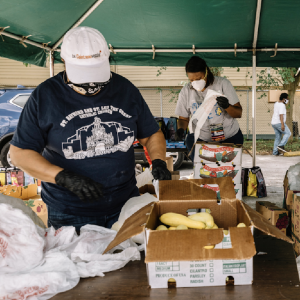 This project explores how we are redefining caregiving during the pandemic with a special eye on how human presence and relationality are recast.
Madison Stewart '22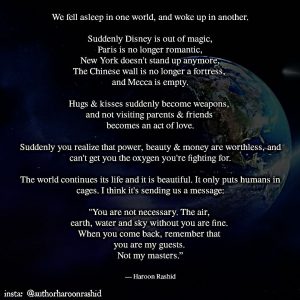 As the human species is seemingly beaten down by COVID-19, the world is fighting back, it's cleansing itself. Of what? The structural violence that humanity exudes in almost every pore. This is what my pandemic paintings express.