Group: Jayme Leschly '23 & Jacob Stoebner '22
COVID-19 has brought to light the structural violence that disproportionately affects certain demographics and the limits of public health responses. This visual gallery has been designed to display these two topics in a gripping fashion, also highlighting emergent practices of caregiving.
---
Power / Freedom – Different State's Quarantine
Michel Foucault's piece "Panopticism," which describes the drastic measures taken during the 17th and 18th centuries to curtail the spread of the plague, illuminates many of the same measures that are being taken during today's crisis of COVID-19. Foucault expresses the implementation of "a strict spatial partitioning, the closing of the town and its outlying districts, prohibition to leave the town" and orders to leave home for essentials only (Foucault 195). These are all very apparent in today's world, as "spatial partitioning", also known as "social distancing," has become synonymous with COVID-19, while all non-essential businesses have been shut and entire cities have closed down. This is particularly evident in highly populous areas, such as the New York City area, California, and Massachusetts, where lockdowns were implemented first, and empty streets and businesses remain commonplace.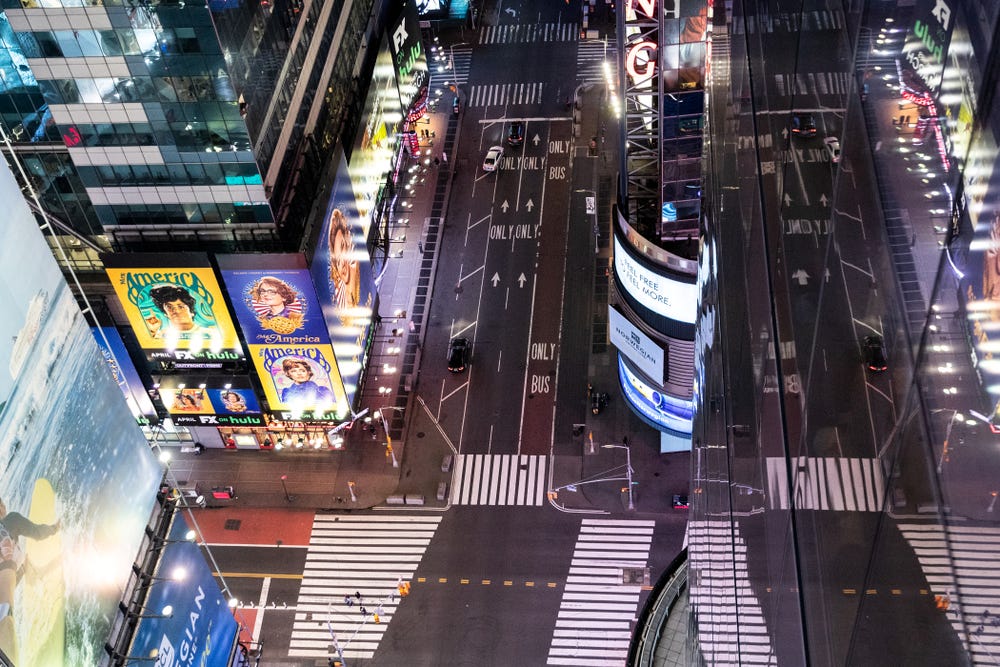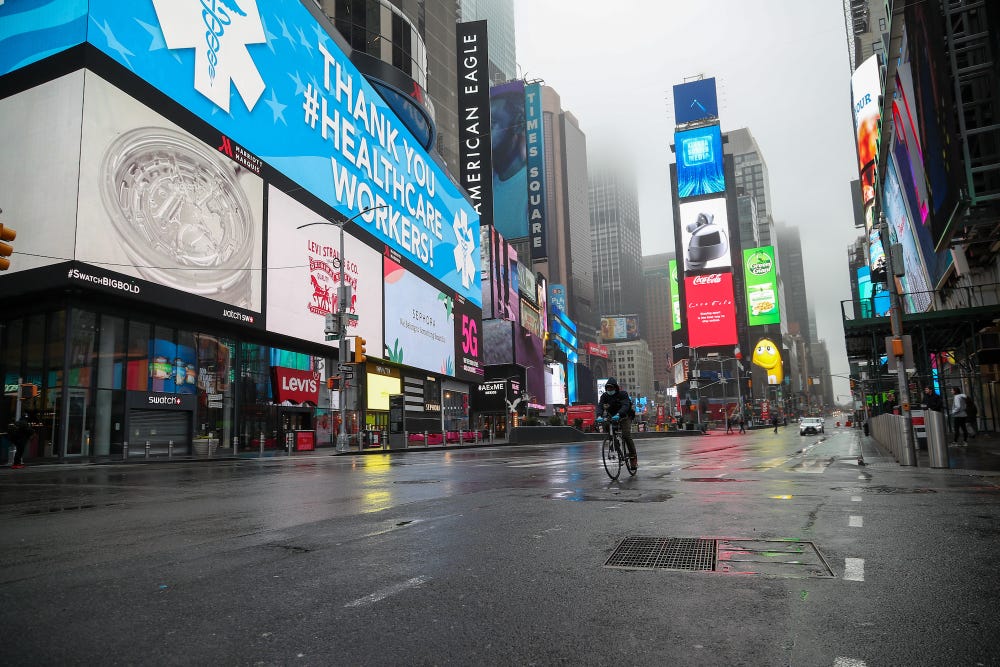 These pictures, taken at the end of April, display the emptiness of a normally extremely busy New York City, demonstrating compliance of state laws mandating people to stay home.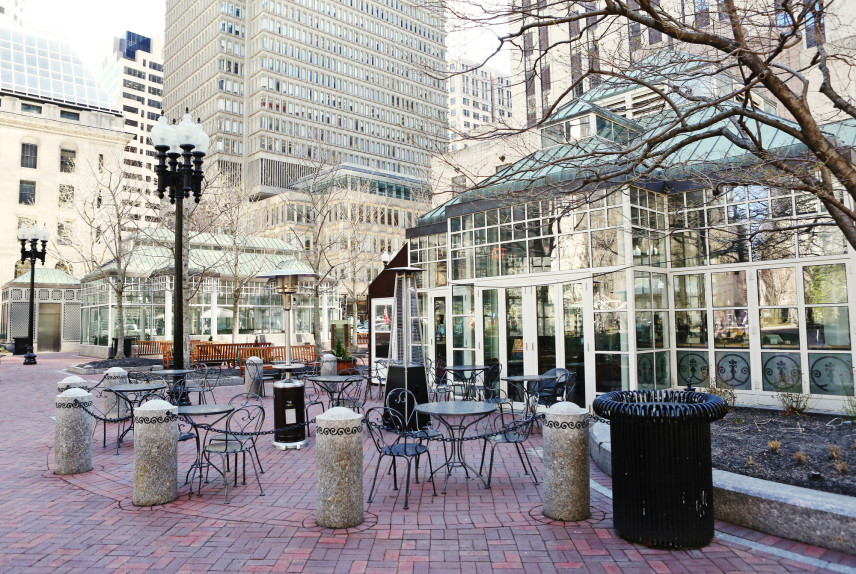 Many businesses across the country also remain closed, such as in Boston where all non-essential businesses are yet to reopen as of May 12th, leaving stores deserted. On the bottom, a thrift shop in a suburb of Boston remains closed.
However, some people in certain states have taken the strict measures of social distancing and "closing" of states as an encroach on their personal freedom and human rights, and are using this as a means to disobey state laws that prohibit gathering. Unlike the society in which Foucault describes, the existence of human rights and personal freedom in the United States have allowed people to exercise their rights to a greater extent and has prevented the total lockdown observed by Foucault. These actions can be seen more often in certain states, particularly Southern states where governments have been forced to be more lenient in their policies due to protests and the disobeying of rules put in place. People in Florida took to the beaches before they were reopened, and hundreds more swarmed once they were reopened, while protests about infringements upon their freedoms are taking place in many states.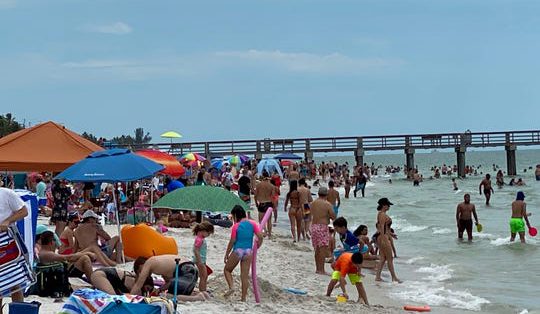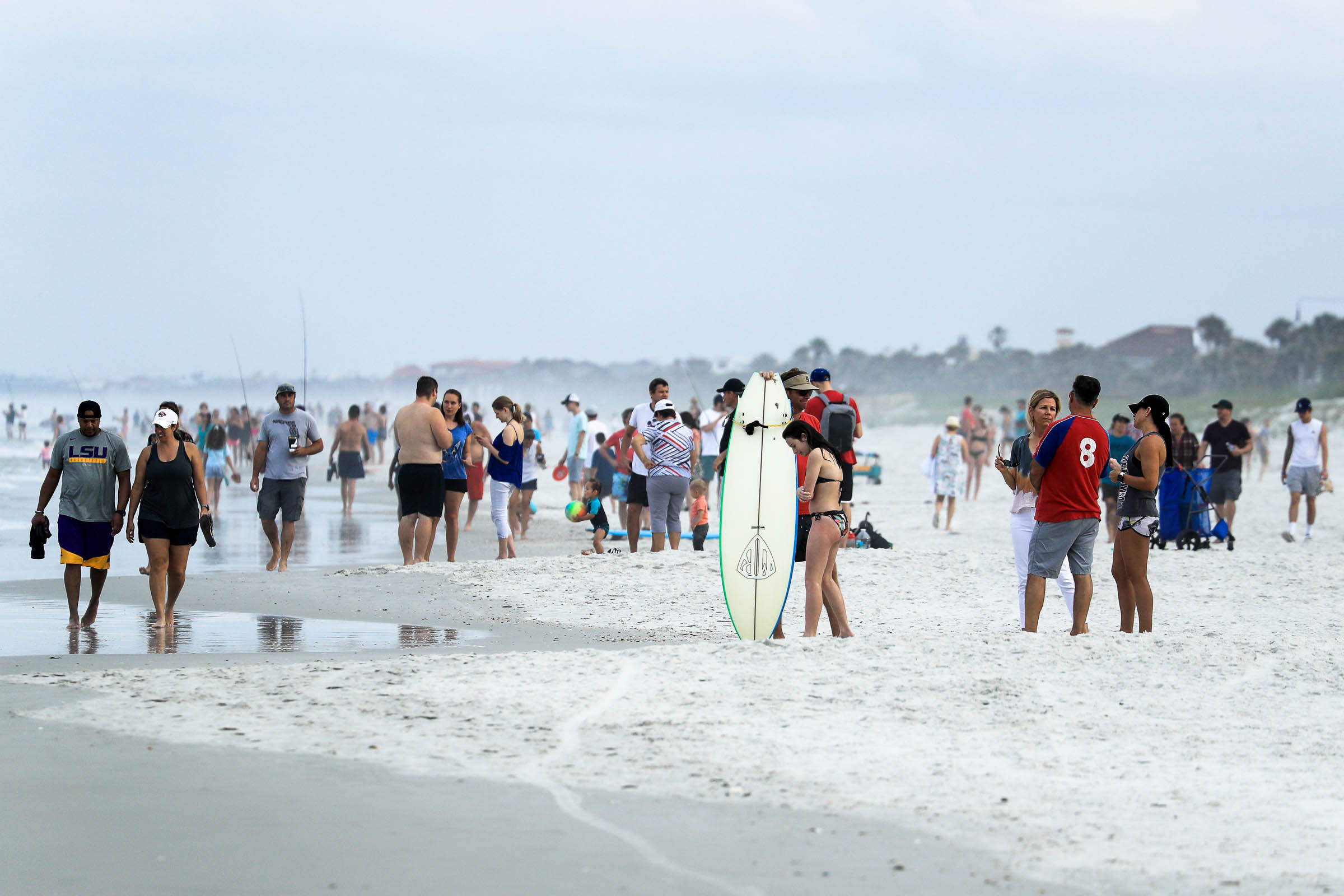 Hundreds of people took to the beaches in Naples and Jacksonville, in addition to beaches across the state, disregarding the rules of social-distancing.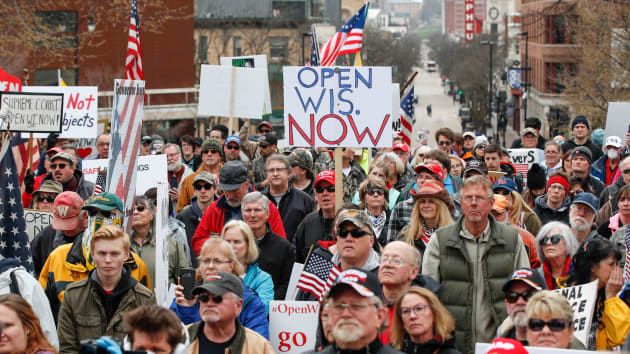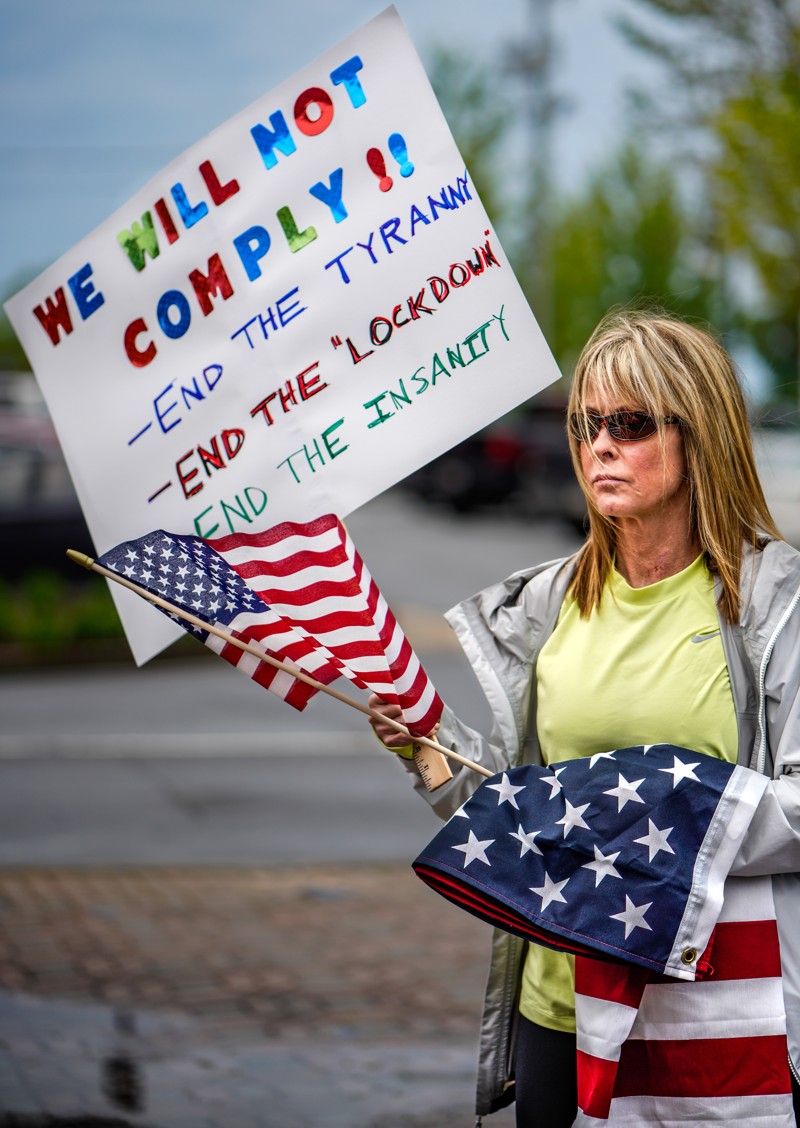 People in Madison, Wisconsin hold signs in protest against shutdown on April 24. On the bottom, an individual protests the shutdown in Atlanta, GA on April 19 (where many businesses, including gyms, hair salons, and theaters have since then been allowed to re-open).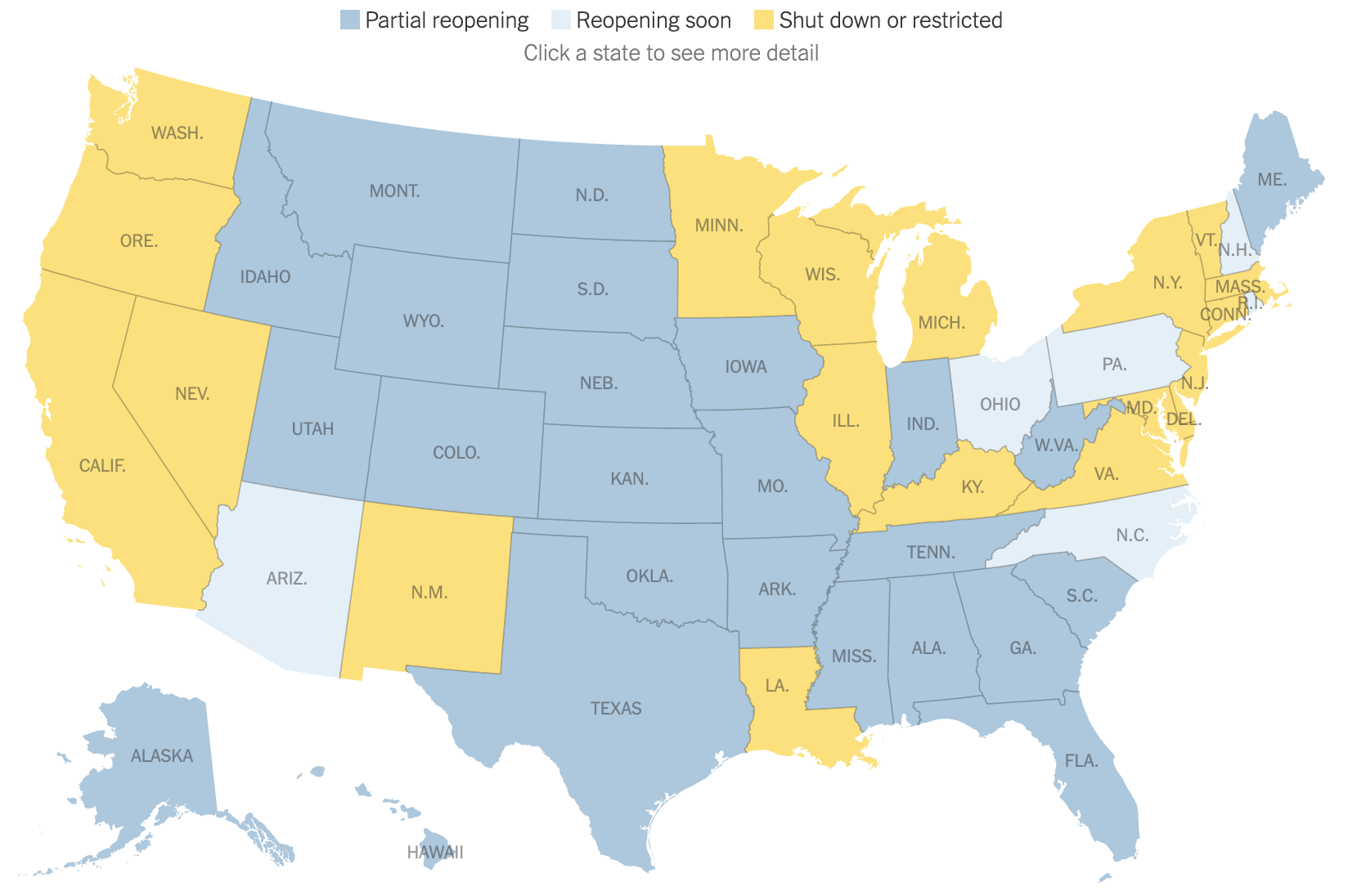 These two maps demonstrate the different pace at which states shut down in early stages of the COVID-19 crisis, and the differing paces at which states are beginning to reopen, with many of the states that shut down last being the first to open up. While some states (such as New York and Massachusetts) which remain on essentially total shut-down demonstrate more aspects of Focault's political dream where the governor's power has been able to (mostly) shut down the state, other states where people have protested and disobeyed rules have begun to develop more lenient policies which leaves the power of social-distancing in the hands of the citizens.
---
Structural Violence in COVID-19
Paul Farmer describes Structural Violence as suffering that is structured "by historically given (and often economically driven) processes and forces that conspire — whether through routine, ritual, or, as is more commonly the case, the hard surfaces of life — to constrain agency" (Farmer 40). Structural violence is all too apparent in the COVID-19 crisis, as the pandemic's disproportionate effect on the lower class and racial and ethnic minority groups have illuminated structural problems in society that put those groups at higher risk. Individuals that are members of racial and ethnic minorities are more likely to live in densely populated areas, both because of historic housing segregation and the more commonplace of multi-generational homes. This makes the spreading of the disease easier, and creates a difficult environment to isolate oneself in the event they get sick.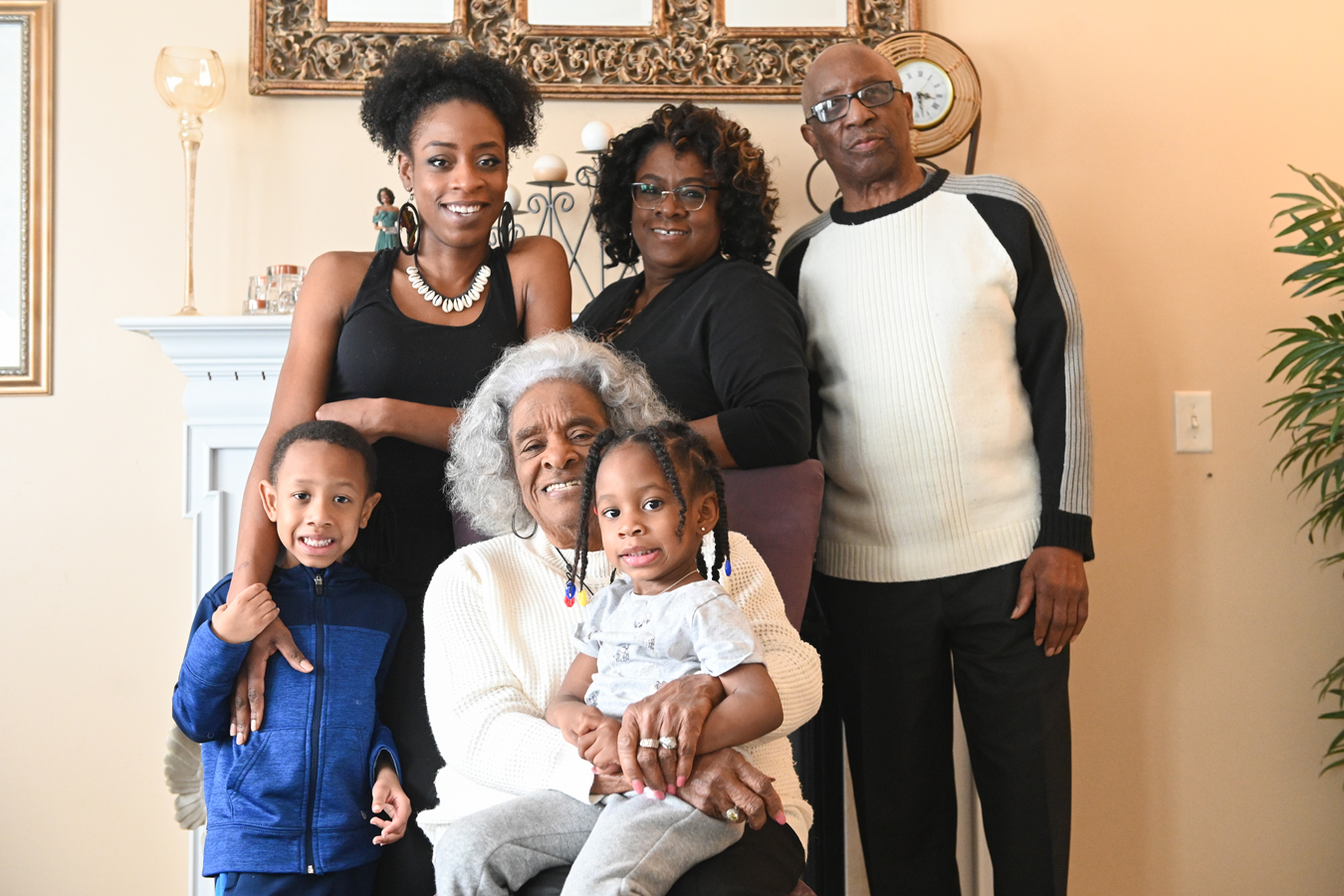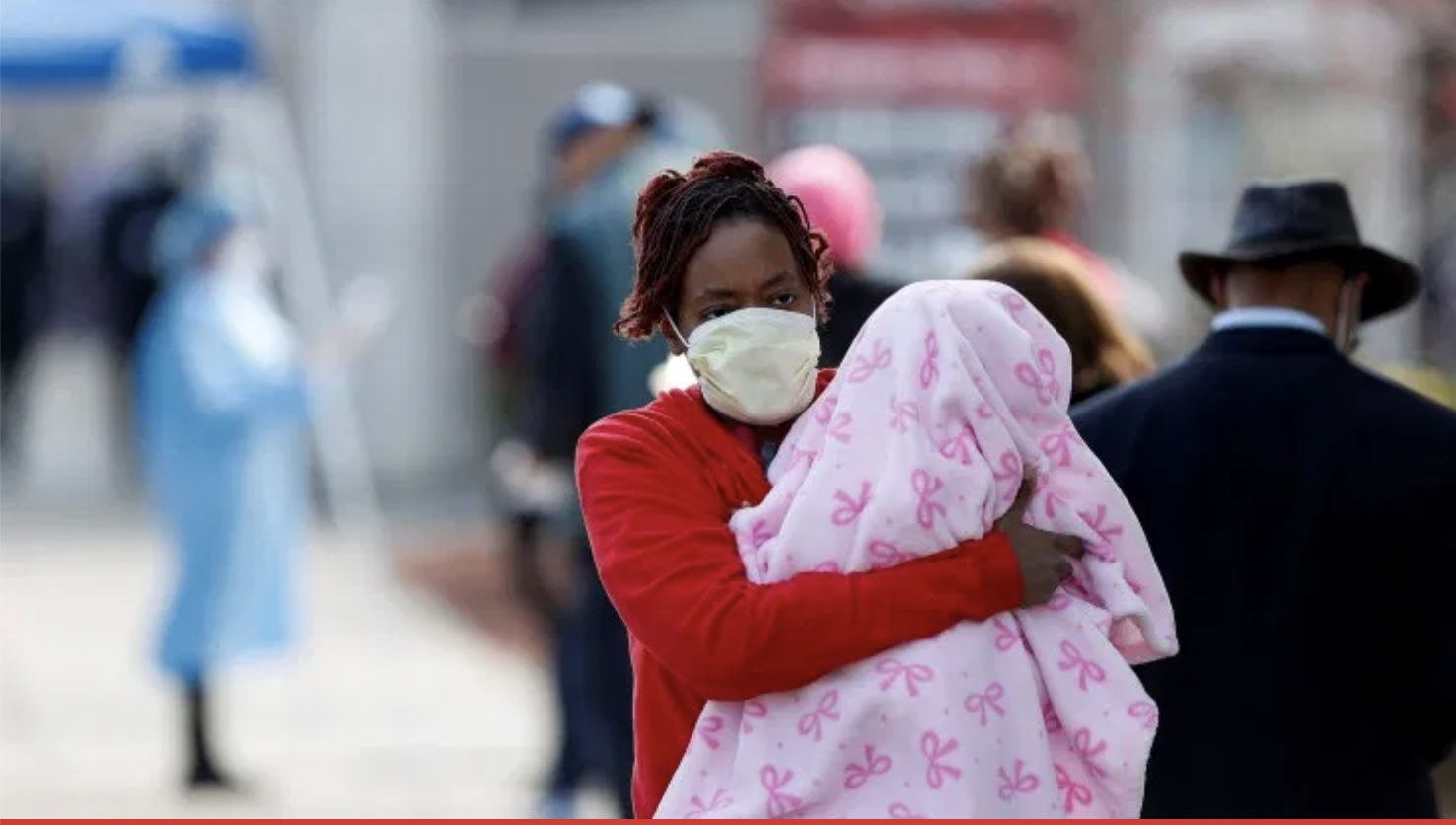 The trend of African Americans being disproportionately affected by COVID-19 is a nationwide trend, as depicted by the graph from National Geographic (below). National Geographic reports that almost ⅓ of infections nationwide have affected black Americans, despite blacks representing only 13% of the US population (Brooks). Many factors have contributed to this, including living conditions that prevent effective social distancing, and other social determinants stemming from structural components of society, including unequal access to health insurance and medical care, and employment. 

The National Geographic article by Rodney A. Brooks, noted that African Americans were more likely to have jobs that increased exposure to Covid-19 (lower-income jobs often do not provide the opportunity to work from home, such as the woman below who works in the food service industry), and needed to use public transportation to get to work.  Furthermore, many work hourly wages that don't have health benefits, and most predominantly black counties were located in the south where many states have not expanded Medicaid, leaving many people uninsured.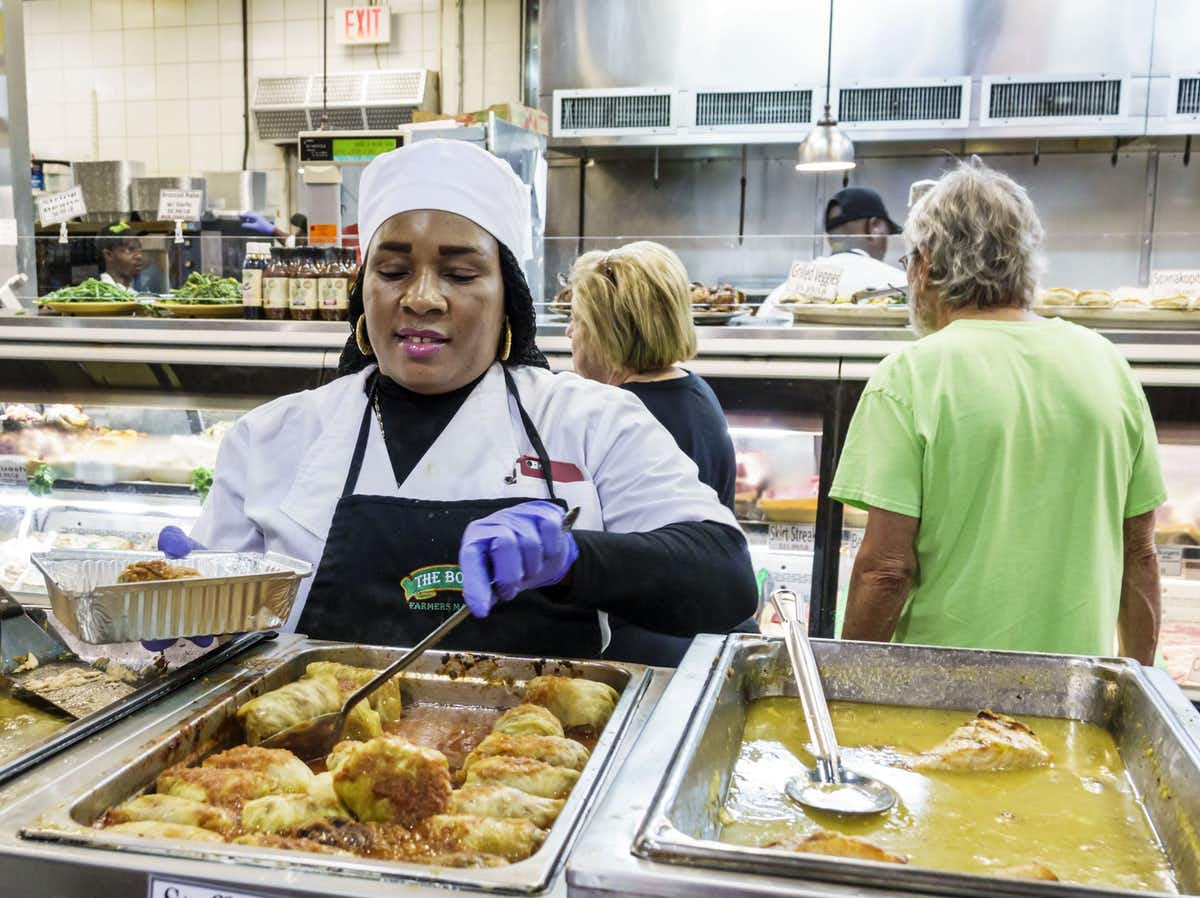 Covid-19 is also disproportionally affecting the socioeconomically disadvantaged. The structure of the US labor system has concentrated the lower-class in jobs that do not have the luxury of staying home, leading them to a greater risk of exposure (such as grocery store workers, or individuals employed in the service industry). Furthermore, Covid-19 has caused a massive unemployment crisis which leaves the lower class (many of whom live paycheck-to-paycheck) vulnerable to day to day disruptions, such as paying for food. Covid-19 had compromised resources that would otherwise be available for low-income families, such as WIC for groceries and food pantries due to overwhelming demand but limited supply.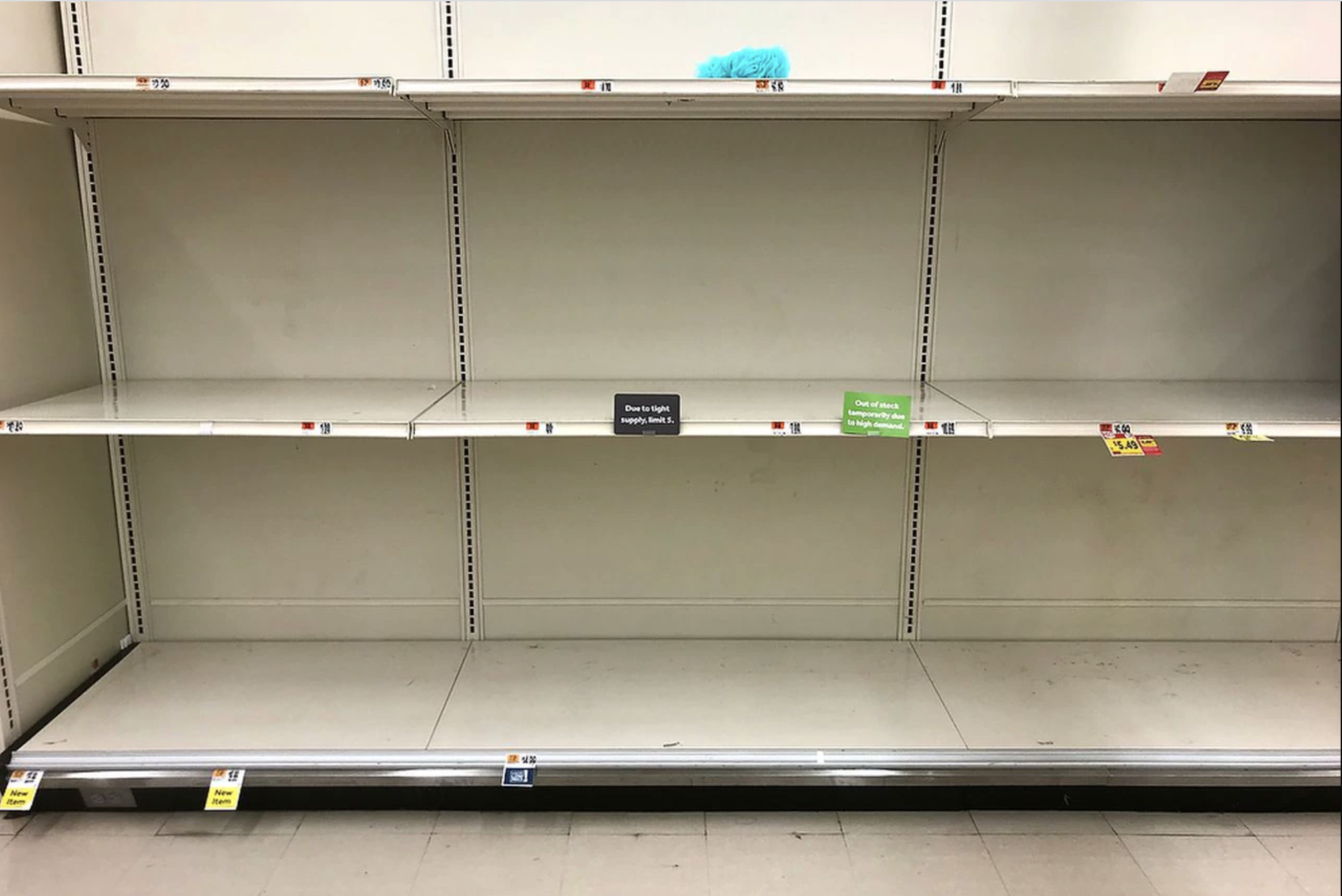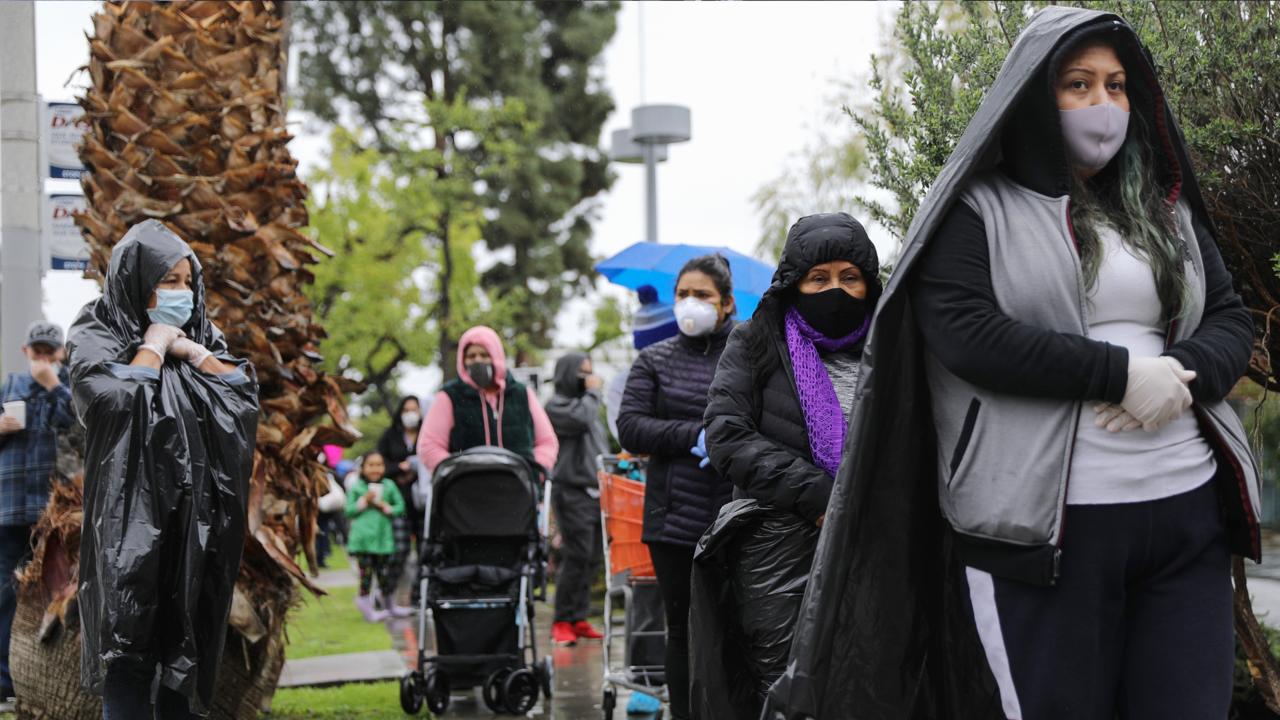 Historically and presently constructed structural issues in our society have come to light during the COVID-19 pandemic, and have afflicted disproportionate suffering upon certain demographics, including ethnic and racial minorities, and the financially disadvantaged. Health differences that have accumulated among these groups are often due to the social and economic conditions they are in, and leave them more susceptible to contracting COVID-19 and being hospitalized. Additionally, densely populated living areas and multi-generational homes, in combination with employment circumstances and inadequate access to medical care has led to an overrepresentation of these groups in COVID-19 counts and hospitalizations. While these structural issues have always existed, COVID-19 has shone a light on them and made it evident that there is a lot of change that needs to be made.
---
Changes in Caregiving. Family and Community Care.
What is a family? What is a community? They are both a gathering of people with something in common. In times like the ones that we are experiencing today, a sense of togetherness is what we need most. When the times call for isolation, we need to be together. Now that doesn't mean that we need to physically be together, but we need to be there for each other. Due to advancements in technology we are able to talk to our loved ones and community members over video calls.
In Latoya Ruby Frazier's The Notion of Family, there were trends of the family dynamic in times of struggle. In Frazier's hometown, she and her family endured many hardships that forced the family to grow as a whole. We see her relationship with her mother through her images and the stark black and white recollection of her home (Frazier 46). One of the key concepts of her work was the process of how everyday life continues throughout times of struggle. In times like these, we are forced to adapt and continue on with our lives. Even though everything seems to be shut down our lives don't appear to be different. Our places of work have shifted from the office to home and we are able to spend time with our families.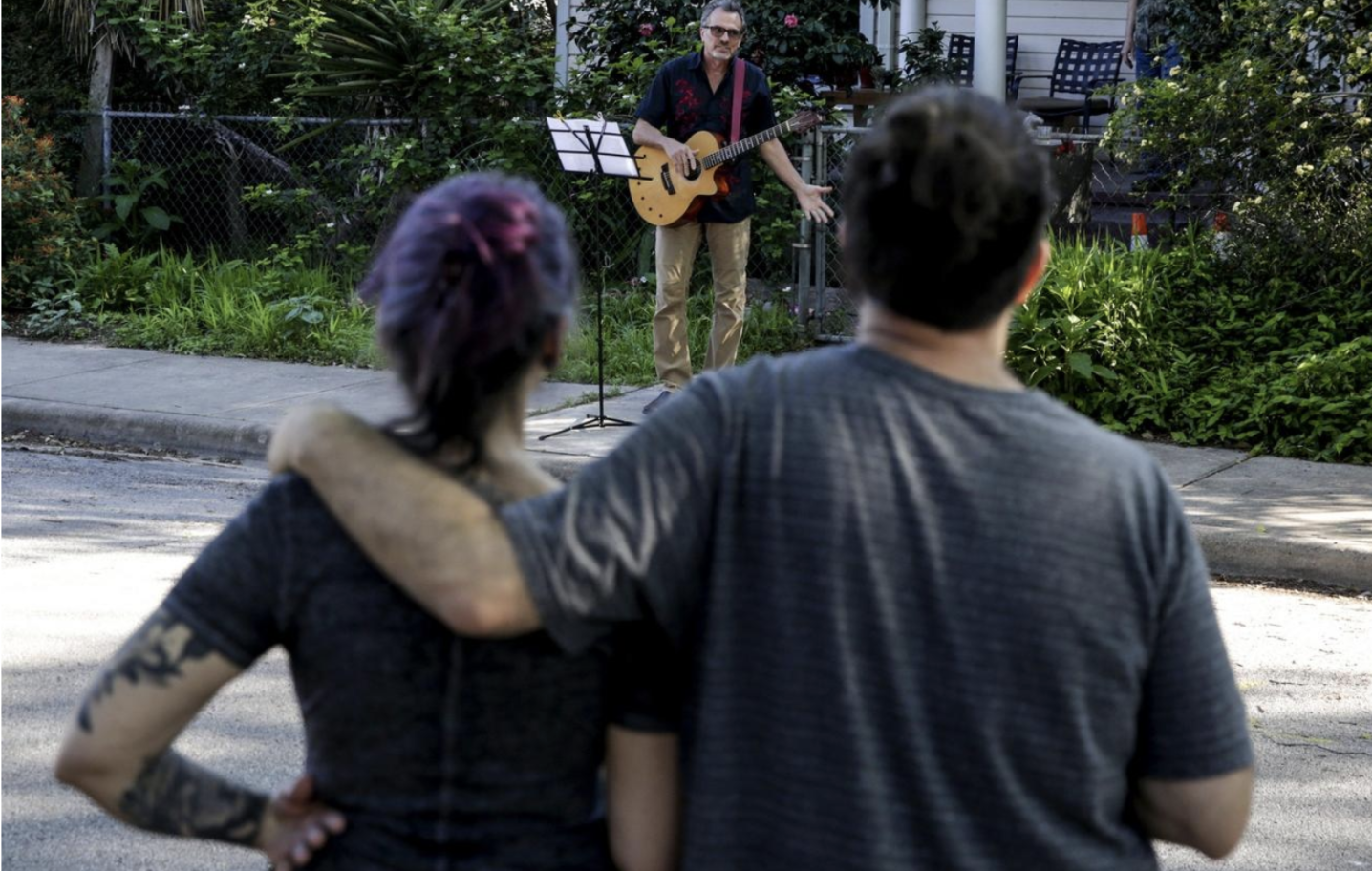 17. Guitarist David Kendall sings "Don't Stand So Close To Me" by the Police with his neighbors in East Austin on Tuesday. Kendall, along with a few other neighbors, started the neighborhood singalong to lift spirits during the city's coronavirus response // Bronte Wittpenn (American Statesman)
COVID-19 has caused people in communities to separate themselves and stay away from one another to prevent the spread of the virus. Even in times of isolation communities still make an effort to stay connected. Shown in Wittpenn's photograph is a couple watching a neighbor perform music from across the street. Even while practicing social distancing they are able to enjoy the company of one another. There is a sense of community even without being together. The man playing the guitar is able to give a sense of normality in times of abnormality. He is able to relieve some of the stress that is felt by the neighborhood that a part of. There is a sense of intimacy provoked by this piece. A sense of love between the couple and yet there is also a love towards the musician.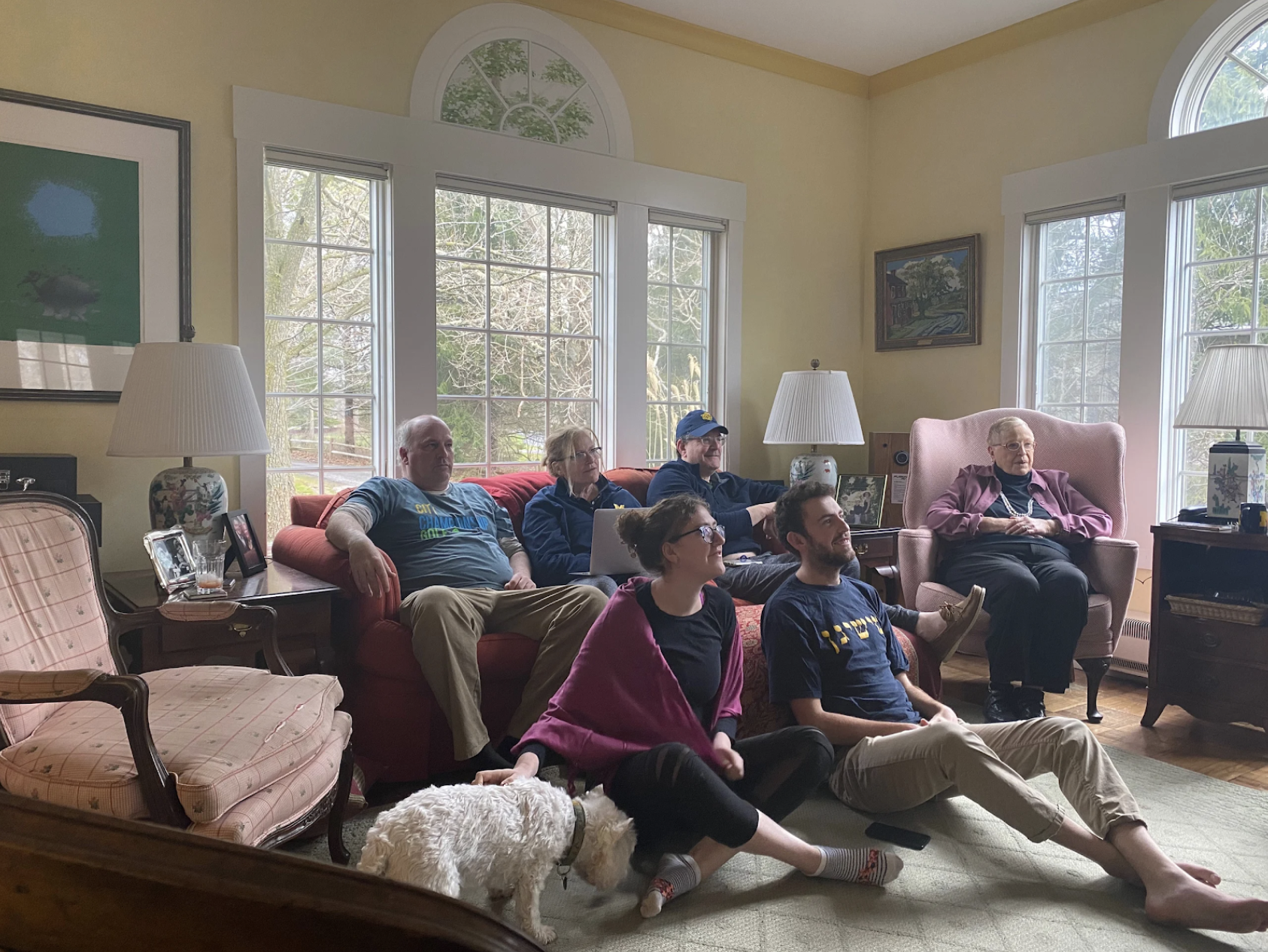 18. The Conlin-Rivkin family, at home together again Michigan // Florence Rivkin (Vogue)
With universities cancelling across the nation many students are forced to leave their campuses and return to their childhood homes. The natural stage of the empty nest in a family's timeline is interrupted as many children are moving back in with their parents to safely protect their communities from the spread of COVID-19. A family together is able to replenish some of the bonds felt earlier in life. This time of togetherness has been something that families are able to relish and enjoy. This could also be applied to roommates and friends that live together. In times where we work every hour and have limited time for connection we now have an abundance of time for the things that we really want to enjoy.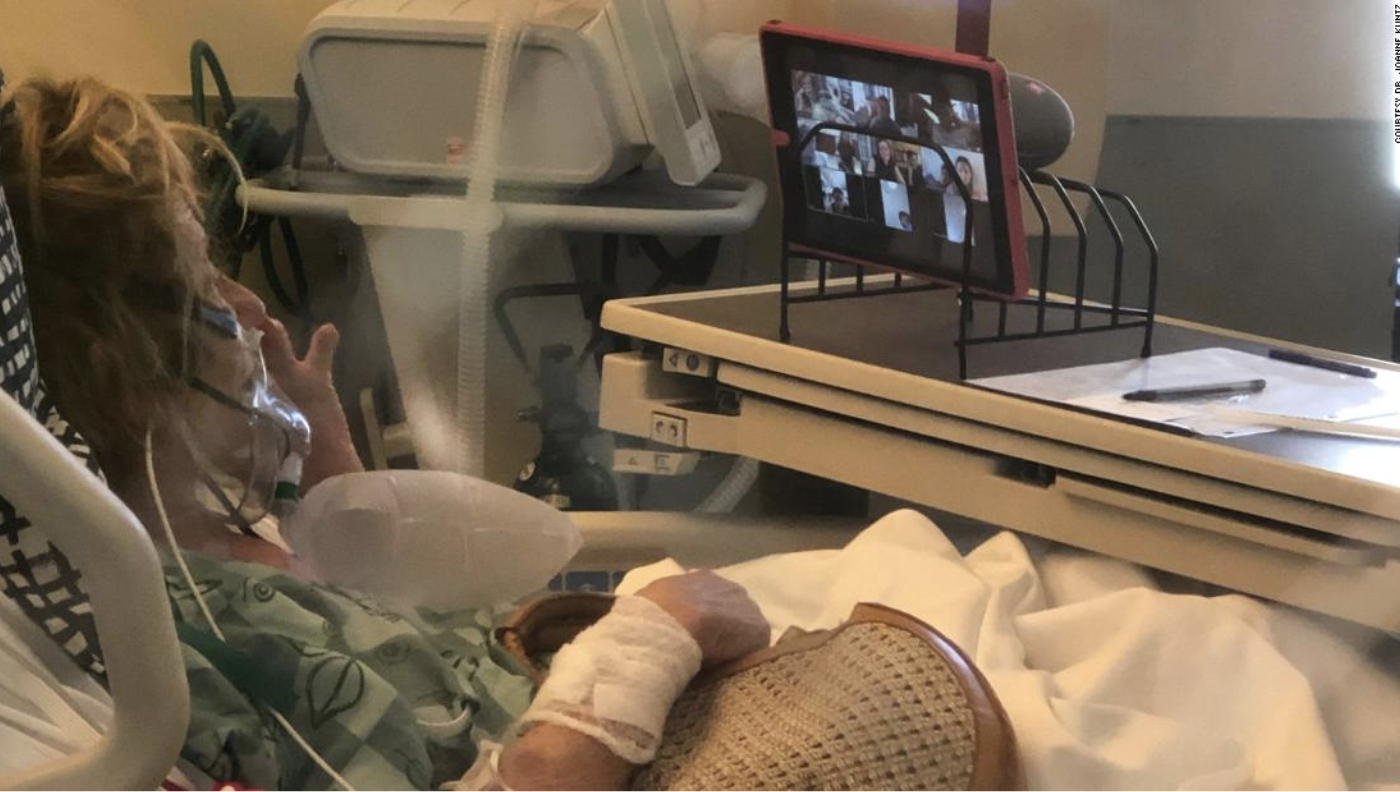 19. Margie Ulman speaking with her family from her hospital bed // Margie Ulman (CNN)
Isolated in a hospital room, an elderly woman waves to her family through a webcam calling app on a tablet. When she needs her family and their support most, she must get it virtually due to the circumstances that COVID-19 has put her in. With the elderly and the dying in one of the vulnerable high-risk groups affected by the virus, they must be isolated from others to protect themselves. Is this action counterintuitive to their health though? She is fighting this disease all alone in her hospital room with the only human connection being with her nurses and physicians. People that are most likely foreign to her. Whereas her family is on the other side of a video chat and unable to comfort her with their physical presence and rather with their virtual one. The hospital is supposed to be a place of healing, but in the times of COVID-19 it appears to be an isolated morgue.
---
Changes in Caregiving. Medical Care.
Medicine is put in place to serve and help the people that need it. In the trying times that we are enduring, medicine has had to adapt to continue to serve and help those in need. COVID-19 has forced many medical personnel and facilities to alter how they operate and treat their patients. The measures taken have been to reduce the spread of the virus and the number of people in the hospitals so that they don't get overloaded with people.
A "spy in the house of death" from Susan Sontag's Regarding the Pain of Others is a beautiful analogy to the people that are working in hospitals and serving on the frontlines today (Sontag 55). The house of death is the hospital, where infected patients are brought to be put on respirator just so that they can breathe. The spy is every man and woman serving in hospitals and volunteering to serve those. They are spying within the house of death and seeing the damage that the virus can produce and leave in its wake.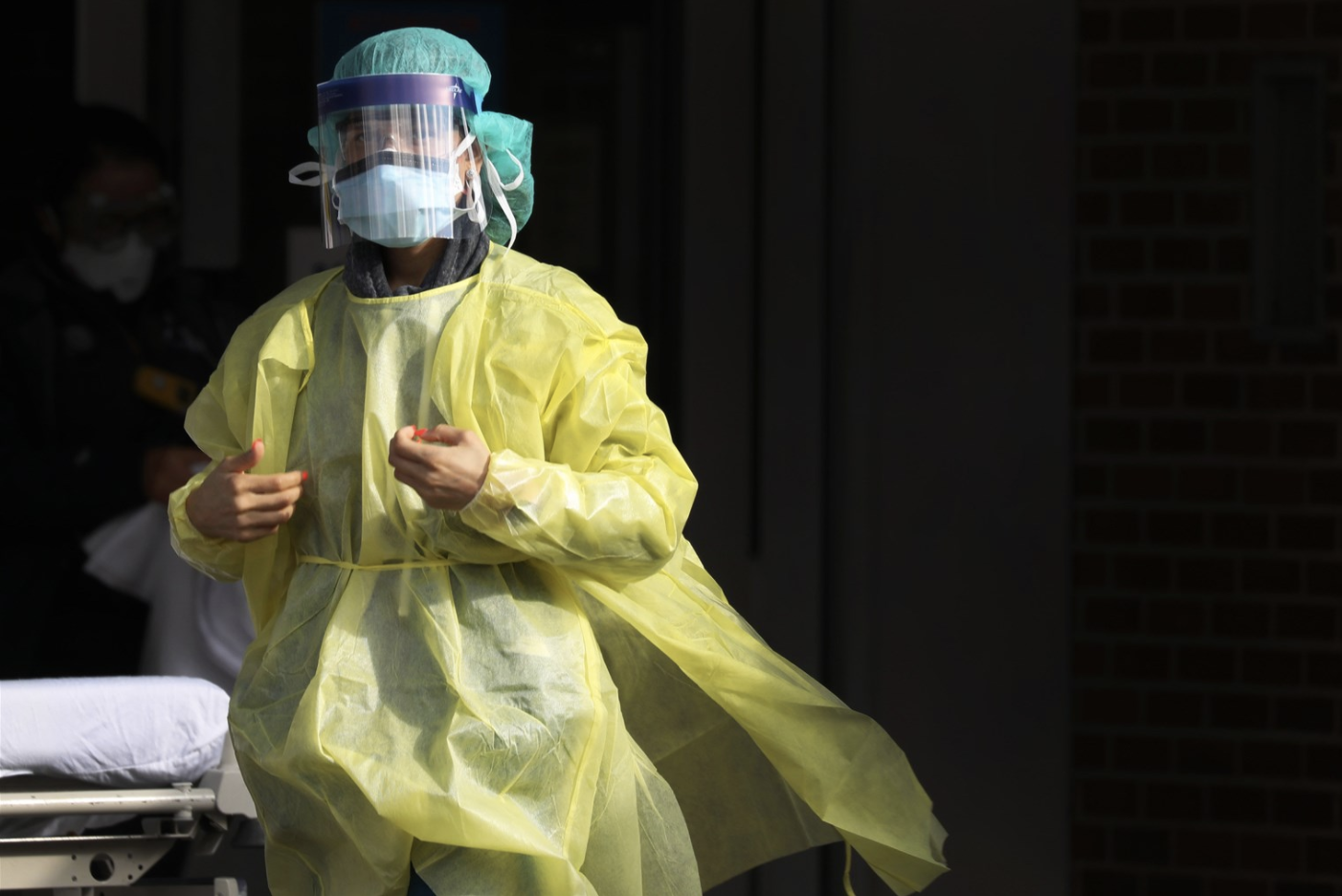 20. A medical worker walks outside of a special coronavirus intake area at Maimonides Medical Center on April 10 in Brooklyn, N.Y. // Spencer Platt (Getty Images)
COVID-19 has caused doctors and medical personnel around the globe to alter their traditional practices. What was once an interaction that could be greeted with a smile is now merely greeted with emotions only expressed by the eyes, and even those are covered up with protective gear. In this image we see a medical worker covered head to toe in protective gear in order to minimize their exposure to the virus. Their yellow aprons coat their torso, legs, and arms. The blue hair nets. The facemask. The plastic face cover. The orange gloves. All of these items are used to protect the workers on the frontlines of this war from the damage that the enemy can cause. What effect does all this gear have on the patients? They must feel even more infected that they already do with the precautions that their helpers are taking to protect themselves.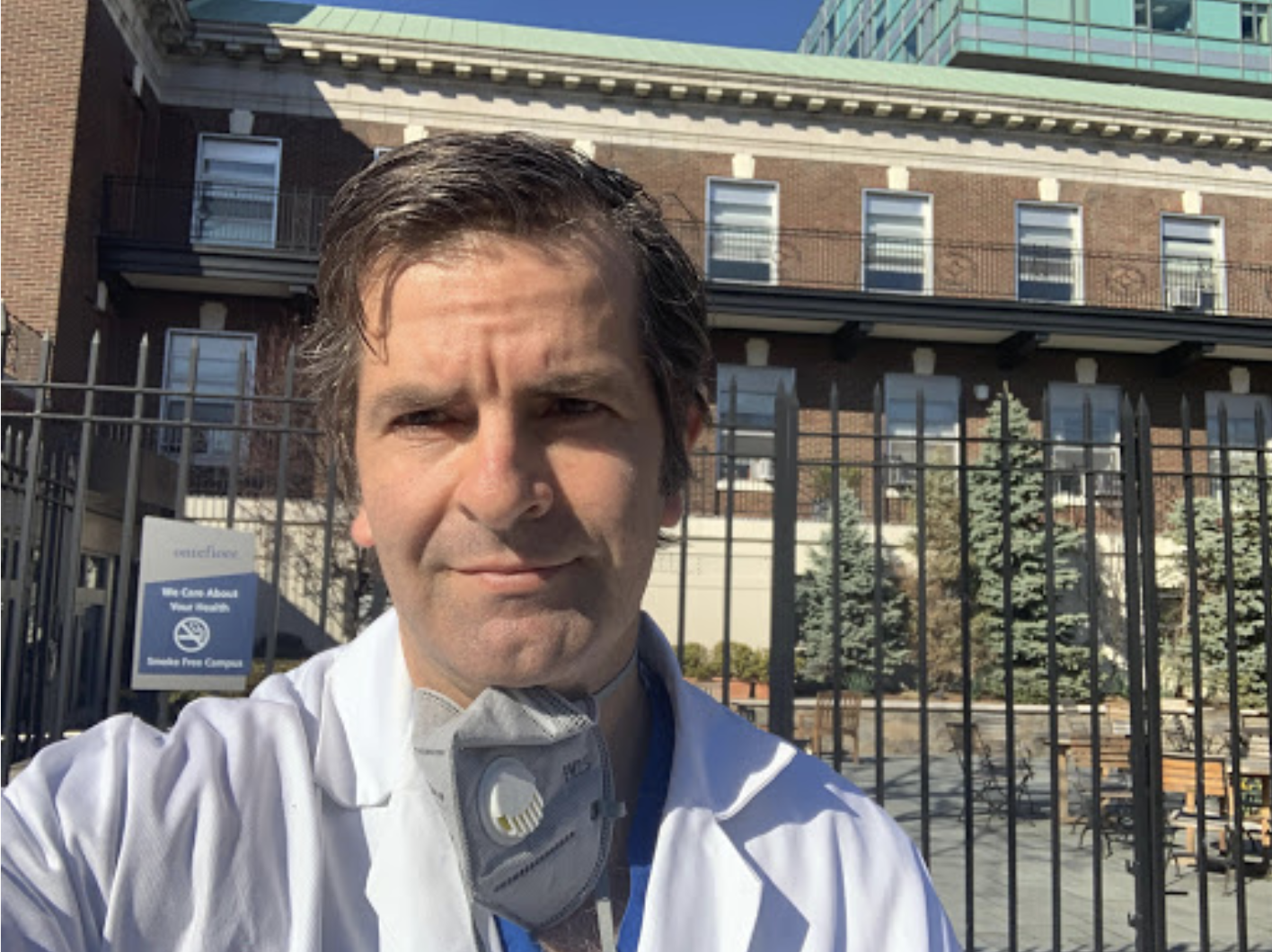 21. Dr. Evan Garfein is now an emergency room doctor at Montefiore Hospital in New York. // Dr. Evan Garfein (NJ.com)
This is Dr. Evan Garfein. A Princeton alumnus who holds a speciality in plastic surgery. Dr. Garfein does not necessarily have the specified background in the field of fighting diseases but that did not stop him from going straight to the frontlines of this pandemic to do his part in helping. He is making the sacrifice of his own well-being to work 12-hour emergency room shifts to tackle and contain the disease. Due to this photo being taken outside of the hospital he must've had to take off the "contaminated" objects that protect him. A servant to the public, Dr. Garfein is fighting against the onslaught of this natural evil that poses an immense threat to millions across the globe.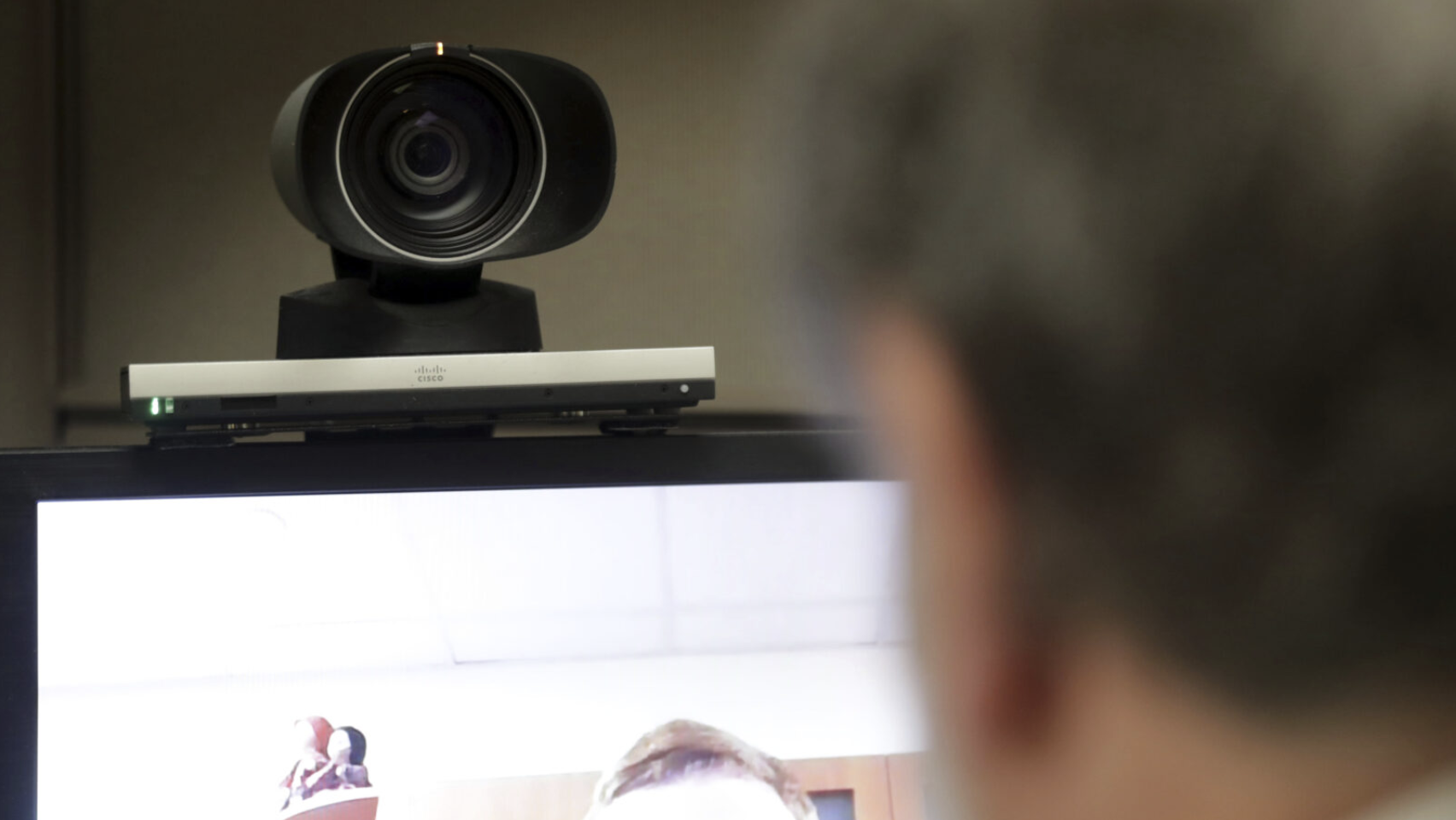 22. A physician uses a telehealth camera. // Andrew Shurtleff (The Daily Progress via AP)
The amount of video calling has risen in the time of COVID-19 and this practice has even been implemented in the medical field. The practice of social distancing is applied to nearly all aspects of society now and medicine had to adopt this policy. Teleconferencing with doctors and meeting with them over video has begun to take place to practice the social distance guidelines. The question that arises from this practice is how effective will doctor's diagnoses be from only a video call? Certain specialties require interaction and the doctors to feel what is wrong or ailing the patient. How are these specialties supposed to adapt to the social distancing measures? Should the patient still be able to come in and get a proper diagnosis or stay home to keep them safe from the virus? These are questions that are answered in various ways through the suspension of elective surgeries and only performing necessary emergency lifesaving operations in order to reduce the risk of too many people present in the hospital.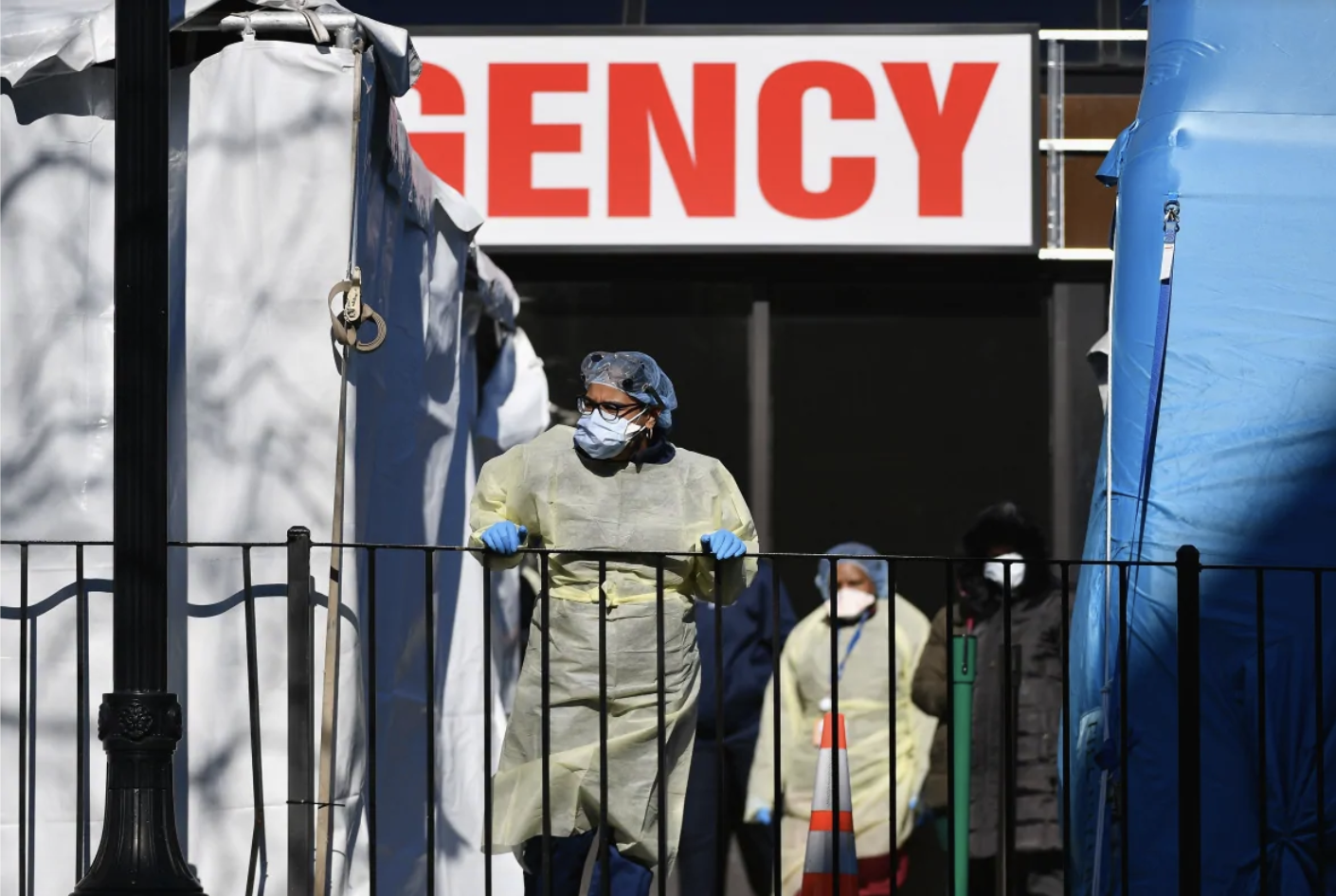 23. Medical workers outside Elmhurst Hospital Center in the Queens borough of New York City on Thursday. A day earlier, Elmhurst reported 13 COVID-19 patients died at the hospital in a 24-hour span. // Angela Weiss (Getty Images)
Emergency room workers clad in protective gear. This image includes the corners of a popup tent near a hospital in New York. These tents are used to provide more spacing for patients affected by the virus. With hospitals being overrun in certain hotbeds of the virus, they have to adapt to provide the care needed for the numbers of patients that need to be treated. The popup tents are one of the many ways used to increase bed numbers and spaces for patients to be treated. Luxurious hospital rooms and facilities have been overrun by the number of individuals that have sought assistance at these places of healing. In extreme times the hospitals have had to resort to extreme measures to help and serve the public.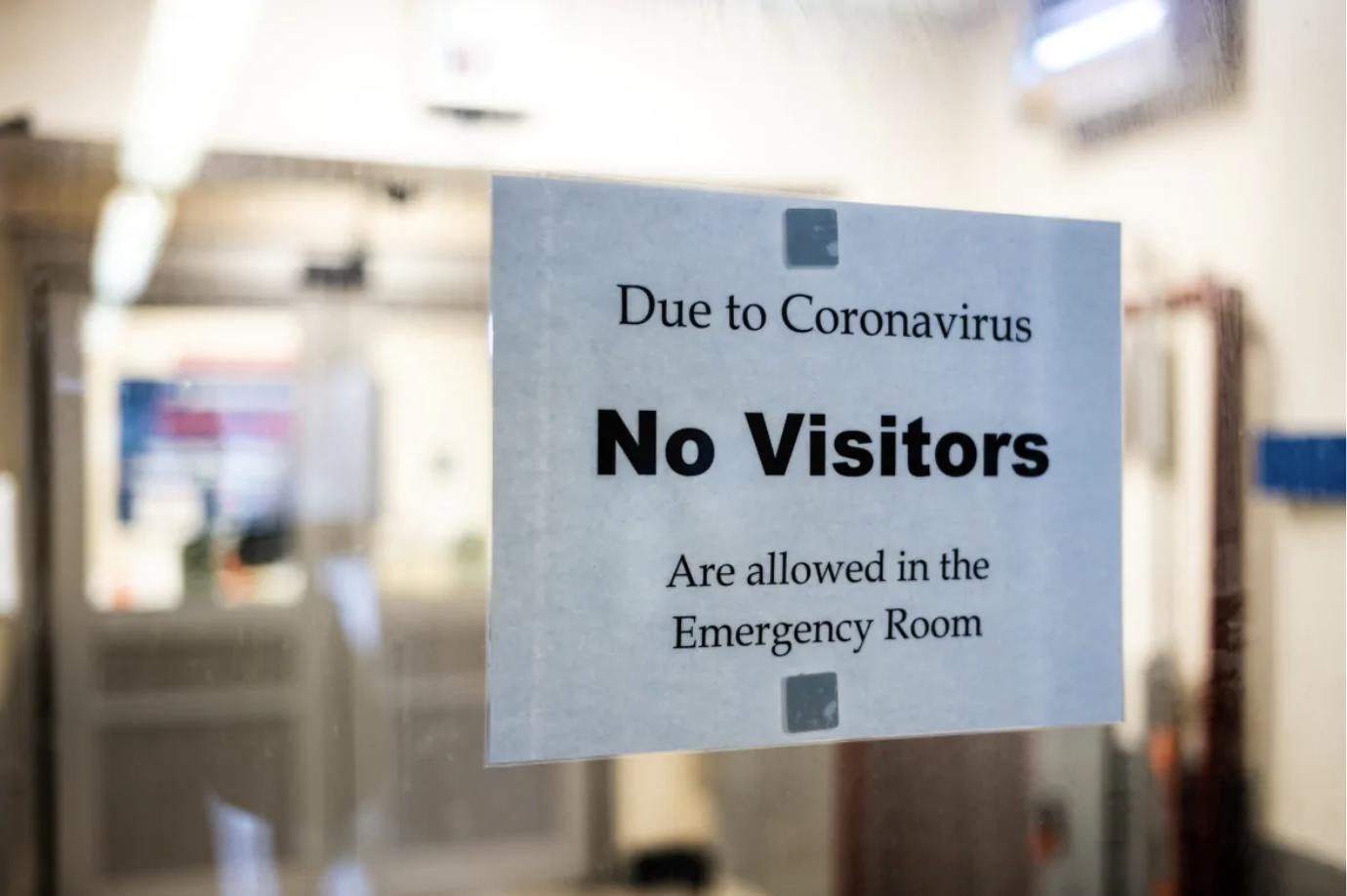 24. A sign is posted on the door of the emergency department at St. Barnabas Hospital. Patients in critical care units are held in isolation, so family members are unable to visit. // Misha Friedman (Getty Images)
The presence of family members in hospitals has been restricted in many hospitals around the country. These restrictions must be viewed through the lens of a patient. Being isolated and alone in a hospital room with cold bland walls around you. The light generic decorations in the room seem to blend in with the basic wallpaper. The sounds of distant voices seem to mix in together with the constant monotone beeps of the EKG machine. No physical interactions with their family or friends. No support except for the video talks that seem to get less and less real with each call. No visitors within a hospital were put in place to limit the spread of the disease, but is it beneficial to the patient's health?