By Imani Noelle Ford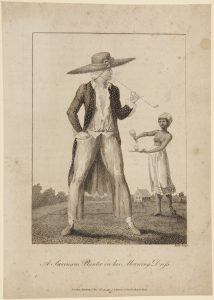 "A Surinam Planter in his Morning Dress" is the second Blake etching from John Gabriel Stedman's Narrative of a Five Years Expedition that appears in this exhibition. Like, "A Negro hung alive by the Ribs to a Gallows," this etching is also based on a drawing by Stedman. According to Stedman, this image depicts the planter taking his morning walk just after eating breakfast and overseeing his slaves' whippings. In the narrative, Stedman meticulously describes the planter's attire. It would seem that his attire–like his stature in the etching–was also integral to Blake's portrayal of the planter's power.
Although the artist etches the black female slave as she approaches her master with his morning wine, Blake's detailed drawing of the planter gives the impression that he is the primary subject. The planter stands tall and centered, as he nobly regards his surroundings. He is exquisitely dressed in his morning trousers, wide-brimmed, ribboned straw hat, ruffled morning shirt and longline morning coat, accentuating his status and life of leisure. Interestingly, these etchings were heavily disseminated to to showcase slavery's brutality. However, this version and other variations of this particular etching both recreates and reinforces the white, male planter's power and status.
The object label for "A Negro hung alive by the Ribs to a Gallows" gives more background information of on Stedman's narrative, historical context, and Blake's politics.