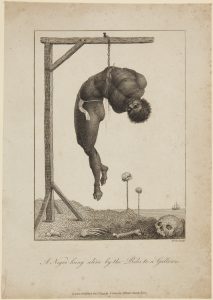 This engraving by radical British artist William Blake (1757-1827) is based on a sketch by Scottish-Dutch soldier John Gabriel Stedman. It comes from a series of engravings that appeared in Stedman's Narrative of a Five Years Expedition Against the Revolted Negroes of Surinam, which is set within the Dutch capture of the British colony of Suriname during the Second Anglo-Dutch War (1667). After Suriname was overtaken, the major form of resistance became "maroonage," a strategy in which fugitive enslaved people, or "maroons," escaped inland to form communities from where they waged a campaign of guerrilla warfare against the Dutch. Stedman himself witnessed the cruel oppression of those enslaved during a campaign against the maroons in 1774. The book was espoused by abolitionists, though Stedman probably supported reform rather than abolition.
This engraving depicts an enslaved black man hung alive to a gallows by a single hook through his ribs, a gruesome scene Stedman recounts from his experience. The brutalized body, along with the skulls and bones on the shore and the haunting ship in the horizon, demonstrate how enslaved lives were dictated by the violent domination of white people over black bodies.
Read more about another engraving from this series here. More of Blake's pieces are held at the Princeton University Art Museum.
By Matthew Choi Taitano