Nadia Huggins from CQV Portfolio II
Nadia Huggins from CQV Portfolio II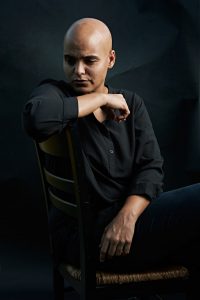 Nadia Huggins is a self-taught and self-employed visual artist, photographer, and graphic designer. Although born in the Port of Spain of Trinidad and Tobago in 1984, Huggins spent most of her childhood living in Saint Vincent and the Grenadines. She has since lived and worked in Trinidad, Saint Vincent, and Saint Lucia.
As a practicing artist who works mostly in photography, Huggins draws much of the inspiration for her work from her identity as a Caribbean woman as well as from the poignant experience of losing a parent. The death of a loved one deepened Huggins' interest in the visual arts and renewed her passion for making images, as she found the creative process therapeutic. Huggins is dedicated to creating artwork that challenges the narrative surrounding what Caribbean photography, as well as the Caribbean itself, should look like.
Huggins also uses video to create some of her pieces. For the work she does underwater, she uses the Olympus Tough TG2, a simple point and shoot digital camera. In an interview with the Breakfast Culture Club, Huggins says that she aims to see how far she can push her ideas while working with basic equipment, though admitting that using basic equipment can be limiting in terms of image control and quality. Overall, Huggins believes that using basic equipment has allowed her to enjoy a certain amount of flexibility and agility.
The sea is a major theme in many of Huggins' pieces. Perhaps most prominently, the photography series Transformations, within her overarching project titled Fighting the Currents consists of several self-portraits of herself underwater contrasted with photographs of various elements of the sea. One piece is an incomplete photograph of herself underwater and concealed by the shadows. The photograph is made complete with another photograph of a spiny sea urchin, suggesting a connection between the sea and the individual.  
Huggins believes that the sea offers individuals the opportunity to reimagine themselves in experimental and innovative ways. In an interview with the online publication Designer Island, Huggins refers to the sea as her unexpected source of not just ideas, but also healing. Huggins believes that the sea is an excellent source of inspiration because "it holds a lot of history and familiarity to all of us" and that it represents the heart of our humanity.
To Huggins, the sea as well as other natural environments serve as backdrops to guide her explorations of culture and of identity. Across collections, she juxtaposes all things human with her Caribbean surroundings, from boats, to chairs, to human bodies themselves, in a concerted effort to present rich and accurate images of decay, nostalgia and renewal, among other aesthetics.
Besides working as a freelance graphic designer, Huggins also serves as the co-founder of ARC Magazine, a non-profit online and print publication. She co-founded this visual arts publication with Holly Bynoe in 2011 in hopes of creating a platform for Caribbean artists and other artists of the Diaspora to display their work. In the magazine, artists are able to share information about exhibitions, opportunities, contemporary practices, and partnerships in the Caribbean and its diasporas.
Huggins received the Festival Caribéen de l'Image au Mémorial ACTe Jury Prize in Guadeloupe for her photography in 2015. Her artwork has been featured in exhibitions both in the Caribbean and internationally. A few of her most prominent exhibitions include the Small Axe: Caribbean Queer Visualities in Belfast, U.K. in 2016 and the Relational Undercurrents: Contemporary Art of the Caribbean Archipelago in the Museum of Latin American Art in California.
Nadia Huggins' portfolio is undoubtedly situated in a collective Caribbean identity, but it encompasses a number of intersectional existences as well. Huggins' projects explore and portray a multitude of identities, such as masculinity, youth, queerness and Blackness, in both harmony and contention with elements of nature like the sea and the man-made world.
Work Cited
"About ARC Magazine." ARC Magazine Contemporary Caribbean Visual Art Culture, ARC Magazine, arcthemagazine.com/arc/about/.
Lloyd, Ayanna Gillian. "Talks: Photographer and Graphic Designer, Nadia Huggins." Designer Island, Designer Island Life, designerislandlife.com/talks/instagram-interview-with-photographer-and-graphic-designer-nadia-huggins/.
"Nadia Huggins." Breakfast, Breakfast Worldwide, 9 Dec. 2016, www.breakfastcultureclub.com/culture/2016/12/9/nadia-huggins.
"Nadia Huggins." LensCulture, LensCulture, Inc., 2018, www.lensculture.com/nadia-huggins.
"TEDxPortofSpain » Nadia Huggins." TEDxPortofSpain, TED, tedxportofspain.com/portfolio/nadia-huggins/.