Ebony G Patterson "the Of 72 Project"
Ebony G Patterson "the Of 72 Project"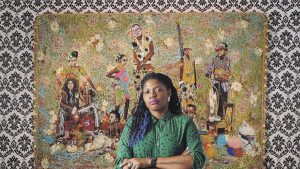 Ebony G Patterson, a mixed media artist and painter, was born in Kingston, Jamaica in 1981 and moved to the United States in 2004. Currently, she is an Associate professor of mixed media and painting at the University of Kentucky, in Lexington, and has previously taught at the University of Virginia. Patterson received her BFA from the Edna Manley College in Kingston, and received an MFA in Printmaking and drawing from the Washington University in St. Louis. Though Patterson has been working in the United States for over a decade now, it is still crucial to her to articulate the difference in her working in Lexington, Kentucky, and living in Jamaica. She has said that she "will never have an American perspective" and continues to maintain close ties to Jamaica; this also is reflected in her work.
The larger themes of Patterson's work center on questions of identity, sexuality, and the body. Series like Gangstas, Disciplez + the Doiley Boyz (2009) and "Gangstas for Life" (2008) explore concepts of masculinity within Dancehall culture, especially as it relates to the aesthetic, and cosmetic, transformations young black males undergo to enhance their gangsta status, such as skin bleaching, plucking their eyebrows, and wearing "bling". Using a wide range of techniques and materials in her work, which include mixed-media painting, installation, tapestries, and works on paper, Patterson glamorizes them with glittered halos and lipstick. Donna P. Hope, the author of Inna di Dance: Popular Culture and the Politics of Dance in Jamaica, writes that in the Gangstas series, "paradoxes of hardcore Jamaican masculinity collide in the flesh and are immortalized in painful relief, as Patterson's artistic renderings wrest them from their inner spaces and thrust them into the outer world. Patterson's pieces are rich in their grotesque attention to exaggerated details that silently scream their paradoxical truths". [2]
Patterson's work has also begun to center on the idea of circulating the images and visibility of people of color that may otherwise go unseen. In her installation "…when they were younger…", Patterson transforms a museum's room into a pink children's playroom, which has a "radioactively pink plush carpet" on the floor and has the entire space filled with children's toys. However, the focus of this installation seems to be the photographs that hang on the pink-and-white polka dotted wallpaper in the room. Some of them have multiple children on color interacting with one another, surrounded by colorful patterns. On one wall, there are individual portraits of black adolescents who appear to be posing for a school photo. The surfaces of these photographs are embellished with stickers, refrigerator magnets, Mardi Gras beads, and other sparkle and shine that captures viewers' attention. However, upon closer examination, the images have bullet like holes that riddle them, allowing the pink of the background to emerge. While the children in the images are not the victims of violence themselves, they serve to evoke the images that we've grown accustomed to seeing on the news about the violent deaths of black children. Patterson has said that she hopes to "to pull the viewer in to see further and raise questions about how we engage in the act of looking" with her work, and with her use of striking colors and textures in her pieces, she is able to draw attention toward people, and stories, that are usually overlooked.
---
[1] http://moniquemeloche.com/wp-content/uploads/2014/05/EP-CV-4.pdf
[2] https://issuu.com/veronagrace/docs/gangstas_for_life_catalog
Image: http://www.sandiegouniontribune.com/entertainment/visual-arts/sdut-lux-art-institute-ebony-g-patterson-2015apr08-htmlstory.html