Leasho Johnson from CQV Portfolio I
Leasho Johnson from CQV Portfolio I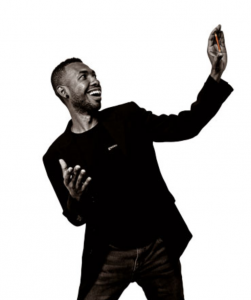 Leasho Johnson is an artist from Montego Bay, Jamaica who was born in 1984. Raised by his mother, a "country girl," and by his father, an aspiring artist, Johnson was trained in traditional drawing and painting methods and created his first paintings at the age of four (Johnson). During his youth, Johnson's idols were the Impressionists, who were most well known for their scenes of the mundane and their inclusion of movement and light as key aspects of the visual world. Though he grew up in his father's studios learning traditional ways to make art, Johnson coupled his classical training with his love of cartoons—a blending of "high" and "low" culture that has become a key aspect of his work.
Johnson studied art and graphic design at the prestigious Edna Manley College of the Visual and Performing Arts in Kingston, Jamaica where he attained a BFA in Visual Communication in 2009. As he explored two and three dimensionality, he became interested in fashion design, exploring "how fashion shapes the image of the woman herself, within the constraints of the economy and her ethnicity"(Johnson). His more recent work is heavily influenced by Street Art, Dancehall music, as well as cartoons and other aspects of pop culture. As a founding member of the Dirty Crayons Collective, he has been featured in exhibitions in Jamaica, Aruba, the U.S., and Europe. Some of these exhibitions include: Young Talent V (2010, National Gallery of Jamaica), the National Gallery of Jamaica's Biennials since 2010, Jamaica Routes, (2015, the Punkt Ø Gallerie in Moss, Norway), and Jamaican Pulse: Art and Politics from Jamaica and the Diaspora (2016, Bristol, United Kingdom).
Jamaican Dancehall culture takes center stage in Johnson's work because for him "it is relevant to contemporary Jamaican youth and informs political, social, and racial views in Jamaica" (Johnson). Johnson explores these themes through ceramics, mixed media, street art, graphic design, found objects, murals, and more.  Jamaican Dancehall is a genre of Jamaican popular music that originated in the late 1970's. Although Dancehall was initially a version of reggae, the emergence of digital instrumentation during the mid-1980s gave Dancehall a more distinct aesthetic characterized by faster rhythms and the use of Jamaican Patois over Jamaican standard English. Over the past few decades, Dancehall music has gained worldwide mainstream success because of its popularity amongst Jamaican diasporic communities. The genre's name alludes to the Jamaican dance halls where popular Jamaican records were played on local sound systems or speakers. In her essay, "Dancehall: Origins, History, Future," Donna P. Hope defines dancehall as a means of self creation and expression. She writes it's a "cultural stage where creators and adherents mainly from inner-cities & working classes narrate self-conceptions and parody and perform self-images" (Hope, 9). While Dancehall spaces allows what subjects which Hope calls "creators and adherents" to create self-images dance halls are also "a place that recreates and reimages individuals, especially men, away from their actual social positioning" (Hope, 1). Thus, it is a place in which individuals can take control of how they are represented and fashion an authentic self identity—a phenomenon that inspires much of Johnson's work.
Although Dancehall is known worldwide as a defining feature of Jamaican identity, Johnson feels that there are still hidden aspects of the culture that have yet to be excavated. Consequently, he uses Jamaican Dancehall culture as a means of answering questions about himself, a gay Jamaican man, as well as about Jamaican society as a whole in order to better understand the status of Queerness in Jamaica's postcolonial context. This ultimately brings forth questions for Johnson about fraught tensions between the church and state which sit as institutions that help contour ideas about what is public and private. In Jamaica, the power of the former does the work of defining the latter. That is, within the Dancehall space, tensions between public and private become significant as bodies, at times overdetermined by the vestiges of colonialism, and make meanings of themselves—queering subjectivities which are often delimited outside of the dance hall. Thus, the body is central to Johnson's work. Movement, relationality, signage and its inevitable relationship to a colonial past are focal.
Works Cited:
"Leasho Johnson." Davidoff Art Initiative, Davidoff Art Initiative, 2018, davidoffartinitiative.com/artists/leasho-johnson.
Parker, Rianna Jade. "Meet The Jamaican Artist Whose Work Is Inspired By Vybz Kartel." The FADER, www.thefader.com/2017/01/25/leasho-johnson-jamaica-dancehall-interview.
National Gallery of Jamaica. "Young Talent V: Leasho Johnson." National Gallery of Jamaica Blog, 19 May 2010, nationalgalleryofjamaica.wordpress.com/2010/04/28/young-talent-v-leasho-johnson/.
"Impressionism Movement, Artists and Major Works." The Art Story, The Art Story Foundation, www.theartstory.org/movement-impressionism.htm.
Saunders, Patricia Joan. "'Church Inna Session': Leasho Johnson, Mapping the Sacred through the Profane in Jamaican Popular Culture." Smallaxe.net, Caribbean Queer Visualities, smallaxe.net/cqv/issue-01/pdfs/CQV-086 patriciaJ-SAUNDERS.pdf.
Hope, Donna P. "Dancehall: Origins, History, Future." Groundings, www.academia.edu/7025734/Dancehall_Origins_History_Future.