Joscelyn Gardner, "A Collection of Creole Portrait of the Female Sex"
Joscelyn Gardner, "A Collection of Creole Portrait of the Female Sex"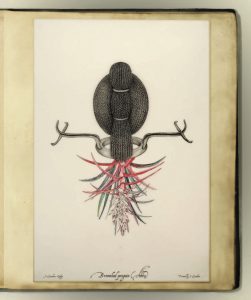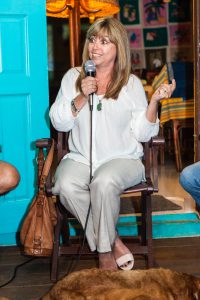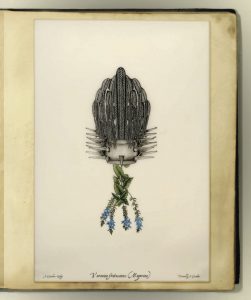 Joscelyn Gardner
Hailing from Barbados, Joscelyn Gardner is both an established professor at Fanshawe College in Ontario and world-renown artist who has traveled the world for the sake of presenting the Caribbean in a different light through her work. When Gardner left the island of Barbados for Canada in 2001, she had experiences of unease and confusion as to where her own identity as a white woman fit in the scope of the Caribbean, both past and present. This journey to better understand her place and her role in the current anti-white sentiments in her homeland became the primary motivation for her work as an artist.
Gardner draws inspiration primarily from her own background as a white Creole woman in the Caribbean, whose family has been on the island since the 17th century. While the term creole is typically confused with racial mixing, according to David Lambert, the term refers to the ways  that European/African cultures changed upon interaction with each other leading to the development of cultural practices and expressions that were neither wholly European or African, but defined by the linkage of the two. It was simultaneously refers to an identity used by the metropole to identify a sense of impurity and moral dubiousness in the citizens of the colony, a way for the colonial population to negotiate their loyalties and oppositions to the metropole, and the way that dominant discourse is influenced and shaped by non-dominant populations in a colonial context.   
Gardner's work distills these multiple uses of the word Creole in her work by using creolization to show the link between black and white Caribbean women considering the practices of subjugation and domination that slavery exposed these women to. She simultaneously shows us the way in which these women were hidden in traditional formations of the archive while radically including them as the subject matter in her mimicries, granting these silenced voices a long-awaited seat at the table.
Gardner's main medium is lithographic prints; these images have been included in collections from across the globe. Among these are numerous solo exhibitions across the United States, Canada, Spain, and many Caribbean islands. Her work has been in curated group shows in such venues as the Brooklyn Museum and Centre Pompidou. Additionally, her work has been showcased in multiple International Art Biennials in Sao Paulo, Santo Domingo, Pontevedra, Vienna, Krakow, Torun, Norway, and San Juan. Gardner is a recipient of the 7th Biennale Internationale d'Estampe Contemporaine de Trois-Rivieres as well as other international awards. Her work is part of the collections of the Yale Centre for British Art, Yale University Art Gallery, Museo de Arte Contemporaneo de Puerto Rico, Tropenmuseum in Amsterdam, and the V & A Museum in London. She is a frequent lecturer at many North American universities including Yale and Princeton Universities, discussing her work as seen in international art publications. Her career has spanned over three decades of production, bringing to the world a glimpse into a long-silenced history. Her work forces us to question the real origin stories of the epistemologies we take for granted.
Coussonnet, Clelia. "Exclusive Interview : Joscelyn Gardner – in the Framework of the Exhibition Who More Sci-Fi than US." Art Cariben Uprising Caribbean Art, Electronic Eye, June 2012, blog.uprising-art.com/en/exclusive-interview-joscelyn-gardner-2/.
Gardner, Joscelyn. "Joscelyn Gardner Canadian Caribbean Visual Artist Official Website." Joscelyn Gardner Canadian Caribbean Visual Artist Official Website, 2017, www.joscelyngardner.org/.
Joscelyn, Gardner. "Joscelyn Gardner Teaching Portfolio." Joscelyn Gardner Teaching Portfolio, 2017, www.josgardner.org/.
Lambert, David. White Creole Culture, Politics, and Identity during the Age of Abolition. Cambridge University Press, 2005.