Hoy fue desafortunadamente nuestro último día en Ecuador. La caravana fue una experiencia inolvidable, y fue difícil de creer que hoy no estaríamos atendiendo a niños en una comunidad rural. Por eso tuvimos la oportunidad de dormir hasta más tarde. Nosotras, Emely y Sofía, pudimos despertarnos a las 9:30am. ¡Por fin más de cuatro horas de sueño! Nos fuimos a desayunar a la planta baja del hotel, donde comimos una mezcla de comidas típicas Ecuatorianas.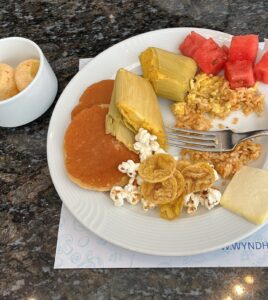 Sofia comió tigrillo (una mezcla de plátano, huevo revuelto, y queso), humitas (hechas de choclo), pan de yuca con queso, palomitas, panqueques, y chochos de plátano. Emely comió encebollado, hallacas (parecidas a las humitas pero hechas con pollo en vez de queso), ceviche mixto, chifles, arroz con frijoles, y piña. ¡También, Emely tomó 3 vasos de jugo de maracuyá! Emely le enseñó a Dom, Brox, y Ovi como comer el encebollado (con limón, cebolla, ají, y chifles).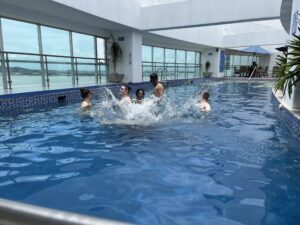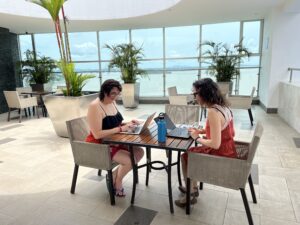 Después del desayuno, todos tuvimos tiempo libre para ir a la piscina en el noveno piso, dormir, empacar, o caminar por el malecón 2000.

¡Justo cuando Emely llegó a la piscina, empezó un terremoto de magnitud 6.8! Emely y su mamá se pararon debajo del marco de una puerta hasta que se acabó. Menos mal no nos pasó nada malo a ninguno de nosotros. Todos corrimos para salir del hotel y pararnos afuera hasta que se pudo entrar al hotel a buscar las maletas.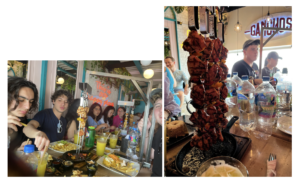 Después del terremoto, todos fuimos a comer en el restaurante Ganchos. Comimos pollo asado (colgado en unos ganchos), papas fritas, arroz con frijoles, y una ensalada con tallarines de zanahoria. Según varios de los estudiantes, esta fue la mejor comida del viaje.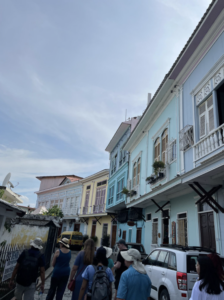 Empezamos el tour por la calle Malecón después del almuerzo. Mario nos contó un poco de la historia de Ecuador y cómo el país ganó la independencia. Caminamos por Las Peñas y vimos casas pintadas de diferentes colores. Después del paseo, fuimos al Parque de Las Iguanas, en donde vimos iguanas, tortugas, y palomas. También vimos la iglesia principal de Guayaquil y un monumento con el escudo nacional de Ecuador. El volcán es el Chimborazo, el río es el Guayas, y el pájaro es un cóndor. Además, vimos algunos monumentos de héroes relacionados con la independencia. Aprendimos acerca de Simón Bolívar, San Martín, y el héroe que traicionó a los españoles, José Juaquín Olmedo.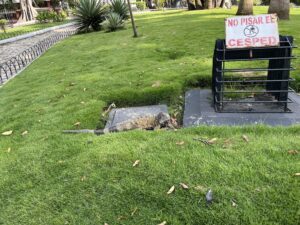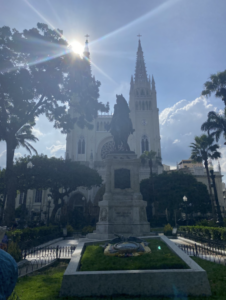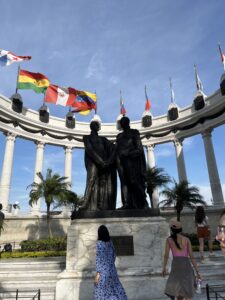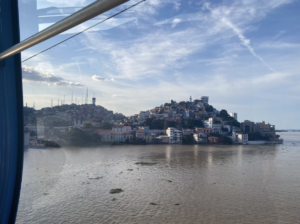 Después del tour, Sofía fue al mercado y Emely usó la Aerovía para ir a Durán y regresar a Guayaquil en 30 minutos. El mercado estaba lleno de puestos de artesanías típicas de Ecuador, y miembros del grupo compraron aros de Tagua, blusas, imanes, bolígrafos con forma de iguana, y polerones de lana de alpaca. La Aerovía fue muy chévere por la vista. 
Mario nos llevó a ver la ciudad de Guayaquil desde un mirador y nos tomamos fotos como grupo durante el atardecer. Después de eso nos subimos al bus y escuchamos las historias de Mario una última vez mientras nos dirigimos al aeropuerto.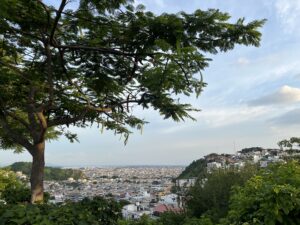 En el aeropuerto hemos tenido una odisea: A Sofia le han botado un dulce de leche artesanal y a Ovi un aerosol repelente. A Brox y a Anais les han llamado preguntándoles acerca de el equipo de los oftalmólogos que tuvimos que facturar. Por lo menos encontramos muchos asientos cerca de nuestra puerta y los restaurantes estaban abiertos. ¡Se retrasó un poco el vuelo pero pudimos despegar!
***
Today was, unfortunately, our last day in Ecuador. The medical caravan was an unforgettable experience, and it was hard to believe that we would not see any kids in a rural community today. We, Emely and Sofia, were able to wake up at 9:30am. Finally, more than four hours of sleep!  We went to have breakfast at the lobby of the hotel, where we ate a mix of traditional Ecuadorian food. Sofia ate tigrillo (a mix of plantain, scrambled egg, and cheese), humitas (made out of corn), yuca bread with cheese, popcorn, pancakes, and plantain chips. Emely ate encebollado(a soup with tuna and yuca), hallacas (similar to humitas but made with chicken rather than cheese), a ceviche mix, plantain chips, rice with beans, and pineapple. Emely also had 3 cups of passion fruit juice! Emely taught Dom, Brox, and Ovi how to eat encebollado (with lemon, onion, chili, and chifles).
After breakfast, everyone had free time to go to the pool on the ninth floor, sleep, pack, or walk along the boardwalk.
Just as Emely got to the pool, there was an earthquake with a 6.8 magnitude! Emely and her mom stood under a door frame until it was over. Luckily, nothing bad happened to any of us. We all ran out of the hotel and stood outside until we could re-enter the hotel to get our bags.
After the earthquake, we all went to eat at the "Ganchos" restaurant. We had grilled chicken (hanging on hooks, which is "ganchos" in English), fries, rice and beans, and a salad with carrot noodles. According to several of the students, this was the best meal of the trip.
We started the tour along Malecón street after lunch. Mario, our tour guide, told us about the history of Ecuador and how the country gained independence. We walked through the Las Peñas neighborhood and saw houses painted with different colors. After that part of the tour, we went to the Parque de Las Iguanas, where we saw iguanas, turtles, and pigeons. We also saw the main church of Guayaquil and a monument with Ecuador's national shield. The volcano is the Chimborazo, the river is the Guayas River, and the bird is a condor. Also, we saw some monuments of heroes related to independence. We learned about Simón Bolívar, San Martín, and the hero who betrayed the Spanish, José Juaquín Olmedo.
After the tour, Sofía went to the market and Emely used the "Aerovía" to go to Durán and return to Guayaquil in 30 minutes. The market was filled with stalls selling typical Ecuadorian handicrafts, and members of the group bought Tagua earrings, blouses, magnets, iguana-shaped pens, and sweaters out of alpaca wool. The Airway was very cool because of its view.
Mario took us to see the city of Guayaquil from a viewpoint and we took photos as a group during sunset. After that, we got on the bus and listened to Mario's stories one last time as we headed to the airport.
At the airport, we had an odyssey: Sofia's artisanal dulce the leche from La Danesa was thrown out, and so was Ovi's bug repellent spray. Brox and Anais were called asking about the ophthalmology equipment in their checked luggage. At least we found plenty of seats near our gate and the restaurants were open. The flight was a little delayed, but we were able to take off!