Welcome to the Bay
Growing up in the Bay Area, I have been fortunate to be surrounded by a vibrant culinary and restaurant community. When I think of home, I automatically think of the food and restaurants that I miss the most. My family and I would spend an hour waiting in line for Mensho Ramen in San Francisco and I would take my friends into Oakland Chinatown to get fresh baked cha siu bao (pork buns) and flaky dan tat (egg tarts) The summer after my freshman year in college, I had the chance to work with Tanya Holland, chef and owner of Brown Sugar Kitchen. Brown Sugar Kitchen (BSK) is an iconic new soul food establishment in Oakland and I have fond memories of sharing cornmeal waffles, crispy fried chicken, and beignets in BSK. 
When I initially became interested in the topic of technology and the Bay Area's restaurant culture during my anthropology classes in the Spring of 2020, Tanya graciously connected me to a number of different owners, chefs, and community members. These people include Dominica Rice, founder and owner of Cosecha; Kim Alter, chef and owner of Nightbird; Mary Gassen, president of Noe Valley Bakery; Mark Liberman, chef and owner of Mago; Michael Davidson, from the GrilledCheezGuy; Chris Cosentino, chef at Cockscomb; Shelley Chen, who has experience working on POS systems; and Chantal Martin, chef and instructor at Laney College's Culinary Arts Department. From my initial conversations in March and April of 2020, I created a beta website that featured Tanya's perspectives about COVID-19 and technology, along with those from Dominica and Kim. A link to my site, "Food For Thought: The Bay Area's Restaurant Culture in the Wake of COVID-19," can be found here.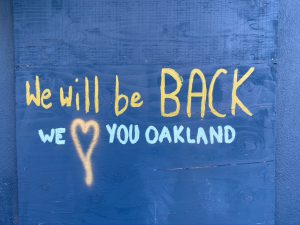 My initial conversations, along with the ongoing COVID-19 crisis and its effect on the Bay Area restaurant community, inspired me to continue to expand my project. I saw that COVID-19 was forcing restaurants to adapt. One of the biggest trends was the growing adoption of technology platforms in restaurant operations. While I wanted to be in the kitchen and embedded in the community as many ethnographers do for their field work, I did want to give these owners and chefs space to navigate these new challenges. I decided to watch from afar and follow up with both Tanya and Kim a little over half a year after our initial conversations. Their stories and perspectives are incredibly valuable to understanding the repercussions of the COVID-19 pandemic and how the relationship between technology and restaurants is continuously changing.
Before hearing from two important characters in this story, Tanya and Kim, it is important to provide some context on the relationship between COVID-19 and the Bay Area restaurant community. Focusing on San Francisco, the visualization below traces two different timelines — the number of SF restaurant openings over the past 13+ years (with 2021 being lower since it is the current year) and SF restaurant closures over 2020. The latter timeline is aligned with the COVID-19 timeline in the Bay Area, which attempts to "look for patterns, critical moments where a phenomenon is echoing through the culture in a significant way" (Boellstorff, 166).
Clearly COVID-19 has changed the San Francisco restaurant landscape and will leave lasting effects. Examining the data on restaurant openings and closures also requires sitting down at the table and listening to the restaurant owners and chefs who have seen empty dining tables and kitchens over the past year. While every restaurant has a different story, these perspectives are all embedded in the communities they serve and are essential to understanding Bay Area culinary and restaurant culture.
Bringing Soul to Oakland
Even with all her many accomplishments as a female chef and entrepreneur, Top Chef contestant, James Beard Foundation Board Member, and podcast and television show host, Tanya Holland is still very much grounded in the Bay Area community. Her iconic new soul restaurant, Brown Sugar Kitchen, has served the Oakland community for more than 13 years and has brought people together over pillowy beignets and hearty gumbo. When I talked to Tanya on April 7, 2020 we met at her empty restaurant and she talked about the devastation felt in the Oakland restaurant community as COVID-19 cases continued to rise. Tanya had never utilized delivery platforms but during the pandemic was forced to use DoorDash and Caviar, along with upgrading her Toast POS system to become a more robust online ordering system.
When I talked to her six months later in December 2020, she recounted the ups and downs of the past months, such as changing outdoor dining restrictions, the Black Lives Matter movement, and using her podcast as a way to continue sharing her voice during the pandemic. She mentioned that adding Brown Sugar Kitchen to DoorDash and Caviar had significantly helped BSK during the pandemic and that the restaurant would not have survived had she not turned to these additional revenue streams. We also discussed her experiences with delivery app workers, navigating impatient workers while trying to box up hot gumbo, and the need for greater forgiveness and empathy towards restaurants navigating the pandemic. A visual bite from our conversation is below. 
"Human connection is really important over food. Even though people might be taking it home to commune with their family, it's nice to have people of different backgrounds in the same room, it's an equalizer. Everybody has to eat."
"I don't want people to lose the humanity of the restaurant world and the importance of it not just to provide food but as a part of culture and community.
A link to Tanya's podcast "Tanya's Table Podcast" can be found here and a link to her cooking show "Tanya's Kitchen Table" can be found here.
Thinking Outside the Box
Across the bay, Kim Alter has also had to change the way she operates her San Francisco restaurant Nightbird, which offers a fine-dining pre-fixed tasting menu experience. When I talked to her in April of 2020, NightBird was closed to the public but Kim and her staff had pivoted to using the restaurant's kitchen to cook meals for essential workers. Her ability to think outside the box and beyond the realm of fine-dining to help the Bay Area community inspired me. When I reconnected with her in January of 2021, she said that the soup kitchen operation had continued throughout 2020, serving 2,000 meals a week. 
Kim eventually started NightBurger, a burger pop up during lunch hours and re-started NightBird Thursday through Saturday by offering a take-out tasting meal. Juggling three vastly different operations, Kim spoke to me about her experiences having to utilize different technology platforms. During the pandemic, Kim had turned to Tock, an online ordering platform, for NightBird and NightBurger, and this platform had integrated with DoorDash. Tock's partnership with DoorDash left Kim with no direct way to contact the delivery platform, highlighting the increasing complexity between the integrations of different technology platforms.
Our discussion in January 2021 included reflections on her various pandemic pivots, experiences working with Tock, and her thoughts on delivery workers, both from her interactions with them at her restaurant and with the recent passage of Prop 22. A visual bite from our discussion is below.
"It's just hard working with tech people, it's different than with restaurant people."
While Kim does not directly interact with delivery platforms, she is no stranger to technology's growing influence on restaurant culture. Besides NightBird being situated only blocks away from the Twitter and Uber HQs, Kim had previously turned to OpenTable, the online reservation platform, to boost her sales. We also chatted about consumers' misconceptions about OpenTable and her understanding that there will always be a need for some type of tech platform in today's restaurants. Another visual bite is included below.
"I don't think that most guests realize that every reservation we pay for. When they get their points to go use somewhere it's because the restaurant paid for it. It's not just some magical service."
Reconnecting with Kim and Tanya made me reminisce about in-person dining experiences and the communities that are formed around eating good food together. Restaurants are very much embedded in the fabric of the Bay Area community. When these establishments and the people that pour their hearts and souls into them struggle, the community struggles. While both Kim and Tanya recognize that technology platforms helped their businesses stay afloat in the pandemic and that these services are not going away anytime soon, I see that there still exists a need for more empathetic and restaurant-community-oriented platforms that can translate the beauty of in-person dining to delivery.