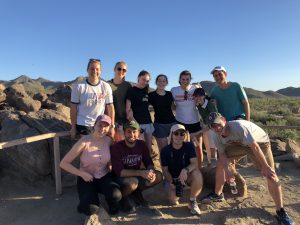 Photo by Kathleen McCleery
Day1: Phoenix
Sunshine and dry air greeted Princeton's contingent late Saturday afternoon, a welcome change from New Jersey's cold drizzle. Dinner brought menu choices from carne asada to tortas del mar, just the start of a week filled with salsa, queso, and guacamole. Astrid Galvan, Border Correspondent for Associated Press, fielded questions about the migrant caravan, the wall, and immigration reform. There's a changing demographic among those crossing the U.S. border, she noted. A decade ago, mostly men crossed illegally into the U.S. Today, she reports, women, children, and families dominate. That's posed challenges, she said, for border patrol agents who now need car seats, diapers, and toys.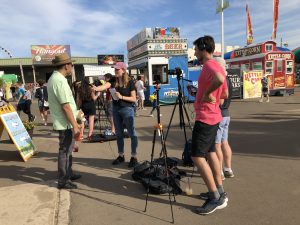 Photo by Kathleen McCleery
Day 2: Phoenix
Crowds swarmed Arizona's State Fair on its last day chowing down on local cuisine from Navajo fry bread to tacos as well as fairground staples such as funnel cakes and cotton candy. Little kids and overgrown kids lined up for a gigantic Ferris wheel and an up-in-the-sky ride that circled the expansive grounds. Finding visitors who would grant a few minutes to talk politics was challenging. One in ten said yes. Those who stepped before our cameras offered varying views of the upcoming elections. Not surprisingly, staunch Republicans backed President Trump's party and his policies, and Democrats wished for a blue wave. Independents fell on both sides of the political divide. Healthcare, border security, and education led the list of priorities. Oddly, few in this desert state mentioned water issues.
Day 3: Tucson
A trip to the Safeway will never be the same. Former Rep. Ron Barber met us at the site of the January 2011 shooting. Six people were killed, and his boss, Rep. Gabby Giffords, was severely wounded. The attack took place in front of the supermarket in the La Toscana Village mall just outside Tucson. Leaning on a cane, Barber described being shot in the face and thigh soon after Giffords began her constituent event.
One week before Election Day, Christopher Conover, chief political correspondent for Arizona Public Media, ticked off key voting blocs. On Latinos, he asked, will they come through for Democrats? On millennials, they don't vote, at least not in the past. On suburban, college-educated women, how they'll vote is the million dollar question, pronounced Conover.
Day 4: Tucson
In this year of the woman, this was our day of the woman. It began with University of Arizona professor Kate Kenski who has written extensively on women and politics. On the barrage of attack ads in the Senate contest between Reps. Martha McSally and Kyrsten Sinema, Kenski said, "Females are not expected to be harsh … we are judged differently." 6 days after Election Day, Sinema was declared the winner, and will be Arizona's first female Senator.
Also in Tucson, female volunteers at Casa Alitas echoed what we heard from AP's Galvan. It's no longer just young men crossing the border; it's families, said head volunteer Kate Albrecht. At Casa Alitas, a home dedicated to assisting immigrant families seeking seek asylum in the United States, pans clattered and young children laughed, chattering in Spanish.
Day 5: Green Valley
Politics dominated one team's day. They scored an interview – albeit just 7 minutes – with the Democratic candidate for the open U.S. House seat in the second Congressional district. Ann Kirkpatrick (who was the victor on Election Day) carved out time for us before rallying volunteers at a phone bank in Green Valley.
Before that and just down the street, students interviewed Shelley Kais, GOP candidate for state senate (who lost her bid on November 6th) at the Republican headquarters in Green Valley.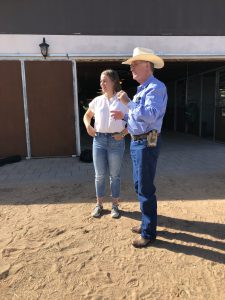 Photo by Kathleen McCleery
For the rest of us, there were pecans and more pecans in Sahuarita. We talked water, tariffs, immigration and more in a vast orchard with Dick and Nan Walden, owners of Green Valley Pecans. He's a registered Republican; she's a Democrat. Both believe President Trump's tariffs won't just hurt their global business, but also will impact farmers across the nation.
Day 6: Bisbee and Douglas
Life on a ranch on the border … and in a border town. Cattle rancher John Ladd took us to the fence on his property that sits on the U.S.-Mexico line. He railed against immigrants he believes are ruining American towns and schools adding, "We don't want 'em and we don't need 'em." He agreed with President Trump's call to send thousands of military troops to the border saying, "We've got to get tough."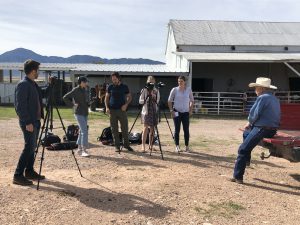 Photo by Kathleen McCleery
In the afternoon, we got a different take from Douglas Mayor Robert Uribe. Born in the Dominican Republic and raised in New York City, he understands the struggles of immigrants. His family was on welfare. He didn't read or write English until age 12. Now as mayor of a border town, he says he's living the American dream and grew emotional when he said, "To say I'm a burden … is a low blow. It's not right."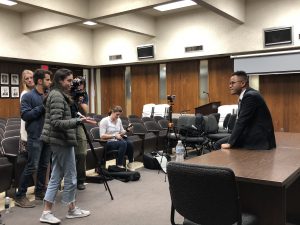 Photo by Kathleen McCleery
Day 7: Naco and Douglas
A small screen in the upper left corner of a huge wall of monitors flashed red. A helicopter appeared … then border patrol agents chasing something or someone moved into the picture. After that, horses galloped into the frame. We watched in real time as 5 immigrants were apprehended by agents from the Brian A. Terry Station at Naco. Who were they? Why did they cross illegally into the US? Were they carrying narcotics? The answers aren't clear yet, but they didn't appear to be smugglers, we were told.
As the evening drew to a close, it was time for a ghost story and a tour of the allegedly haunted room 333 at the Gadsden Hotel in Douglas. Who's sleeping well tonight?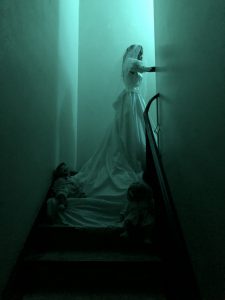 Photo by Kathleen McCleery
Day 8: Tucson
Sunshine, warm breezes, and temperatures in the high 70s all made for perfect hiking weather among Arizona's towering cacti in Saguaro National Park. The giant branches on each tree stretched out as if they were waving goodbye. A fitting end for a perfect week.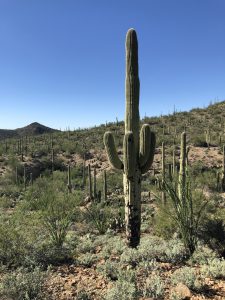 Photo by Kathleen McCleery