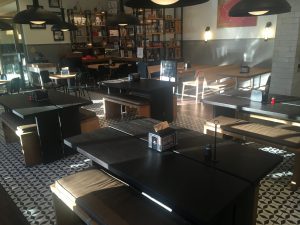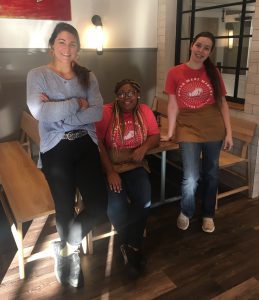 By Katie Heinzer
Just to the right of a vast revolving door, tucked away to the side of The Cotton House Hotel's ornate lobby, rests the Delta Meat Market. It functions as an upscale dinner spot, a trendy place for your weekend brunch, and best of all, it can accommodate a horde of hungry, exhausted journalism students.
In our six days at the hotel , not a single one went by without a meal at the Delta Meat Market. Its menu boasted something for all: biscuits and gravy for those who wanted the experience of true Southern food, sizeable steaks for the hungriest among us, and salads as a saving grace for the unfortunate vegetarian and vegan on the trip.
And of course, who could forget about the grits? Certainly not our group, who likely ordered the most grits-per-capita at every breakfast. 
Despite our failure to ever remember what we ordered, the restaurant staff were nothing but kind to us. Thanks to Macayla's stellar meal recommendations, and Elizabeth's contagious positivity, every meal we ate at the market was better than the last.
Delta Meat Market, you have our gratitude.