By Matthew Miller
ATHENS, Greece – Two bearded men in traditional Islamic robes left prayer at their underground mosque and ran down Evripidou Street, pushing their motorcycle to jump-start it. They sprinted past generations-old Greek spice stores and butcher shops, past traditional sausages hanging over the sidewalk.
"The neighborhood, the religion here, it's changed a lot," said Marios Chatzigeorgiou as the men dashed by. Chatzigeorgiou has operated a shop here for 20 years. He sells classic Greek spices and dried fruit, just as his father and grandfather did before him. But today the store has new neighbors. An electronics store run by Chinese immigrants sits across the street; a few doors down is Masjid Al-Jabbar, an unofficial mosque for some of Athens' burgeoning Muslim community.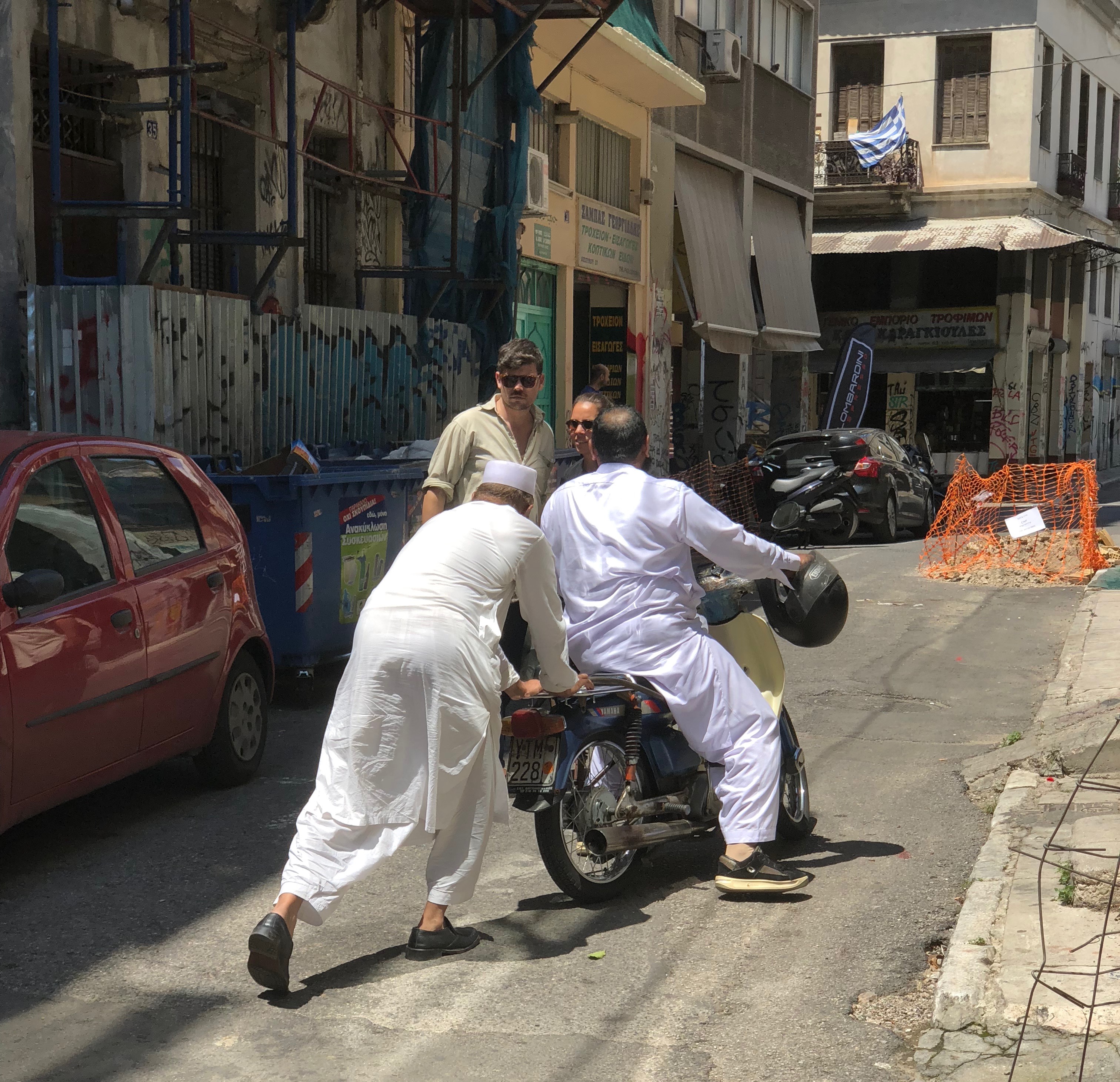 Religion is changing in Greece. The Hellenic Republic traditionally has had largely one faith, Greek Orthodoxy. While Greece offers freedom of religion, the Greek Orthodox Church is the official religion and is interwoven with the government and daily life.
The yellow flag of the Greek Orthodox Church flies alongside government flags throughout the country. In 2008, 98 percent of Greeks called themselves Greek Orthodox, one survey found. In 2015, the migrant crisis hit Greece when hundreds of thousands of migrants began washing up on Greek shores, seeking asylum so they could live legally in the European Union. After three years of the migrant crisis and Greece's changing demographics, only 90 percent of the population now identifies as Greek Orthodox. Muslims and other Christian denominations are rising. The new Greece must cope with the religious needs of migrants and freshly minted Greek residents as they try to rebuild lives and create spiritual homes.
Most migrants enter Greece through Lesbos, an island about four miles off the coast of Turkey. Materazi Khonde, a Catholic and a former professional soccer player from the Democratic Republic of the Congo, arrived on the shores of Lesbos in November 2017.
"Catholics, the (Greek) Orthodox, here we're the same," Khonde said, referring to how Catholic migrants ally themselves and find a spiritual home on Lesbos with the local Greek Orthodox community despite their denominational differences.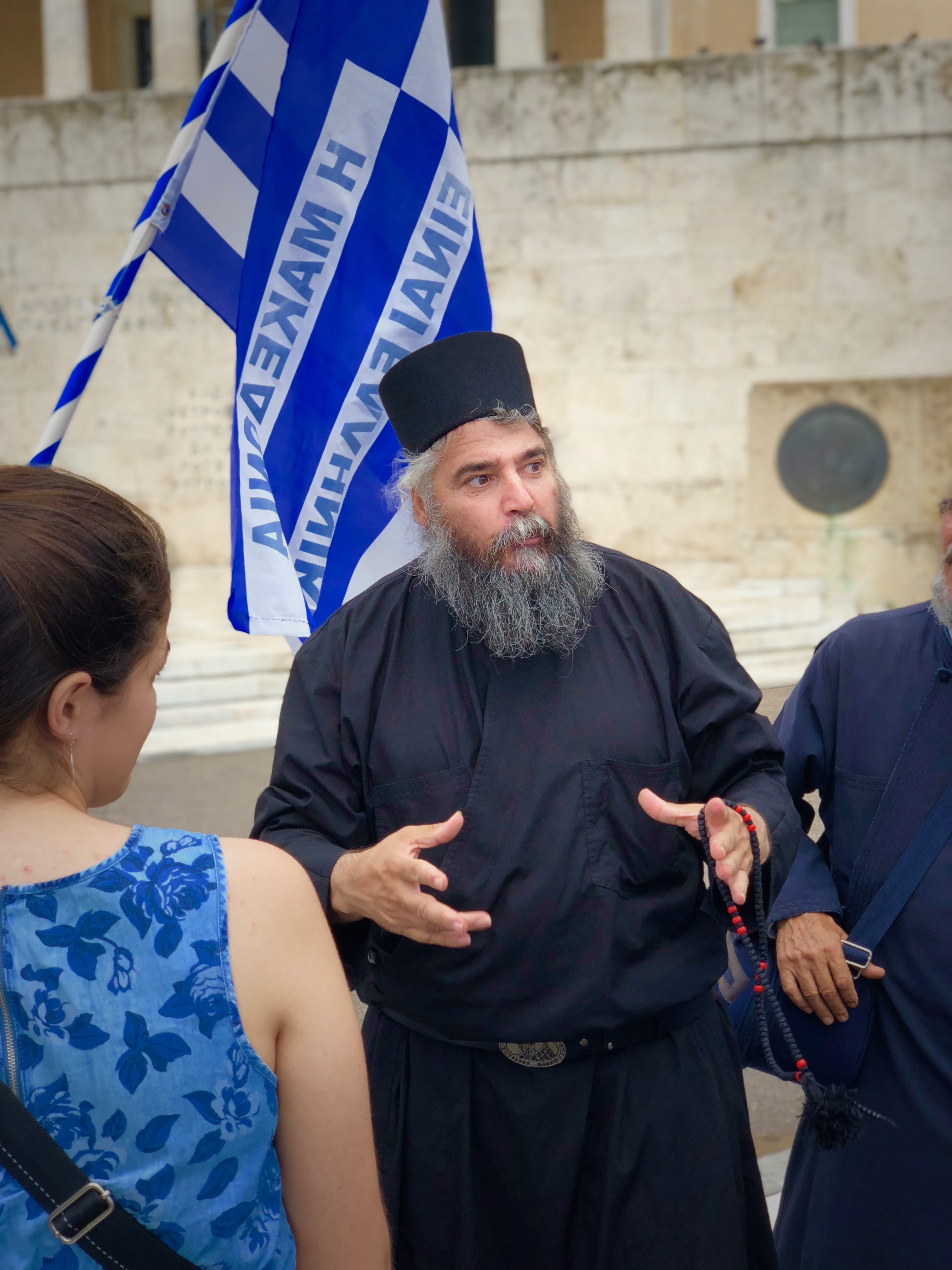 Khonde has spent the last eight months living in Moria camp, a state-run facility on Lesbos that holds 7,000 migrants — well beyond its official capacity of 2,500. Conditions are rough, with hour-long lines for restrooms, rotten food, and frequent riots, residents said. A makeshift camp sprang up in an olive grove next to Moria because of the overcrowding. This camp houses single men in its tents year-round, even throughout a January snowstorm and freeze that left at least one Afghani migrant dead.
The overcrowding caused tension. Riots break out occasionally, and fights between members of different ethnic or religious groups are frequent according to Yaya Bamba, a migrant from Mali. In the olive grove, officials say they set up the camp so that migrants from the same country of origin can live together, an attempt to ease the difficult transition to camp life. Some residents have a different opinion. They say there is a Christian section filled mostly with Catholic migrants from Africa, and a Muslim section filled mostly with Arab and Afghani migrants. Residents claim these groups don't interact much, because otherwise fights break out.
The local government operates another camp three miles from Moria called Kara Tepe. Comparatively spacious and luxurious, it seems a world away from the problems of Moria. Residents live in relative harmony with no riots or large-scale religious fights.
 Schisto camp, a state-run operation just outside Athens, also struggles with religious tensions between Greek managers and residents. Christos Siavikis, an administrator, took great pains to describe how he and his colleagues refuse to label migrants by faith. Because of this, there is no official prayer site for Muslim residents, even though the residents are almost all Muslim.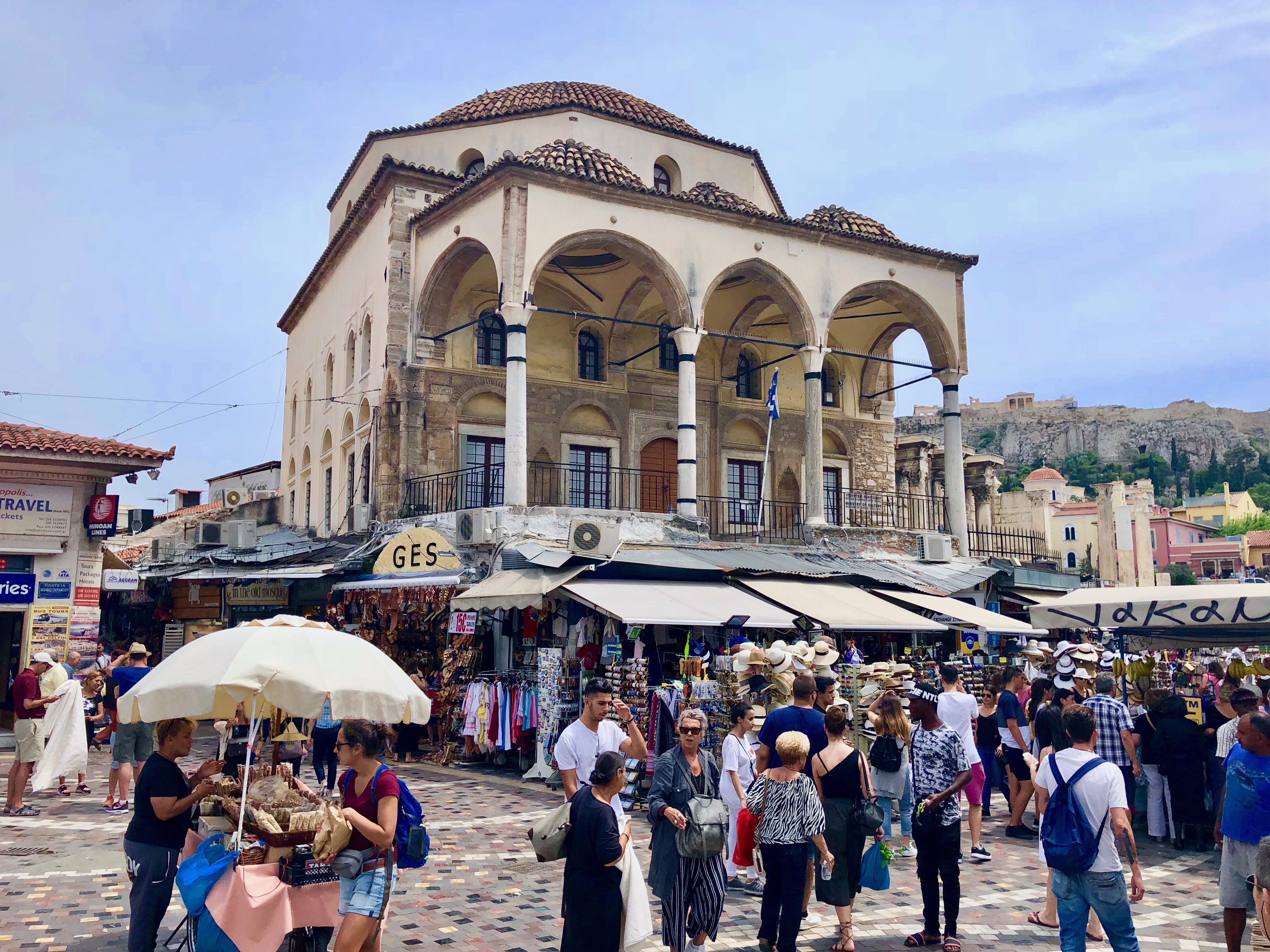 Migrants don't stay in camps forever. More than 50,000 migrants have applied for asylum in Greece each year since 2016. If granted asylum, a migrant can live in Greece and receives travel documents similar to a Greek passport. Roughly half of the migrants who apply are granted asylum, and these people go to the Asylum Services building in Athens to pick up their documents.
Many then turn to Naim Elghandour. He leads the Muslim Association of Greece. A citizen of Greece since he emigrated from Egypt 44 years ago, Elghandour is a leading advocate for the 200,000 some Muslims in the Hellenic republic.
Athens doesn't have a mosque and Greece doesn't have an imam. The Greek government pledged to build a mosque in Athens, Europe's only capital city without a mosque, when Law 2833 passed in 2000, promising the construction. In 2006, efforts resumed with the passage of Law 3512, which mandated the creation of the Votanikos Mosque in Athens, but required that the mosque be built entirely with state funds and that the Greek state own the mosque and appoint its imam.
Twelve years later, the project hasn't been completed and shows no signs of progress. Elghandour refers to the mosque as a "hot potato" that each party passes along. The Muslim Association has offered to finance an imam, to no avail.
Athens does have physical mosques. Fethiye Mosque and Tzistarakis Mosque tower over Athens' Monastiraki Square, remnants from a time when Greece was ruled by Muslim Turks. These mosques have been used as military barracks and prisons over the past century, and are now used as storage facilities for museums. One is the Museum of Greek Folk Art, which today has only one exhibition. It's called "Men & Tools" and it features displays like the evolution of orthopedic horseshoes.
"It's very unfortunate," Elghandour said.
Hamza Bey Mosque in Thessaloniki, Greece's second largest city, was the transformed into the Alkazar Theater from 1925 to 1977. It showed pornographic films.
Elghandour was serving in the Greek Armed Forces and stationed in the southern city of Nafplio, when he discovered that the former Trianon Mosque had been transformed into the Trianon Cinema, which also showed pornographic films.
"Imagine that I as a Muslim, serving in the Greek military, find that the mosque I wish to pray in has become an adult cinema," Elghandour said. He blames the "the moral corruption of the politicians, not the people."
 Today, Elghandour claims that more than 100 of unofficial mosques operate underground across Greece. These prayer sites exist in basements and tucked away beside shops owned by Muslims.
Masjid Al-Jabbar serves the Bengali community of Athens. After entering thick metal doors beneath broken windows, the faithful take off their shoes and walk down a long dark hallway reeking of mold and water damage to enter this unofficial spiritual home to the Bangladeshi Muslim community of Athens. It has three floors and multiple rooms for prayer. On the top floor, people pray in a large room featuring a balcony filled with aromatic plants.