Princeton English Department Outreach
Princeton English Department Outreach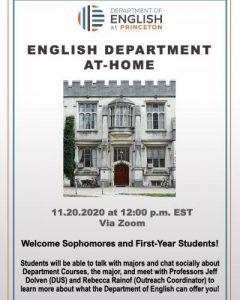 English Dept At-Home
Location: virtual – requires registration
Speakers: Jeff Dolven, DUS; Rebecca Rainof, Outreach Coordinator
Please join us for our English Department At-Home.
Welcome Sophomores and First-Year Students!
Students will be able to talk with majors and chat socially about Department Courses, the major, and meet with Professors Jeff Dolven (DUS) and Rebecca Rainof (Outreach Coordinator) to learn more about what the Department of English can offer you!
Common Works Lecture Series
Date:
10/22/2020 –

7:30pm

 to 

8:30pm
Location: virtual
Speakers: Justin Torres, novelist and Assistant Professor of English at University of California, Los Angeles
Justin Torres will discuss his book We the Animals.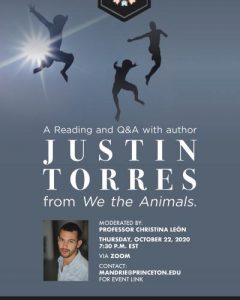 Welcome to the page for Princeton English Department Outreach
Events and Programming