This first slide provides a brief overview of Virginia's District 6's Republican representative Ben Cline and its demographics. As the statistic shows, provided by govtrack.us, the vast majority of District 6 is native born, which most likely accounts for why immigration is not listed in Representative Cline's category of issues. There is a very small foreign born population, but of this group, about half of them are labeled 'not a citizen'. Representative Cline is a new member of Congress, so he has not sponsored many bills, but he did sponsor H.R. 1397, which would require the national instant background check system to notify ICE of firearm denials due to illegal or unauthorized presence in the United States (govtrack.us).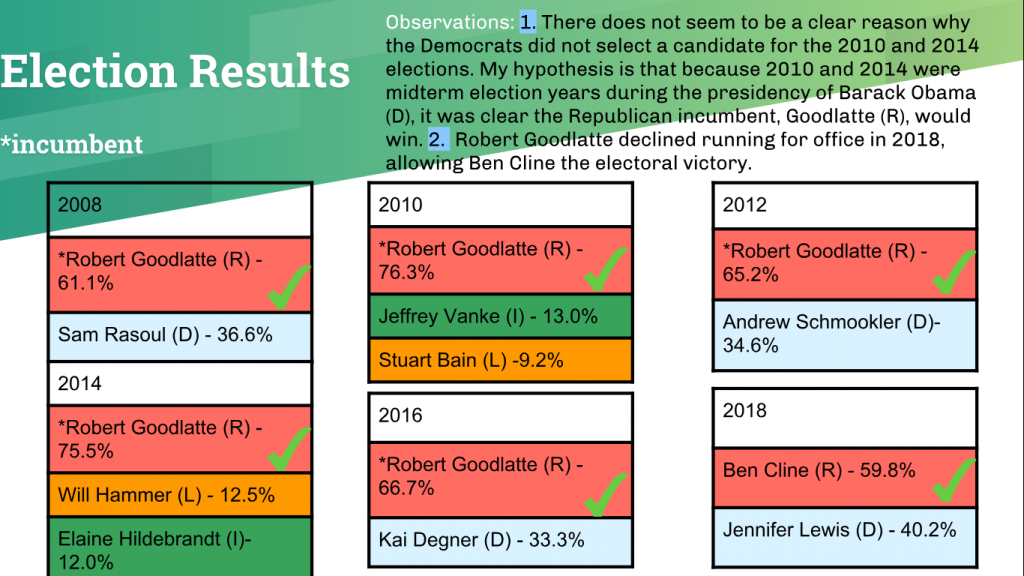 This second slide shows the election history for District 6, which is unwaveringly Republican. This data was provided by the Virginia Election Database. Robert Goodlatte, the previous representative for District 6, held his position since 1993 with little opposition. It is interesting to see in this 10 year election period how the Democratic Party was unable to select a candidate to rival Robert Goodlatte. While there is no explanation as to why the Democrats failed to select a candidate, I hypothesize that the Democrats knew they would lose seats in the midterm elections of President Obama's presidency, so energies spent in swing districts would be more fruitful. It is clear that the incumbency advantage benefitted Representative Goodlatte well. This election history also shows that Ben Cline is a freshman representative, achieving his electoral victory after Representative Goodlatte declined to run for office in 2018.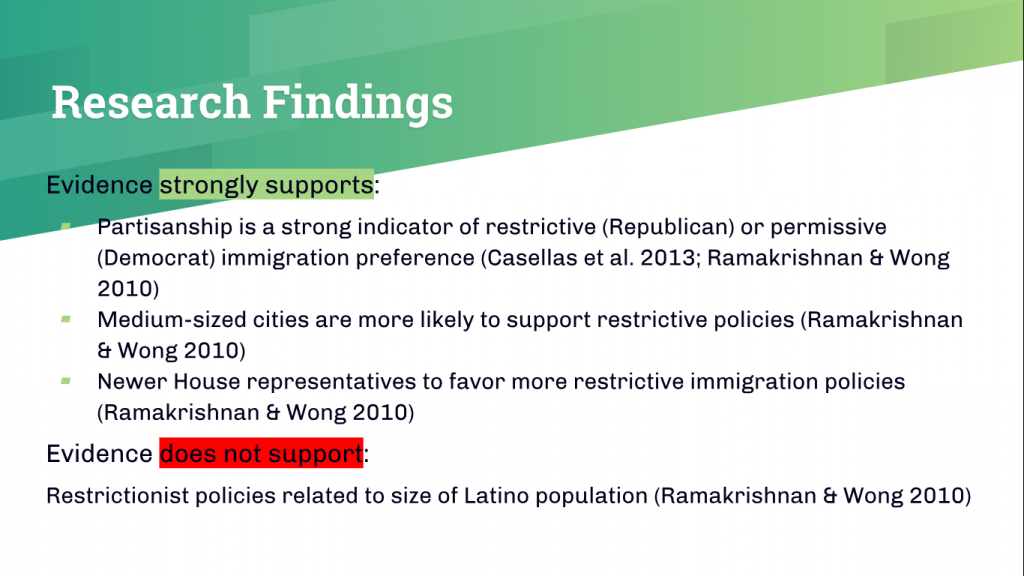 The most significant details revolving District 6 are its strong Republican influence, its new representative, its quite homogeneous population, and size of cities in the district. Research indicates strong evidence of partisanship largely deciding a representative's outlook on immigration (Casellas et al. 2013; Ramakrishnan & Wong 2010). In addition, medium-sized cities (Lynchburg, Roanoke, Harrisonburg) and newer House representatives are more likely to support restrictive immigration policies. However, evidence does not support that restrictionist policies are related to the Latino population size, which is 4% for District 6 (Ramakrishnan & Wong 2010).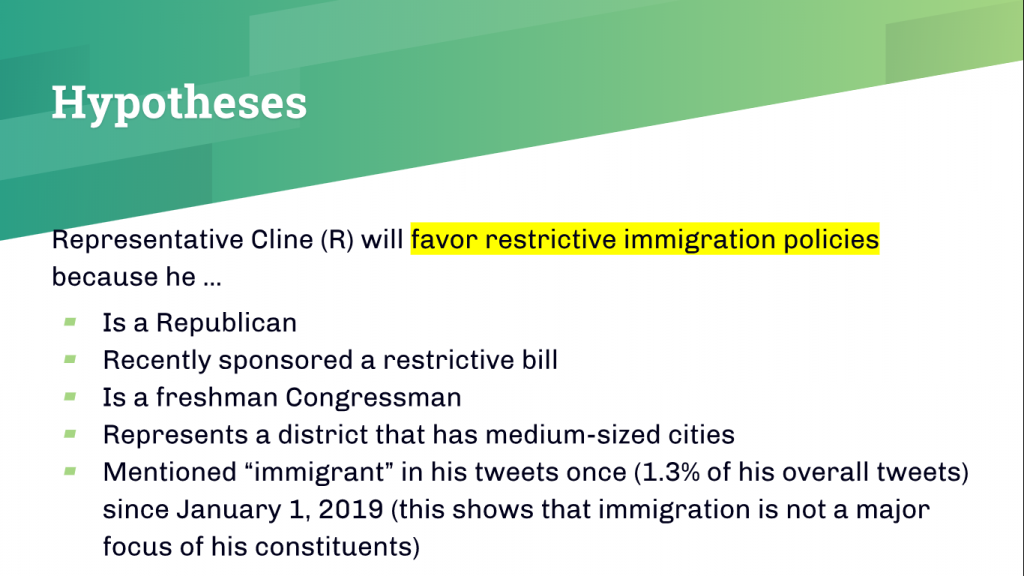 These hypotheses result from the existing facts we have of Representative Cline. Based on the literature from the previous slides and Representative Ben Cline's behavior since January 2019, I predict that he will favor restrictive immigration policies because he is a Republican, began his bill-sponsoring record with a restrictive immigration bill, is a freshman congressman, represents a district of medium-sized cities, mentioned "immigrant" only once in his tweet record as of March 3rd, 2019 (taken from his Twitter account: @RepBenCline).