Immigration Policy Analysis of Representative Ted Lieu (CA 33)
Lena Hu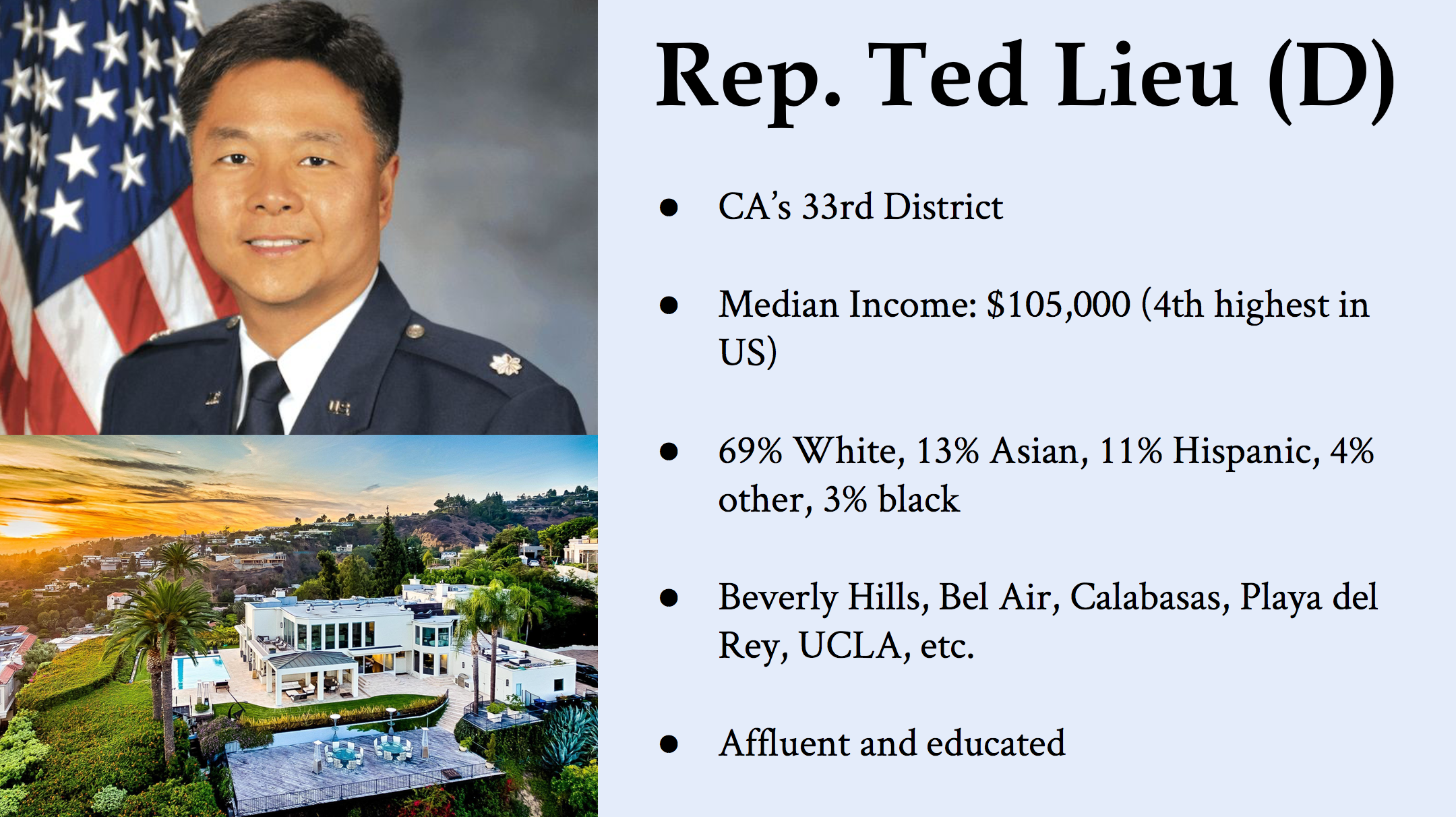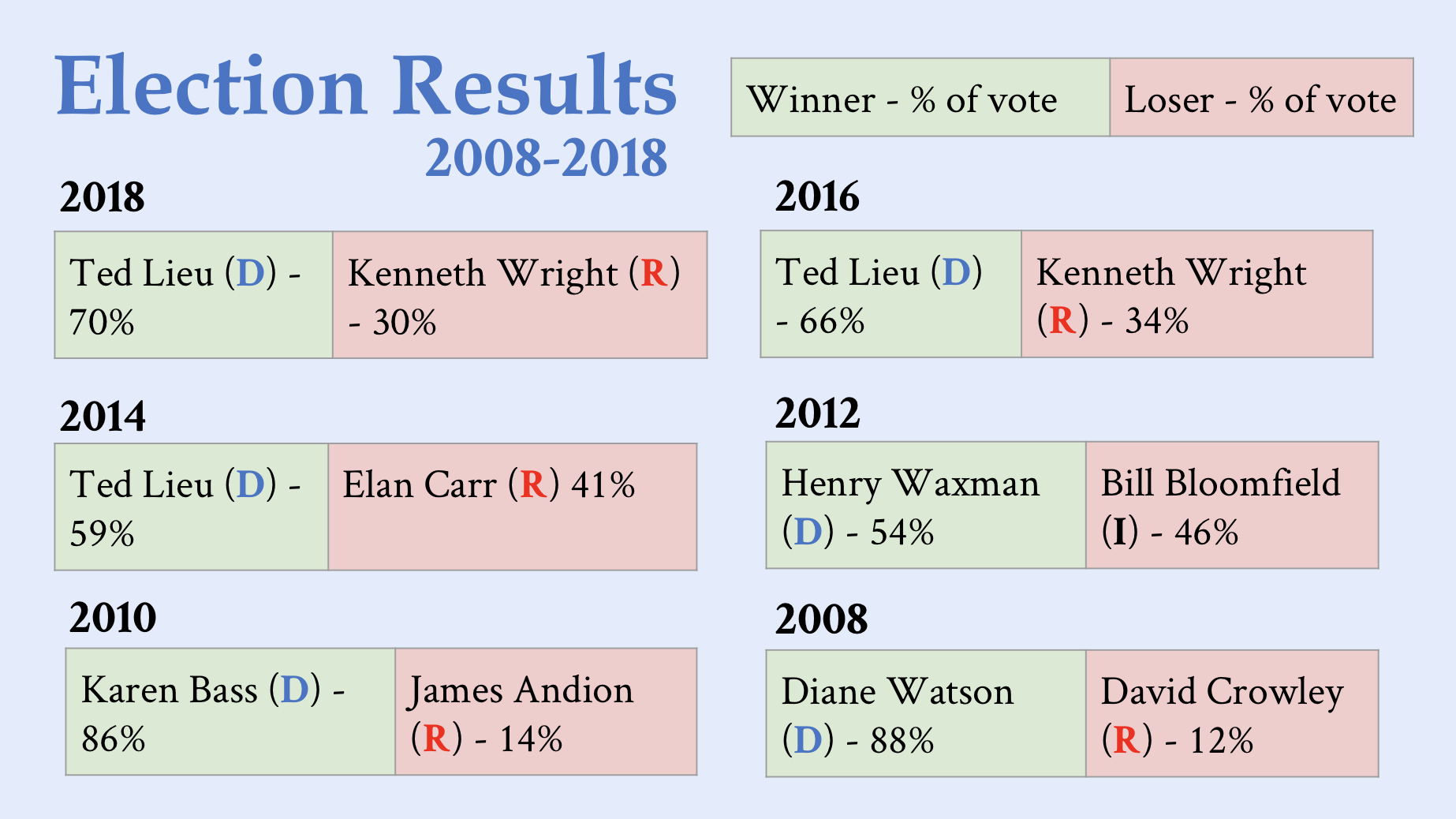 Slide 1: Election Results 2008-2018
California's 33rd District, notable for its affluence and celebrity residents, has reliably elected a Democratic representative for the last 26 years, the last 10 of which are displayed on this slide. Current Representative Ted Lieu, a Taiwanese immigrant and American Air Force veteran, is in his third term and fifth year in Congress. After winning by 18% in 2014, his margins have only widened in the last two years — he won by 40% in the 2018 midterms. The winning margins for the 2010 and 2008 elections were even larger for Karen Bass and Diane Watson, the first two African-American women to represent the district. The closest election in the last 10 years was in 2012, when an independent ran against a Democrat. The district's last Republican representative was elected almost 30 years ago in 1990.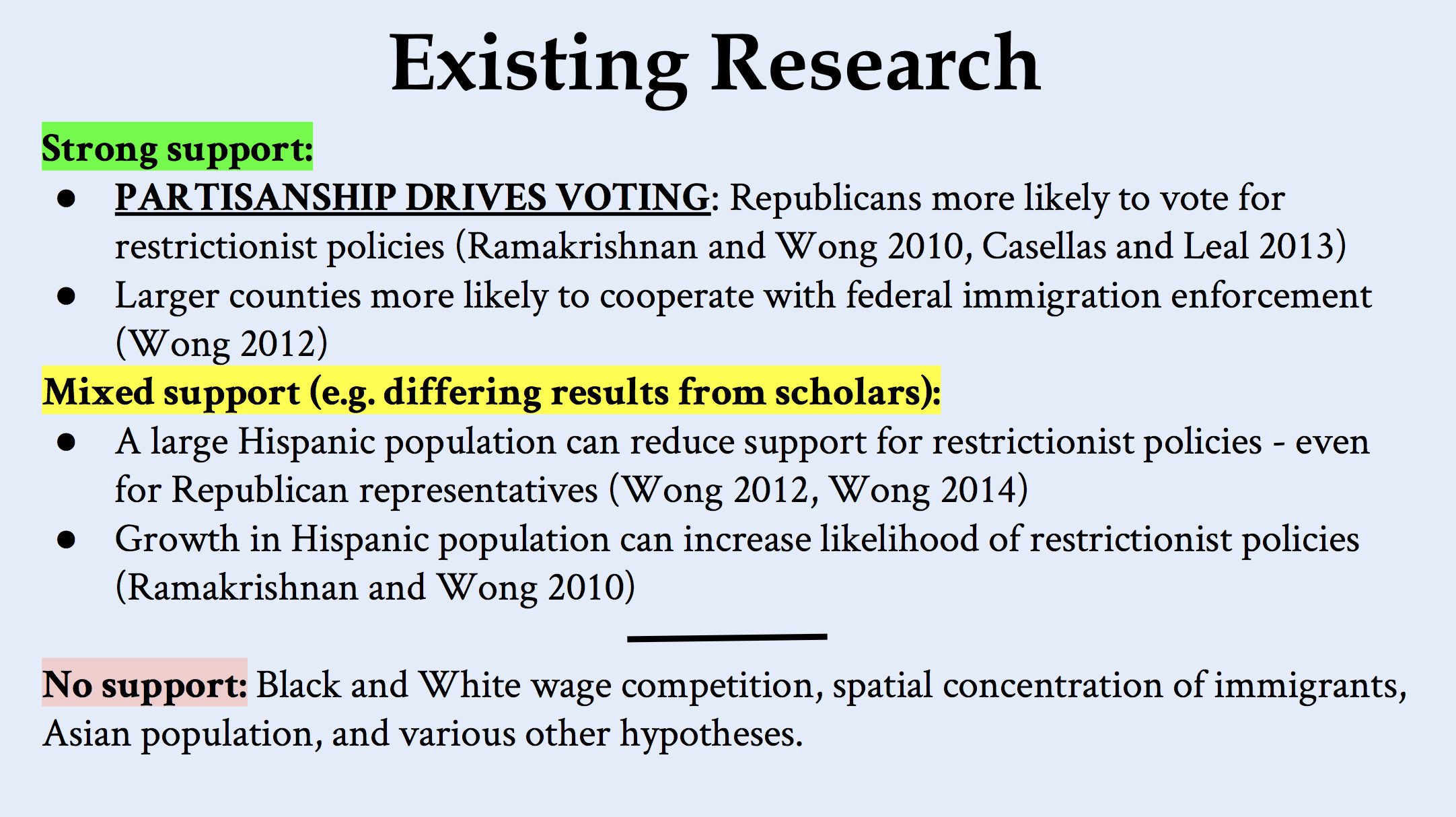 Slide 2: Existing Research
Research shows that the strongest and most consistent predictor of a congressperson's vote on immigration policy is their political party affiliation: Republicans are more likely to vote for restrictionist policies (Ramakrishnan and Wong 2010, Casellas and Leal 2013), while Democrats are more likely to vote against such policies. There is also strong evidence that larger counties are more likely to cooperate with federal immigration enforcement through the 287(g) training program (Wong 2012), and that Senators from poor states are more likely to respond to poverty by opposing restrictionist policies (Casellas and Leal 2013). There is mixed evidence (differing and sometimes contradictory scholarly findings) on the effects of the Hispanic population on voting. Wong (2014) finds a large Hispanic population is related to decreased support for restrictionist policies, even for Republicans. However, in class, we discussed how this is not due to the nature of race, but rather due to the partisanship of Hispanics: 67% are Democrats. Casellas and Leal (2013) find the Latino population is a significant predictor in the House, but not in the Senate. Ramakrishnan and Wong (2010) add nuance by arguing that it is specifically the growth in the Hispanic population that increases support for restrictionism. Across all class readings, there has been insufficient evidence to support the hypotheses that Black and White wage competition, the size of the Asian population, the spatial concentration of immigrants, linguistic balkanisation, and various other demographic factors are drivers of immigration policy voting in Congress.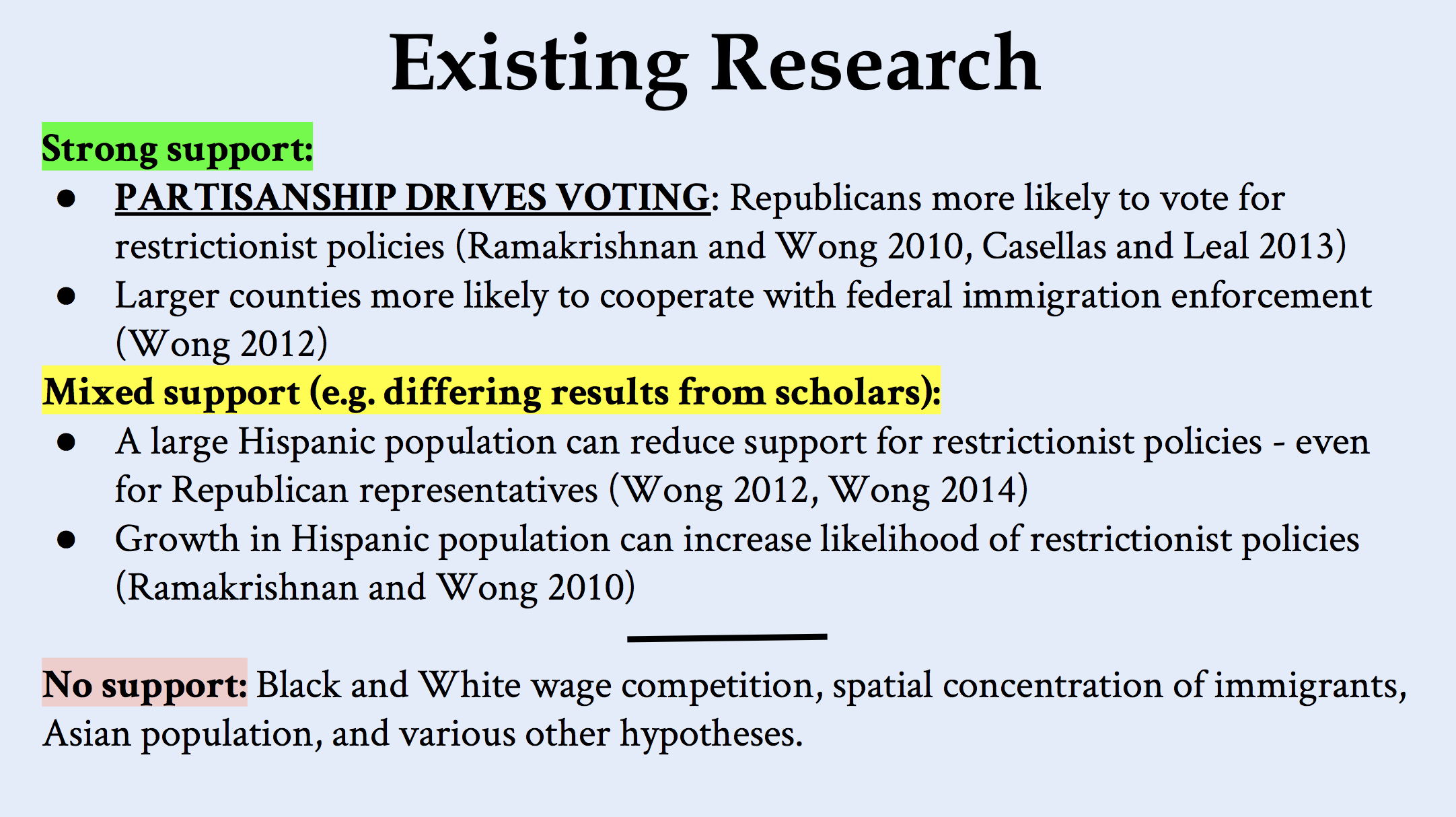 Slide 3: Policy Predictions for Rep. Lieu
Based on the partisanship hypothesis in the existing literature, I predict Representative Lieu will vote against restrictionist immigration policies because he is a Democrat. California District 33 does not have a sizeable Hispanic population (11% Hispanic compared to the 17% national average), so I do not think the size of the Hispanic constituency will affect Lieu's votes. Furthermore, the district is not particularly large, so I don't predict size will pressure Lieu to partner with the federal government through the 287(g) program. Finally, because Lieu is a Representative of a rich district, the research about Senators from poor districts does not apply to this case and can be disregarded even though it could provide strong evidence in other situations.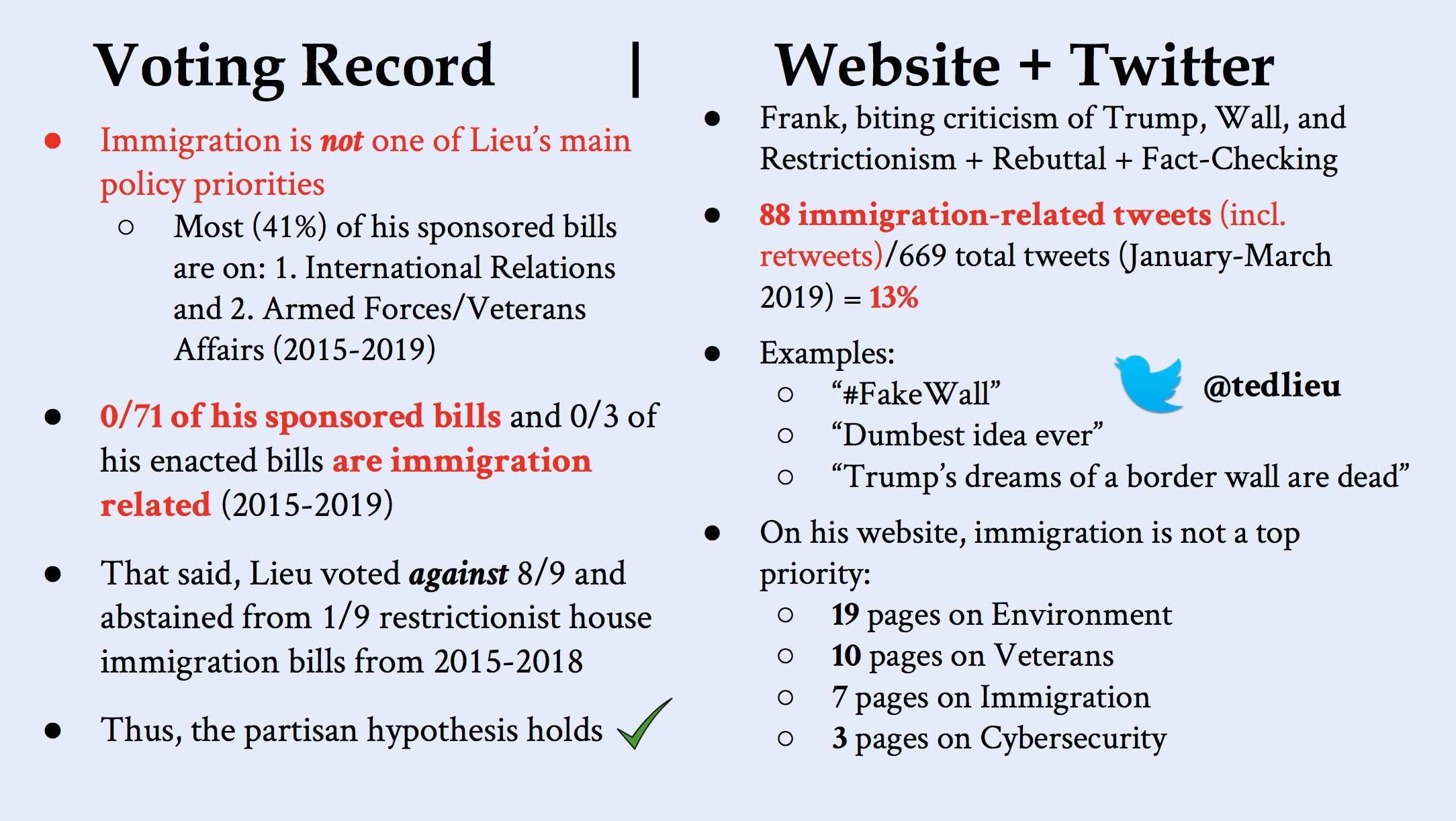 Slide 4: Rep. Lieu's Voting Record, Twitter, and Website Content
Immigration is not one of Lieu's bill sponsorship priorities, but in line with the partisanship hypothesis, he has voted against eight of nine major restrictionist bills and abstained from the ninth. Furthermore, he does make public statements in response to big national immigration news topics like the National Emergency declaration, the border wall, and the mistreatment of asylum seekers at the border. Zero of his 71 sponsored bills (2015-2019) have focused on immigration, just 13% of his tweets from 2019 refer to immigration, and he only has 7 pages on immigration on his website compared to 19 on environmental issues and 10 on veteran affairs. That said, the tweets and statements he does make are strongly critical of restrictionism and Trump's policies. He makes frank, biting comments on the National Emergency and the border wall, frequently using the hashtag "#FakeWall" and clearly stating there is no legitimate national emergency. He also repeatedly fact checks the President by pointing out that border apprehensions have decreased. Overall, Representative Lieu does not write immigration bills, but he votes against restrictionist ones and makes it clear that he is staunchly against Trump's immigration policies.