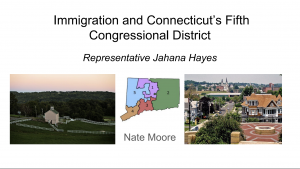 Slide 1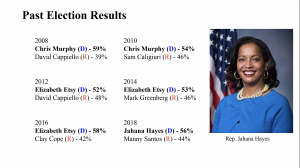 Connecticut's fifth district includes northern and western portions of the state and houses both rural and urban voters. The district has been in Democratic hands for the past decade, and had been represented by three different people in that timespan. Despite this decade of Democratic control, prior to 2008 the seat was controlled by a Republican. Margins of congressional victory were often in the single digits and Hillary Clinton won the district by only four points. Chris Murphy, the congressman between 2008-2012, retired in order to run for an open senate seat. Elizabeth Etsy, who replaced Murphy and was in office for six years, did not run for reelection because of claims she covered up sexual harassment. The 2018 election featured Republican Manny Santos, an immigrant himself, and Democrat Jahana Hayes. Riding the 2018 blue wave, Hayes, the 2016 national teacher of the year, won the seat in 2018 and became the first African American congresswoman from Connecticut.
Slide 2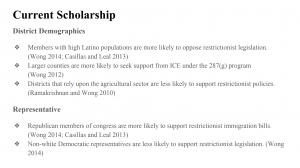 In the past decade, the United States congress has become increasingly polarized. Few true moderates remain. Immigration, described by Tichenor as a cross cutting cleavage, used to split both the Republican and Democratic parties. Yet today partisanship is the strongest indicator of how a member of congress will vote on an immigration bill. Republicans are far more likely to support restrictionist legislation then Democrats (Wong 2014; Casillas and Leal 2013). Non-white Democratic members are more likely support pro-immigrant policies, but the results do not extend to their minority Republican colleagues (Wong 2014). Additionally, counties with large population sizes are more likely to cooperate with ICE and request federal assistance under the 287(g) program (Wong 2012). Furthermore, Ramakrishnan and Wong found in their 2010 paper that districts containing large agricultural sectors are less likely to support restrictionist immigration policies (Wong 2014). The other demographic factors explored yielded conflicting or lack of statistical significance. These factors included minority wage competition and Asian population size.
Slide 3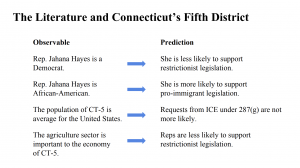 Based upon the existing literature, several things can be reasonably predicted about Connecticut's fifth district. Foremost, because Rep. Hayes is a Democrat, it is likely she will vote against any restrictionist bills that appear on the House floor. Furthermore, Rep. Hayes is African-American so, yet again, she is more likely to oppose restrictionist legislation. Connecticut 5 is almost three quarters white, however, so it is also possible this effect will be diminished. The average population size of a congressional district is roughly 710,000 people; Connecticut's fifth contains about 715,000 people according to census data. Thus, representatives are not more likely to cooperate with ICE and participate in the 287(g) program. Finally, agriculture is a vital part of the economy in CT-5, especially in the rural northwestern part of the state. As a result, Rep. Hayes is more likely to support pro-immigrant policies.
Slide 4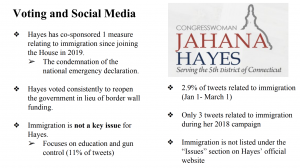 Immigration is not an especially important issue for Rep. Hayes and her voting record and social media presence is reflective of such. Since taking office in early January of this year, Hayes has co-sponsored 49 bills, one of which related to immigration– a condemnation of the national emergency declaration by President Trump. She has yet to sponsor her own bill. During the government shutdown, Hayes voted each time with House Democrats to re-open portions of the federal government. She has taken a strong stance against President Trump's immigration policies, especially the border wall. Her campaign website features a lengthy immigration section that outlines her support for DACA and a path to citizenship. However, immigration is not included as an issue on her new official congressional website. Rather than focus on immigration, Hayes, a former teacher, has focused the majority of her efforts on education and gun control bills. Twitter content, both before and after the election, only confirms the above analysis. Only three tweets related to immigration from January 1 , 2018- November 6, 2018, suggesting that even during the campaign Hayes was not very concerned with immigration. This seems odd because the Republican whom she was running against was an immigrant himself.  After being sworn in, a mere of 2.9% (8 of 272) of her tweets have been related to immigration. Almost all of these attacked President Trump and his border wall during the January government shutdown.