Henry Ossawa Tanner was born in Pittsburgh and grew up in Philadelphia. His father had been a former slave and African Methodist Episcopal bishop. His mother was a runaway slave who had escaped to Pennsylvania through the Underground Railroad. Despite their backgrounds, his parents were able to accrue quite a high degree of social currency, and Tanner grew up in a relatively educated and cultured African-American household. But life as a young aspiring black artist in Philadelphia was difficult. Tanner was able to take lessons from two artists, Isaac L. Williams and Henry Price, before enrolling in the Pennsylvania Academy of the Fine Arts (PAFA) in 1879, becoming one of the first black students in the school's history. Following his time there, Tanner worked briefly in Atlantic City before pursuing a failed photography business in Atlanta, while painting occasionally on the side. The contacts he made in Atlanta, however, were crucial to his career, as they would fund his travels to Europe. Tanner arrived in Paris in 1891 and decided to stay in the city, enrolling at the Académie Julian, rather than continuing onto Rome.[1]
During his time at the Académie Julian, Tanner worked on several landscape scenes, and was heavily influenced by French Impressionism and James Whistler's experimentation with nocturnal views. In the summers, Tanner explored the French countryside, and transferred his academic education into practice by painting landscapes and genre scenes.
But perhaps the biggest draw for Tanner in Paris was the way his identity was conceived in France. Paris was an attractive site for African-American artists during the turn of the century. The city was more tolerant of their racial backgrounds and offered these artists chances at recognition that they could not find in America. French Salon reviews never referred to Tanner's ethnicity, but American journalists seemed to mention his blackness for seemingly no reason at all.[2] For instance, a review from 1897 that appeared in the Boston Herald celebrated the success of Henry Ossawa's The Resurrection of Lazarus (1896) [fig. 1] at the French Salon. The writer of the article, in passing, declares:
"How much proportion of colored blood is in Mr. Tanner's veins I am ignorant for he has one of the faces that shows few of the familiar traits. His skin is fair as the average descendant of the Latin race, and it is only a second scrutiny that hints of his African descent. This fact has really nothing to do with his work."[3]
This passage is telling in the way that race is brought up in a review of his artistic achievements, and the author explicitly acknowledges that Tanner's ethnicity has no bearing on his success as a painter. Yet, the author still felt the need to mention his blackness, and attempts to justify his success in spite of his blackness, as perhaps "in France we are more accustomed to clever men of African descent [than in America]."[4]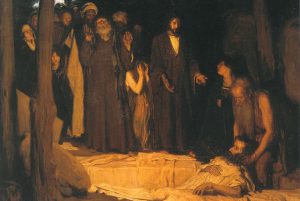 Fig. 1
Henry Ossawa Tanner
The Resurrection of Lazarus
1896
Oil on canvas
Musée d'Orsay, Paris
Tanner was driven to improve race relations, and used his status as a celebrated artist as a vehicle to do so. At the time he was working on and exhibiting The Banjo Lesson (1893) [fig. 2], Tanner was involved in the National Citizens Rights Association, a civil rights organization that was considered a forerunner of the National Association for the Advancement of Colored People. Tanner also gave a talk in Chicago at the World's Congress on Africa, giving a lecture entitled "The American Negro in Art."[5]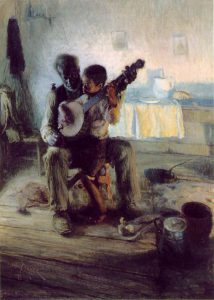 Fig. 2
Henry Ossawa Tanner
The Banjo Lesson
1893
Oil on canvas
Hampton University Museum, Hampton VA
While Tanner's blackness was not a professional obstacle for him during his years in Paris, blackness as a subject was not something that earned him recognition. In the spring of 1894, Tanner and Thomas Hovenden, who had been one of Tanner's former teachers at PAFA, shared a gallery space at James S. Earle and Sons Gallery in Philadelphia.[6] On exhibition was Tanner's The Thankful Poor (1894) [fig. 3]. Tanner's The Thankful Poor was a genre painting depicting the life of lower-class Americans, or more specifically, black Americans. Through this painting, as well as The Banjo Lesson, Tanner captured the essence of hardships in the daily lives of black Americans. Similarly, Tanner's representation of these subjects moved away from the history of caricaturized or empathetic depictions. Rather, he portrayed in his image a realistic scene. The subjects, in fact, of this work and The Banjo Lesson were based on photographs he took of an old man and a young boy while he was working as a photographer in Atlanta during the years of 1889 and 1890.[7] In other words, these were images of real black Americans and their real everyday experiences, rather than a stereotyped visualization rooted in a generic narrative. It is, in short, a painting with a social commentary of his time.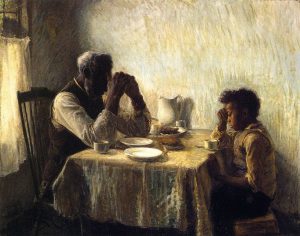 Fig. 3
Henry Ossawa Tanner
The Thankful Poor
1894
Oil on canvas
Private Collection
This undermining of a history of racist imagery was a deliberate act by Tanner. In monumentalizing the relationship between a grandfather and his grandson in oil painting, Tanner elevates the black subject into the realm of high art, uprooting the subject matter from a tradition of derogatory minstrel imagery that were commonly disseminated in the 19th century.[8] But despite the cultural significance of his work, its merits were not acknowledged by the art world. While The Banjo Lesson became Tanner's first piece to be accepted to the French Salon, a notable feat, it received no further merits. Furthermore, his asking price of one thousand dollars for the work was not met. On the other hand, his Brittany genre scene, The Bagpipe Lesson [fig. 4] won a medal at the 1895 Cotton States Exposition in Atlanta. Despite realizing that it would not garner him success, it is apparent that racial issues remained close to the hearts of Tanner throughout his career, as Tanner continued to champion African-American rights and provided guidance to younger generations of black artists. However, Tanner would not produce any further works that represented black subjects and their experiences over the course of his career.
[1] Anna O. Marley, "Introduction," in Henry Ossawa Tanner: Modern Spirit, ed. Anna O. Marley (Berkeley: University of California Press, 2012), 17-21.
[2] Ibid, 35.
[3] Ethelyn Friend, "A Success of the '97 Salon. H.O. Tanner's Fine Picture, the "Raising of Lazarus," Boston Herald (Boston, MA), June 13, 1897, 26.
[4] Ibid.
[5] Naurice Frank Woods Jr., "Henry Ossawa Tanner's Negotiation of Race and Art: Challenging 'the Unknown Tanner'," Journal of Black Studies 42, no. 6 (September 2011): 894.
[6] Marley, "Introduction," 23.
[7] Ibid, 24.
[8] Ibid, 23-24.
Bibliography
Friend, Ethelyn. "A Success of the '97 Salon. H.O. Tanner's Fine Picture, the "Raising of Lazarus." Boston Herald (Boston, MA), June 13, 1897, 26.
Marley, Anna O. "Introduction." In Henry Ossawa Tanner: Modern Spirit, edited by Anna O. Marley, 17-21. Berkeley: University of California Press, 2012.
Woods Jr., Naurice Frank. "Henry Ossawa Tanner's Negotiation of Race and Art: Challenging 'the Unknown Tanner'." Journal of Black Studies 42, no. 6 (September 2011): 887-905.