https://waragainstallpuertoricans.com/2016/08/20/new-york-city-sprays-the-dominicans-and-puerto-ricans-for-zika-prevention/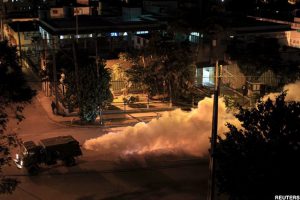 -A summary of whatever it is you're posting, which may or may not require you to reference other sources.
-In-depth analysis, including an explanation of how your post relates to the course topic (be specific).
Remember: we are co-creating an archive through this blog so please feel free to use all of the available e-tools here. Your posts do not have to be articles about current events. Perhaps you came across something on social media (i.e. Tumblr, FB, IG, or Twitter) that you'd like to share with us. Perhaps it's something on YouTube, a film, image, or poem. Perhaps it is a scholarly piece after all, something you read in another class or a secondary source that you plan to use in your final paper. You have free rein! The point is to bridge theory and practice by peeking at the world through the critical lens of 'living laboratories' and noticing what becomes visible when we do that. Think back on a time when you first learned how to name something you sensed before knowing the word for it (i.e. racism). Learning that word, phrase, concept, or theory changed how you see things. This blog is just that: a collaborative exercise in shape shifting our mind-frame.