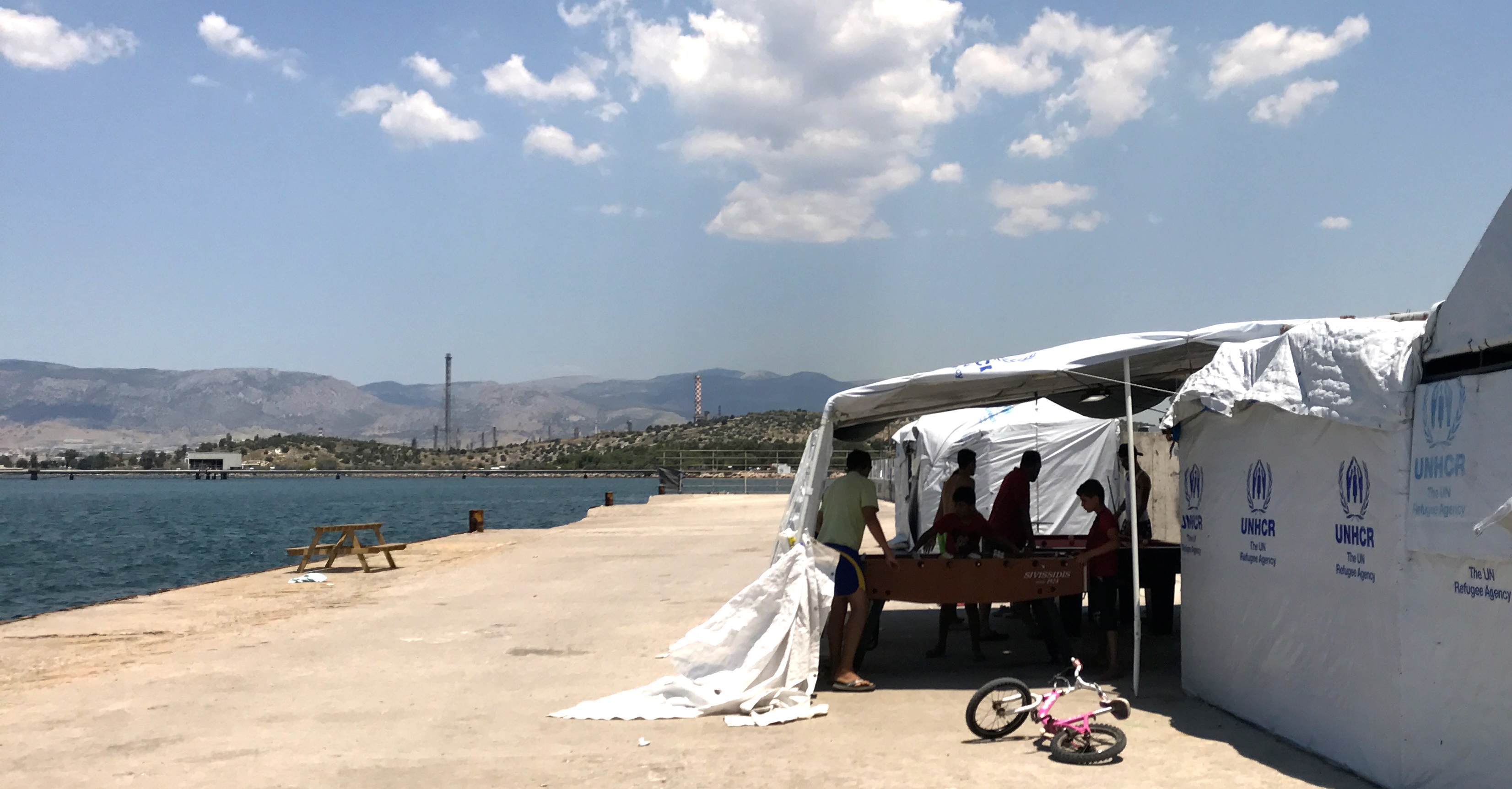 A refugee-owned pool hall along the sea (Photo by Joe Stephens)
By Alice Maiden
SKARAMAGAS, Greece — Temperatures climbing to over 104 degrees Friday left a sleepy air over sun-drenched Skaramagas.
The port-turned-refugee camp, in a western suburb of Athens, is made up of a grid of Isobox containers that house 3,300 refugees, laid out over an expanse of arid dirt — a floor plan that offers few patches of greenery or shade for respite from the baking heat.
The edge of the dock here, since it runs along the waterfront, makes it a desirable piece of real estate. At least, it is for the businesses that refugees have established along the water at one end of the camp. The waterfront offers a welcome breeze —and view — for refugees preparing falafel in containers-turned-cafés, sweeping outside their storefronts, and manning a pool table where you can play for one euro per game.
Cafés and restaurants have sprung up in Skaramagas, which hosts many refugees who are counting their anniversaries there as time passes. Skaramagas follows a pattern similar to that in other camps in Greece and elsewhere. The refugees there, many of them Syrian, are just people uprooted from their engineering jobs and college careers, bored in the limbo of a camp with dwindling savings. So they start businesses.
Mostafa Balkes is a 26-year-old Syrian man who has won asylum in Greece, and so need not stay at the camp. Nonetheless, he sat among other Syrian refugees by the water on Friday — his business is in Skaramagas, and so are the friends that help him run it. He owns the pool table, a 2,500 euro-investment, which is in a covered room where he also offers coffee and cold beer, among other refreshments. On the other side of the wall is a space with shade overhead and an open-faced front overlooking the water.
There, Balkes and three others sat in white plastic chairs in front of a dauntingly large pile of long reeds, which they were shucking to weave into big blinds to cover the front of that room. With ample chairs for the kids and men who passed through the room that afternoon, either to help with the systematic shucking process or just joke around a bit, the room already had the welcoming atmosphere of a café. Balkes' friend Jahid Zughbi, a 40-year-old Syrian refugee whose countdown to leaving had dwindled to just 10 days, translated for Balkes and explained how they planned to cross the reeds in a grid.
Skaramagas is one of the nicer Greek refugee camps, whose Isobox housing trailers offer electricity and plumbing that other camps cannot promise their residents. Those who built the camp  — and those who live there —  never expected residents to stay for long. Nevertheless, as they remain in Skaramagas, they have settled in and set up shop. Woven blinds give personality—and shade—to Balkes' pool café.
As the prospect of leaving Greece becomes increasingly less likely for those still here, the next steps for refugees in Skaramagas are murky—but so is the question of how these businesses can help beyond the camp, if at all. Economic activity in refugee camps seems to alleviate boredom and improve mental health, but Zughbi and Balkes were both marine engineers in Syria (and Zughbi was a chief marine engineer). Ali Alshaaer, an 18-year-old who lived at the end of Zughbi's block in Lattakia, had to put his studies at Damascus University on hold to leave Syria.
Between calling each other nicknames that matched animals—among which multiple people were unluckily branded "donkey" — talk about who was leaving for where and when persisted. Alshaaer was hoping to leave for Germany in a month; Balkes had an uncle in Baltimore, Maryland; and Zughbi had just 10 days left before meeting his parents, wife, and two kids in Belgium.
Skaramagas is not forever, but many do not have a precise number of days left they can count down on two hands. Until then, the woven blinds will help with the summer heat.