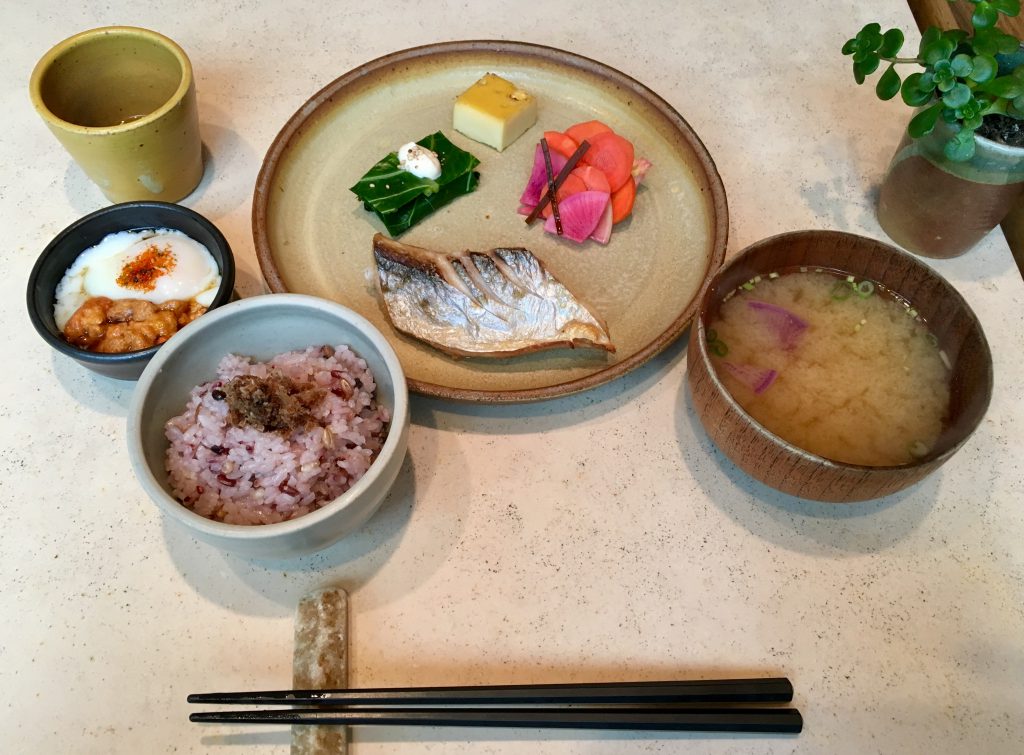 Since I was a little kid, I was frequently been told that breakfast is the most important meal of the day. Therefore, whenever I travel to new places I have always kept an eye on how different cultures do breakfastin their own ways. In this Genius Hour project, I decided to research on breakfast, a subject that I have always wanted to learn more about.
I began by naming my project, "Sekai no Chōshoku" (World's Breakfast), because I planned on introducing the breakfast culture of around five countries. But when I started looking into Japanese breakfast culture, I discovered that there is a lot more learn about Japanese breakfast culture and decided to focus on it alone. I read many interesting food essays in Japanese and gained some new insights on not just what kinds of food are included in a breakfast but also the Japanese attitude towards breakfast as a meal. Although this project is still very much a work in progress,  I have selected two essays that I found most interesting and translated them into English. I hope they give a flavor of the things I learnt by doing this project.
<日本語>
「人生は朝ごはんにあり」 向笠千恵子さんインタビュー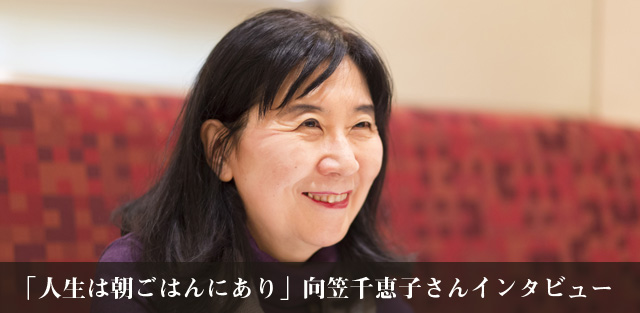 向笠さんは食のスペシャリスト。といっても食を作る側ではなく、消費者においしさを伝えるプロフェッショナルです。
朝ごはんについてはとくに詳しく、豪奢なディナーにばかり注目が集まって、朝食がまともに語られることが少なかった時代から朝ごはんの魅力を追及しています。その活動初期の集大成が、1993年刊行の『日本の朝ごはん』(新潮社)。北は北海道の酪農農家の牛乳豆腐から南は沖縄の長寿献立まで、日本全国の朝ごはんを食べ歩き、現代の食卓のあり方を考察した名著です。
約30年間にわたって日本の朝ごはんを見守ってきた向笠さんに、朝ごはんの醍醐味についてお話をお聞きしたいと思います。
「朝ごはんは、昼や夜と比べるといちばん個人的な食事といえるでしょう。その個人的な営みを取材することで、自分自身の食生活を見直したかったんです。取材を通して実感したのは、朝ごはんを大事にしている人は表情が生きとしていて、人生に前向きで素敵な方が多いこと。ところで、あなたは今朝なにを召し上がりました?」
はい。ファーストフード店でコーヒーと野菜サンドイッチを食べました。
向笠さんが会う人ごとに朝食の質問をすることをあらかじめ知っていたので、今日はバランスを考慮して特別に「野菜入り」を食してからインタビューに臨めたわけで、まずはひと安心。
「20~30年前までは、都内で朝食をとろうとしても喫茶店のモーニングくらいしか選択肢がありませんでしたが、今では食べる気持ちさえあれば、お店はいっぱいありますよね。状況はだいぶ変わりました。それでも、朝ごはんを抜く人の数はあまり変わっていない気がします。夜遅くまで仕事して、朝はちゃんと目覚めていないまま会社に向かい、午前中のエネルギーは前の晩にとった食事の残りでもたせて、昼ごはんを食べた午後からやっと元気になるというサイクル。朝からきっちり動かなければならない人は朝ごはんをしっかり食べます。漁師さんや農家の方など現場で体を動かす人、そして企業に勤める方でもばりばり働くタイプは朝ごはんを大切にしています」
できる人は、朝ごはん。耳がちょっと痛いです。
「不思議なもので、人はハレのときには朝ごはんを忘れない。たとえば、朝の新幹線はお弁当のにおいでいっぱいでとても微笑ましいんです。出張って、いってみれば敵陣に乗り込むということですよね。空港のロビーの食堂も同じで、出発待ちの人でいっぱいです。プライベートな旅でも仕事でも、このときばかりはちゃんと食べようとするんですよね」
手軽にできて栄養面でも合格の朝ごはんはなにか。向笠さんは、卵かけご飯をすすめる。
「卵は雛の生命を育むための栄養分がぎっしり詰まった天然のスーパーカプセルです。脂肪、カルシウム、鉄分、ビタミンが過不足なく含まれています。朝食に必要なのは、速効性のスタ
ミナ源(でんぷん)とじわじわと効くスタミナ源(脂肪)、そしてやる気の源(たんぱく質)。ご飯に生卵をかけるだけで、3つの要素が揃った立派な朝食になります」
卵の上には、しょうゆを垂らしてもいいし、ちりめんじゃこや佃煮など珍味のストックを乗せてもよし。
「こんなに安くできて手間いらずの献立はそうはありません。ご飯は冷凍したものをレンジで温め直してもいいですが、土鍋で炊くのも簡単だからぜひ試していただきたいですね。一合でも半合でも、おいしく炊けます。写真の土鍋は、山代温泉(石川県)の『べにや無可有』という宿でいただいた朝食のもの。土鍋は洗うのもラクだし、慣れればほどよくお焦げも作れるし、私はずっと愛用しています。10分から15分、漬けものを切ったり、おみそ汁を作ったりしている間においしいご飯が炊けますよ」
卵かけご飯+漬けもの+みそ汁。外食ばかりの身にとっては夢のようなメニューだけど、実現はそれほど難しくなさそうです。
<プロフィール>
むかさ・ちえこ
フードジャーナリスト、食文化研究家、エッセイスト。東京・日本橋生まれ。日本の「食」の現場を訪ねて、志をもった生産者、その土地の民俗、歴史などを多面的にとらえながら、現代の食を綴っている。農水省の「農山漁村の郷土料理百選」選定委員などを経て、農水省の「食アメニティコンテスト」審査会長、本場の本物審査専門委員、郷土料理伝承学校校長。農と食や生産者と消費者の交流、スローフード運動にも積極的に参加している。NHK「ラジオ深夜便」に出演中。著書多数。『食の街道を行く』(平凡社新書)でグルマン世界料理本大賞グランプリを受賞。
<英語>
Life lies in Breakfast—An interview with Koukasa Chiiko
Koukasa Chiiko is a gourmet professional. Although one might say that she is not one who participates in creating food, she is a professional in conveying deliciousness to the general public.
Since a time when most attention was luxurious gourmet dinner and little was said about breakfast, she has been investigating the charm of breakfast. The culmination of her investigative activities led to her 1993 book Japan's Breakfast. It is a marvelous book that describes the modern eating traditions, extending from the yogurt famers of Hokkaido in the north to the longevity menus of Okinawa in the south, and brings the reader to eat the breakfasts of all of Japan.
Interviewing Ms. Koukasa who has crisscrossed Japan in about thirty years and studied Japanese breakfast attentively, this essay would like to ask her the real pleasure of breakfast.
"In comparison to lunch and dinner, one can probably say that breakfast is the most personal meal of them all.
Yes, I had coffee and a vegetable sandwich at a fast-food store.
Even though twenty to thirty years ago, there were only coffee shops that provide choices  for breakfast in Tokyo, now there are many restaurants to choose from if you have the mood for eating. The situation has really change. However, I feel that those who skip breakfast are still the same people. They work until late at night and head to the company without waking up properly in the morning; before noon the energy they have is left from the dinner eaten the night before; and then the regain some energy after eating lunch. But for those who have to do physical work in the morning, they always eat breakfast properly. Those are the fishermen and farmers who have to move their bodies on the scene, so I think the people who work desk jobs should also learn to treat breakfast cheerfully.
If you can, do breakfast.
"Although this seems unbelievable, but people don't forget about breakfast even when they are in a hurry. For example, when you take morning bullet-train, having a breakfast bento and a satisfied stomach is a really pleasant experience. When you go on a business trip, it's rather like marching into the enemy's camp. The same happens in the dining areas in the lobby of airports, where there are many people waiting for departure. Whether it is a private journey or a business trip, during these times one would want to eat breakfast well."
When I was told this, I sudden understood. If one were to travel or work with an empty stomach and consequently fail to concentrate…. If everybody in Japan were to eat breakfast, the gross domestic product of Japan might even rise.
What is a breakfast meal that can be easily made and also pass nutritionally? For Ms. Koukasa, she recommends egg-rice.
Egg is a natural "super capsule" tightly filled with nutrients that are aimed at fostering the life of a chick. Fat, calories, iron, vitamins are included without excess or deficiency. What is important in breakfast is are an immediate source of stamina (starch), a steady source of stamina (fat), and a motivational source of starch (protein). By simply putting egg on the rice, the three fundamental elements are achieved and the breakfast meal becomes wonderful.
On top of the egg, you can either put sou source or go with a  delicacy stock such as "dried young sardines" (chirimenjako) or "preserved food boiled in soy source" (tsukadani).
There is no other menu that you can make so cheaply and without any trouble. Although rice can be preserved frozen and reheated in a mircowave, cooking with a traditional pot is also easy and I would encourage you to try it that way. Whether you can cooking one pot or half a pot, you can cook it equally deliciously. The pot depicted in the photograph was acquired after I stayed at the Mukayu inn at Yamashiro–onsen at Ishikawa prefecture. With this pot you can just hand it on a rack after washing and make scorched rice after you get used to it, so I have always loved using it. In ten to fifteen minutes, when you are cutting pickled vegetables and making miso soup, you could be cooking a pot of delicious rice!
Egg-rice, pickled vegetables, and miso soup. Although it would seem like a dream menu for those who only eat outside, the realization of (such a menu) does not seem to be difficult at all.
Profile
Koukasa Chiiko
Food journalist, researcher of food culture, essayist. Born in Nihonbashim Tokyo. While visiting the "scene of food" and recording the lives of aspirational food producers and the diverse history and traditions associated with their lands, she writes about contemporary food. She is a former member of the Ministry of Agriculture's selection committee of traditional rural cuisines, a former auditory chairman of the Ministry of Agriculture's Food Amenity Contest, a specialty auditory member of genuine things, as well as the principal of the School of the Preservation of Regional Cuisines.
Source: http://www.marukome.co.jp/marukome_omiso/hakkoubishoku/20140313/3512/
————————————————————————————————
<日本語>
旅立つ人の朝ごはん 羽田空港の大人気メニュー、たまごかけごはん
たまごかけごはんは、生卵をメインの食材に使った世界でも珍しい日本独特の料理です。
料理といっても、ほかほかのごはんの上に生卵を落とすだけ。こんなに簡単な調理法でも、糖質や脂質、タンパク質がしっかり摂れてビタミンもたっぷり。たまごかけごはんは、シンプル・イズ・ベストの極みです。
今回、取材に伺ったのは、年間で約6900万人(1日平均は約19万人)の乗降客数を誇る日本一にぎやかな羽田空港のターミナルビルに店を構える「赤坂うまや うちのたまご直売所」さん。朝8時の開店から夜9時まで、おいしいたまごかけごはんを求める旅人たちで店内の15席はいっぱいです。
ごはんと卵だけで「おいしさ」を追求するからには、当然、ごはんと卵の質にはこだわっています。
「おいしい卵を産む健康な親鶏は、福岡県飯塚市の自然豊かな養鶏場で育てます。開放型鶏舎の周囲は鹿よけのフェンスで囲まれているんですよ。とてものどかな環境で、親鶏はストレスなくのびのびとしています」
説明してくれるのは、羽田空港店の店長、池田大輝さん。JR九州のグループ企業、JR九州たまごファーム株式会社が運営する養鶏場からは、毎日、産まれたての新鮮な卵が空輸で送られてきます。
生後120日齢から15カ月間のみ飼育した親鶏から産まれる卵は、無洗浄でもクチクラというたんぱく質の膜で覆われているため、空気を通してもカビや細菌を通さないといいます。試しに卵をひとつ手に持ってみると、小ぶりだけど心なしか重めで、割ろうとしても殻が頑丈でなかなか割れません。
えいや、とばかりに殻を割って中身を出すと、なんて丈夫なこと。弾力のある白味の上で丸みを帯びた黄身がぷるぷるとふるえます。
白味と黄身を箸で混ぜるのもひと苦労で、なかなか一体化しません。これが、健康な卵の証なのでしょうか。口に含めば、舌ざわりはまろやかで、ほのかな甘味を感じます。
この足腰がしっかりした卵を、熊本県産ヒノヒカリの新米の上にかけて、卵のうまみを引き立てる美味しい特製のだし醤油「うちのたまごによくあう醤油」を振っていただく。おいしくないわけがありません。
たまごかけごはんは550円。卵1個とごはん1杯はおかわり自由で、おかかと小鉢付き。おまけに、宮崎県の大根を使った「つぼ漬け」と長崎県の白菜でつくる「唐人菜」は食べ放題。オプションで、有明湾産のあおさの味噌汁(100円)を頼めば、完璧な朝食が目の前にそろいます。
「女性のお客様も多いですが、みなさんごはんをおかわりして卵を2個食べていきます。以前、お客様に『たまごかけごはんは飲み物です』って言われて驚いたことがあります(笑)」
一昨年、7月に東京で初めて出店した同店のたまごかけごはんは、旅人の朝ごはんとしてしっかり定着しました。
「羽田空港に出店したのは、ここが東京の出入り口で情報のが広がりが早いからです。九州の魅力をもっと多くの人に知っていただきたいです」
卵を使ったメニューは、たまごかけごはんだけではありません。卵を2個溶いて特製のだしといっしょに煮た具の上にさらに生卵1個を落としていただく「たまごだけ丼」(550円)や佐賀県産の地鶏の切身がたっぷり乗った「親子丼」(750円)も人気です。
おいしい卵はごはんに合うし、スイーツでも大活躍。「ミルクセーキ」(350円)、や「プリン」(250円)は、いずれも卵をたっぷり使ったぜいたくなスイーツで、卵(6個入りで420円)とともにテイクアウトできます。
前回、登場していただいた朝食の達人、向笠千恵子さんは、<脂肪、カルシウム、鉄分、ビタミンなど、卵は雛の生命を育むための栄養分がぎっしり詰まった天然のスーパーカプセルです>とおっしゃっていましたが、卵づくしのメニューをいただくと、肌はつるつるになって体の中にパワーがみなぎるような、そんな気がしてきます。
<英語>
The Travelers' Breakfast—Popular Menu at Narita Airport: Egg-Rice
Egg-rice which uses raw egg as the main ingredient is an uniquely Japanese dish.
In terms of cooking, one simply put the raw egg on top of the rice. Even with this kind of simple (almost simplistic) recipe, one takes a sufficient amount of starch, sugar, and protein, as well as an ample dose of vitamin. Hence, egg-rice is the epitome of "simple is best".
This time, the main character of the interview is the "Akasaka Barn's Egg Direct-sale Shop" located in Narita airport which boasts an annual passenger flow of 69 million. Operating from eight in the morning to nine at night, this shop has fifteen seats that are crowded with passengers desiring a bowl of delicious egg-rice.
Of course, in order to pursue the "deliciousness" of egg-rice, we must adhere to high quality of the rice and egg.
The healthy chickens that lay our delicious eggs are raised in the nature-rich poultry farms in Iizuka city of Fukuoka prefecture. The open-nature poultry house is surrounded with deer-repellent fence. It is in this kind of tranquil environment that the chickens live without stress and feeling at ease.
The person who explained all this to me is the manager of the Narita airport shop, Mr. Ikeda Daiki. From a poultry farm operated by the JR Kyushu Tamago Farm Company, which is part of the JR Kyushu Group, freshly laid eggs are delivered by air every day.
For eggs laid by parent chickens raised from 120 days old to fifteen months old, there is a covering layer of protein called a "cuticle" which, when kept unwashed, is said to prevent mold and bacteria from transmitting by air. If you try to hand one egg in your hand, you will see that the smallish egg is nevertheless somewhat heavy, and even if you were to slice it the shell does not crack easily.
Go for it. It is alright to break the shell and bring out the contents. On top of the elastic egg-white the rotund egg-yolk will shiver with a jiggly bounce.
Mixing the egg-white with the egg-yolk with your chopsticks is another difficulty, and you will find they cannot be completely mixed with each other. Is this proof of a healthy egg? When you hold the egg in your moth, you will feel the mild texture and the subtle sweetness of the egg.
On top of this wonderfully made egg and new Hinohikari new rice from Kumamoto prefecture, you receive a sprinkling of a soy source, known as "the soy sauce often seen on homemade egg," which is specially made to draw out the umami flavor of the egg. There is no way you can conclude that this is not delicious.
An egg-rice meal is priced at 550 yen. That includes an egg, a bowl of rice with freely available seconds, as well as a small cup of Katsubushi (shipjack tuna). On top of that, you can eat as much as you want the Tsubo pickles made with Miyazaki radish and Chinese cabbage from Nagasaki. As a side option, you can request the green miso soup from Ariake Bay (priced at 100 yen), and with that you will have a perfect breakfast meal in front of your eyes.
"There are many female customers, and everyone would eat two eggs with seconds. I was quite surprised to hear customers telling me that eating egg-rice is just like having drinks. (laughs)"
In the July two years ago, the same restaurant established a shop in Tokyo, and the egg-rice there became established as the travelers' breakfast meal.
The reason for establishing a store at Narita airport is because this is the entrance of Tokyo where information spreads widely and quickly. I would like more people to become aware of the charms of Kyushu.
But the egg-inspired menu does not stop with the egg-rice only. The "egg-only don" with a broth of two melted eggs and a raw egg, as well as the "oyako don" with slices of locally produced chicken from Sage prefecture, are also popular dishes.
Complementing the delicious eggs and rice are dessert dishes which are also popular. There are milkshake (priced at 350 yen) and pudding (priced at 250 yen), and for a luxurious dessert dish made with plenty of eggs, you can have both (with six eggs included and priced at 420 yen) as a takeout option.
Ms. Koukasa Chiiko, the food professional introduced in the previous issue said, "with fat, calories, iron, and vitamin, eggs are a a super natural capsule filled with tightly packed nutrients used to raised the life of a baby chicken." Receiving a menu filed with all kinds of eggs, one is able to achieve smooth skin as well as overflowing power inside your body.
Source: http://www.marukome.co.jp/marukome_omiso/hakkoubishoku/20140612/3837/